'People will die': Priti Patel warned immigration policy will force thousands back on the streets
Exclusive: Local councils call for 'urgent action' to ensure homeless migrants — some of whom have lived and worked in UK for decades — are not pushed back into destitution because of their immigration status
May Bulman
Social Affairs Correspondent
Tuesday 07 July 2020 22:09 Comments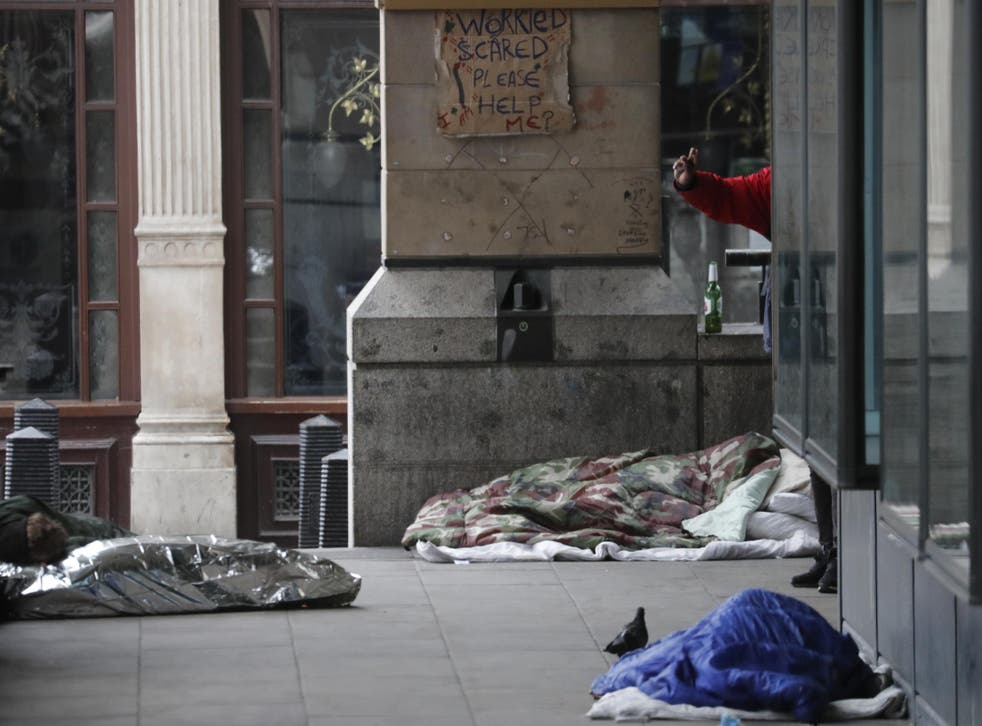 Local councils have warned Priti Patel an immigration policy that blocks migrants from accessing public funds will force thousands of homeless people back onto the streets during the coronavirus pandemic.
Dozens of local authorities and charities are calling on the Home Office to take "urgent action" to ensure restrictions on state support for migrants do not "undermine" the "collective effort to end rough sleeping in Britain" during the lockdown.
Almost 15,000 rough sleepers across the UK have been housed in hotels or emergency accommodation since March under the Everyone In scheme, under which local authorities were required to provide emergency accommodation to rough sleepers with a £3.2m pot of funding from central government.
Ministers told local authorities at the end of May they must put in place plans to ensure all rough sleepers currently accommodated in hotels and other forms of emergency accommodation were supported into stable housing.
However, councils in London warn that thousands of people will not be able to access this support because their immigration status stipulates that they have no legal right to local authority or central government support.
A letter to the home secretary on Tuesday, signed by 16 London councils including Southwark, Ealing and Hackney, along with 15 charities and faith leaders, states that the legal limits on the benefits and housing support they can provide to some migrants make it "almost impossible to secure long-term homes for many rough sleepers".
The letter, seen by The Independent, states: "As it stands all restrictions are due to come back into force in the near future, creating a cliff edge beyond which councils will once again be prevented from providing many rough sleepers with the housing and other support they need.
"Without urgent action to address these issues we risk facing the unthinkable tragedy of rough sleeping going back up even while the threat of Covid-19 remains."
Among homeless people who cannot access public funds are individuals who have lived in the UK for decades and have British children, but have become destitute because they have been stripped of their immigration status as a result of difficulty proving their status to the Home Office.
In other cases, people cannot access support because they have the no recourse to public funds (NRPF) attached to their immigration status, meaning they can live and work in Britain but cannot access benefits, or they are European Economic Area (EEA) nationals who have been unable to exercise their treaty rights due to job losses during coronavirus.
Councillor Kieron Williams of Southwark council said the number of rough sleepers in the borough had significantly increased during the pandemic, and that scores of these individuals had no access to public funds.
"Many of these are people who were working and in accommodation before, but were clearly in a precarious situation and Covid-19 has taken away the little security they had," he told The Independent.
"The options to secure long-term homes for them beyond the temporary accommodation we've provided are currently shut down by the fact that the national laws mean they don't have a social security net to fall back on.
"Legally, we will be prevented from providing support for them, so it's completely unclear how we provide long-term homes for many people in this situation."
Since 23 March, Southwark has accommodated 323 people who were at imminent risk of sleeping rough or actually sleeping, 86 of whom have no access to public funds.
"Some people will be able to get themselves back into work and back into a home, but in the current job market, this will be incredibly difficult," said Cllr Williams.
"We shouldn't be in a situation where people who are living here – many of whom have been working and contributing to our economy for many years – end up finding themselves with no way to live their life except on the streets."
The council has funded Southwark Law Centre to assist people with NRPF in hotels to regularise their immigration status. The charity told The Independent it was "up to its eyeballs" in cases of homeless people who have a realistic prospect of being granted immigration status that would give them access to public funds, but who haven't been able to apply over many years due to the cost or complexity of doing so.
In one case, a Nigerian woman who has been in the UK since she was 10 was housed in a hotel in Southwark during the lockdown after becoming destitute in 2018, because the Home office had reportedly informed her there was no evidence of her status on file after she lost her passport.
The woman, who was working in the UK and has two British citizen children, aged 12 and 21, had previously tried to claim universal credit and housing support, but as she no longer had her passport, was told that she needed to provide evidence of status. Southwark Law Centre is now applying to regularise her status.
In a second case, a Polish man who arrived in UK March 2006 and worked for 11 years in several jobs including construction, waste management and a rickshaw driver in London, had been destitute since 2017 when he was housed under the Everyone In scheme.
He had registered as self-employed, but did not file tax returns as he was living in a squat as was not earning enough to pay for London rent. Due to NRPR restrictions, he was unable access welfare support and therefore didn't have stable accommodation, which led to him losing his papers and theft of his rickshaw. Southwark Law Centre is now helping him apply for EU settled status.
The Stats: Homelessness in the UK

Show all 10
As part of the national Everyone In programme, ministers introduced a partial suspension of restrictions for work-ready EEA rough sleepers, allowing councils to offer them up to three months' basic emergency accommodation and support – but there are concerns this is not long enough.
Van Ferguson, a senior caseworker at the legal charity, told The Independent: "There are some horror cases in there. Because of how hostile the environment is, people who are essentially British have been caught up in it. All of them seem to want to work, even just as cleaners, which makes it even more heartbreaking.
"It's just by chance that this pandemic happened and now we can get in contact with them. But God knows how many people out there who have a right to immigration status but are living an underground existence."
Ealing Council is calling on the government to grant refugee status to homeless people with NRPF, arguing that rough sleepers have "in effect become refugees from Covid-19 as a consequence of the rules and arrangements provided by this government".
Councillor Peter Mason – lead member for housing, planning and transformation at the council – told The Independent the government guidance on housing rough sleepers had been "opaque at best, at worst deliberately misleading".
Ealing is said to have the largest proportion of rough sleepers with NRPF, at around 60 per cent. The borough saw a surge in the homeless population at the start of the pandemic, with the count increasing from roughly 30 rough sleepers at any one time to more than 300.
This is believed to be in part because of it's geographical location as the "gateway to London from Heathrow", as a group of around 140 rough sleepers at the airport were forced to leave the premises when lockdown came in – and many headed to Ealing.
The council has worked with 450 individuals who have been identified as rough sleepers or at serious risk of rough sleeping since March, of whom 61 have no recourse to public funds and 80 are EEA nationals who are not exercising their treaty rights.
"We've got disproportionately higher NRPF than the rest of the country, but we have no legal recourse to support this group. We will continue to accommodate them for as long as we can, but when the cliff edge arrives, we have no legal recourse to support them," Cllr Mason said.
"Across the country there will be thousands of people who will be forced back out onto the street if there is no action. If we're going to keep them off the streets permanently and ensure we can support them with their financial, legal, immigration problems, we need to do something quite radical."
Hackney Council, which announced a £100,000 fund to support residents unable to access the welfare system due to their immigration status in June, said failure to suspend the NRPF policy could lead to homeless people dying.
The borough has placed around 170 people in emergency accommodation since the start of the pandemic, of whom around eight aren't able to access public funds, and has block-booked hotels in the borough for up to 12 months to help house rough sleepers struggling to move on.
Cllr Rebecca Rennison, deputy mayor and cabinet member of Hackney Council, said that while it was able to "just about manage" without further government funding, other councils such as Southwark and Ealing would face a bigger challenge as they had considerably higher numbers.
"We've managed to get people to engage with services who we've been trying to reach for years, and this has brought them forward. It's amazing," she said.
"But you can't talk about ending rough sleeping and not have conversation about NRPF. It's an inhumane policy and it needs to be scrapped. It has no place. If we can't continue to intervene and support people off the streets, people will die."
Matt Downie, director of policy and external affairs at Crisis, said the progress made housing rough sleepers under the Everyone In scheme would be "reversed" unless ministers lift the NRPF restriction for the next 12 months.
"To tackle this head on, we need to see emergency legislation, backed by funding, from the Westminster government. This will not only protect individuals from being forced to return to sleeping rough but will also give local councils the legal framework to provide the right support," he said.
Landlords call for end to coronavirus eviction ban that stops people being made homeless
A government spokesperson said: "Our rough sleeping taskforce has one overriding objective – to ensure as many people as possible who have been brought in off the streets in this pandemic do not return to sleeping rough.
"That's why we've ensured councils across England can support vulnerable rough sleepers from EEA countries. Councils are also able to provide emergency accommodation for foreign nationals where they are in the UK lawfully.
"The £105m we recently announced will mean councils are able to continue to provide safe accommodation to vulnerable rough sleepers, help break the cycle of homelessness, and continue our work to end rough sleeping for good."
Register for free to continue reading
Registration is a free and easy way to support our truly independent journalism
By registering, you will also enjoy limited access to Premium articles, exclusive newsletters, commenting, and virtual events with our leading journalists
Already have an account? sign in
Join our new commenting forum
Join thought-provoking conversations, follow other Independent readers and see their replies