Proposals to hold newly arrived asylum seekers offshore branded 'illegal, expensive and illogical'
Former top civil servants tell The Independent ideas are 'unrealistic' and rooted in attempt to 'look tough'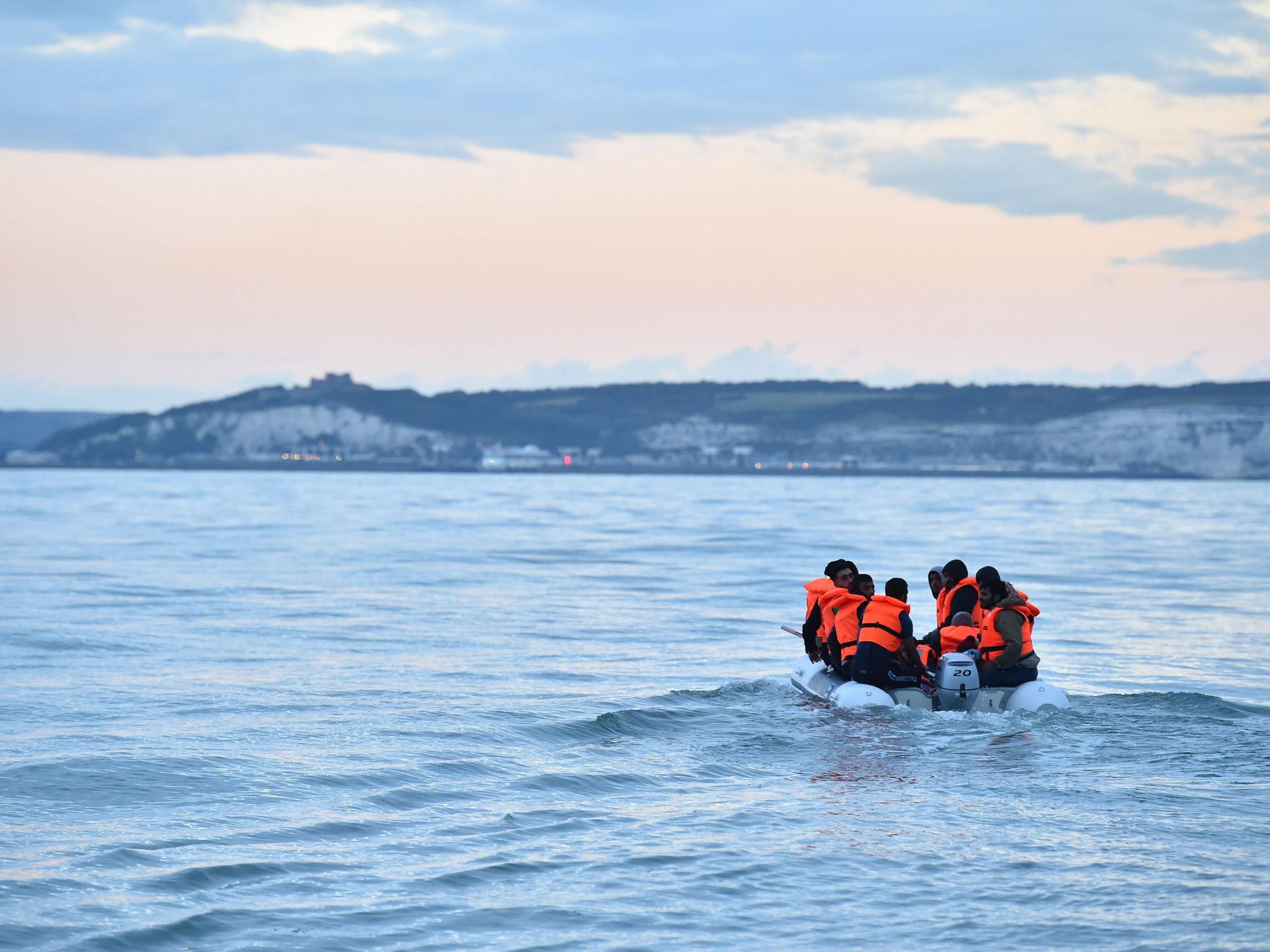 Proposals to hold newly arrived asylum seekers on disused ferries or overseas have been branded "illegal, expensive and illogical" by immigration experts, former civil servants and politicians.
Leaked reports have shown Priti Patel's Home Office considered plans to process migrants off the UK mainland and also looked at floating walls to block asylum seekers crossing the Channel from Calais.
Matthew Rycroft, permanent secretary at the Home Office, told MPs on Thursday that "all options were on the table".
But the plans were branded "inhumane" by Labour leader Keir Starmer, who said: "This isn't creative thinking, this is lurching from one ridiculous proposition to the next."
Ex-civil servants and prominent lawyers told The Independent the proposals were "unrealistic" and rooted in an attempt to "look tough" on the issue of immigration, when in fact they would do nothing to solve any problem – instead generating higher costs and more legal and moral issues for ministers.
Dave Wood, who was head of immigration enforcement under Theresa May, said the idea of processing asylum seekers on a disused ferry or remote islands would be "illegal, impractical, expensive and illogical" – and born only out of ministers "trying to sound like they've got a very tough response" to the rise in Channel crossings.
He said: "Once it's been thought through I'm sure they wont implement it because as they think it through they'll see it's mad. More importantly, it doesn't solve any of the problems they're trying to solve. At the end of the day, what would it solve? Absolutely nothing.
"It's party politics and trying to sound tough to the public, but they can't answer the important questions."
The former civil servant also said it was unlikely to deter people from coming to the UK to seek asylum: "Whether they think immigrants wont come here because they know they will be put on a boat in the middle of the Atlantic, I don't think that will wash. People will still come. Ultimately, many won't be returned home."
Tony Gray, a former Border Force employee who left five years ago, said he believed the ideas indicated the "mindset of the government and the home secretary at the moment".
"They've made lots of promises and lots of tough statements about sending people back, but it's very difficult for them to actually achieve that, and they knew that from the start."
Mr Gray added that some of the asylum seekers he saw arriving in Kent during his time with Border Force were "extremely vulnerable" and would not cope well in a far-flung centre: "Many of them have gone through incredibly a lot, from those who have been bombed out of their homes, to those forced out by armed groups."
According to The Times, Number 10 is considering buying retired ferries and converting the vessels into processing centres to house asylum seekers off the UK coast, and also discussed moving migrants to decommissioned oil platforms in the North Sea for processing, but the idea was rejected.
The Guardian reported that the government was considering sending asylum seekers could to detention centres in Papua New Guinea, Moldova, or Morocco, in a version of the Australian "offshore" model.
It claimed leaked documents had revealed Downing Street had asked officials to look into the matter, but was met with "pushback" from the Foreign, Commonwealth and Development Office.
The ideas echo those floated by the Labour government in 2003, which included establishing a "protection zone" in a country such as Russia or Albania, and a potential processing centre in Tanzania, but were quickly concluded to be unfeasible.
Jonathan Portes, professor of economics and public policy at King's College London and former senior civil servant of more than 20 years, was chief economist at the Cabinet Office when those ideas were floated.
"The motivation for this now is the same as it was then," he said. "The idea that we can somehow convince people that if they get here they'll be shipped offshore and they'll be in camps and their claims will probably be denied and they'll be shipped back home.
"And the objections then were the same as what you've seen now – which is on the humane side, the legal side and the practical and cost side. It'll cost a lot, they'll end up with a lot of legal challenges and many of the people will end up staying here anyway."
He said that in order to resolve the issue of large numbers of people in the asylum system, the government must invest more resources in processing asylum claims "quickly and humanely", referring to the growing backlog in the waiting times for asylum decisions.
Official figures show the number of asylum seekers waiting longer than half a year for their claim to be decided hit a record high this year after surging by 76 per cent in 12 months. Meanwhile, the number of people granted asylum reached its highest level in 16 years, with more than half of claimants granted protection at the initial decision stage, compared with only a third the previous year.
Mr Portes added: "What's the humanity in shipping people more than likely to be genuine asylum seekers off to some offshore processing centre where they may languish for years? This government has done some bizarre things so it's not impossible. But would it actually achieve very much, probably not."
Immigration barrister Colin Yeo said the proposals were "very unrealistic" and were an attempt to confront a problem that was not really there.
"There are huge practical obstacles to it, not just around the cost and logistics but the moral consequences on what happens when you detain people in that way in foreign countries," he said.
"The one idea that does seem potentially doable and is probably lawful is putting people on a ferry. But why would you do that? There aren't that many of them. If you're going to detain them, why not have them on-land?
"Most of these people are genuine refugees, the numbers reaching the UK are much smaller than other EU countries, and the numbers are actually falling on previous years. The idea that you need extreme measures to deal with a problem that is not really a problem at all seems unreal."
Yvette Cooper, chair of the Home Affairs Select Committee, wrote a letter to the home secretary on Thursday saying the proposals seemed to be "both extremely inappropriate" in terms of the UK's commitments to human rights and to asylum, and an "incredibly impractical and expensive" way of doing so.
Adam Holloway, the Tory MP for Gravesham, said it was "completely right" for the Home Office to look at ways of deterring asylum seekers from coming to the UK, but called for any solution to be "civilised".
Speaking to BBC Radio 4's Today programme on Thursday, he said: "Talk of oil rigs and Moldova and Papua New Guinea, to me, is somewhat bizarre. You're determined for me to say it is a great idea to put people on islands - I'm not saying that.
"The Home Office is completely right to look at other options so there is some sort of deterrent, but not the Australian model where you have poor welfare standards and everything else. We've got to find a civilised version of that."
Sonia Lenegan, legal director at the Immigration Law Practitioners' Association, said the timing of the proposals was "remarkable" given that it came a day after the response to the Lessons Learned report was published, in which the Home Secretary spoke of building a better Home Office.
"Australia's offshore processing policies are absolutely not a system to be admired or emulated, they have received international condemnation because of the levels of human cruelty involved," she added.
Kate Allen, Amnesty international UK director, described the proposals as "entirely immoral and inhumane", adding: "It is a dismal reflection upon Home Office Ministers that this idea to effectively exile people seeking asylum to far-flung and isolated places has been given any consideration at all.
Home Office to carry out review of hostile environment following Windrush says Priti Patel
"For too long the Home Office has done its worst business behind closed doors, with little consideration of the needs, rights and welfare of women, men and children affected by it."
Stephen Hale, chief executive of Refugee Action, said the government's speculative plans were "inhumane and morally bankrupt" and "steeped in racism", adding that they would expose vulnerable people to "horrendous human rights abuse and trauma"
The Home Office has been approached for comment.
Join our commenting forum
Join thought-provoking conversations, follow other Independent readers and see their replies