Indonesia executions: Death row British grandmother Lindsay Sandiford
'I want them to look at me when they shoot me'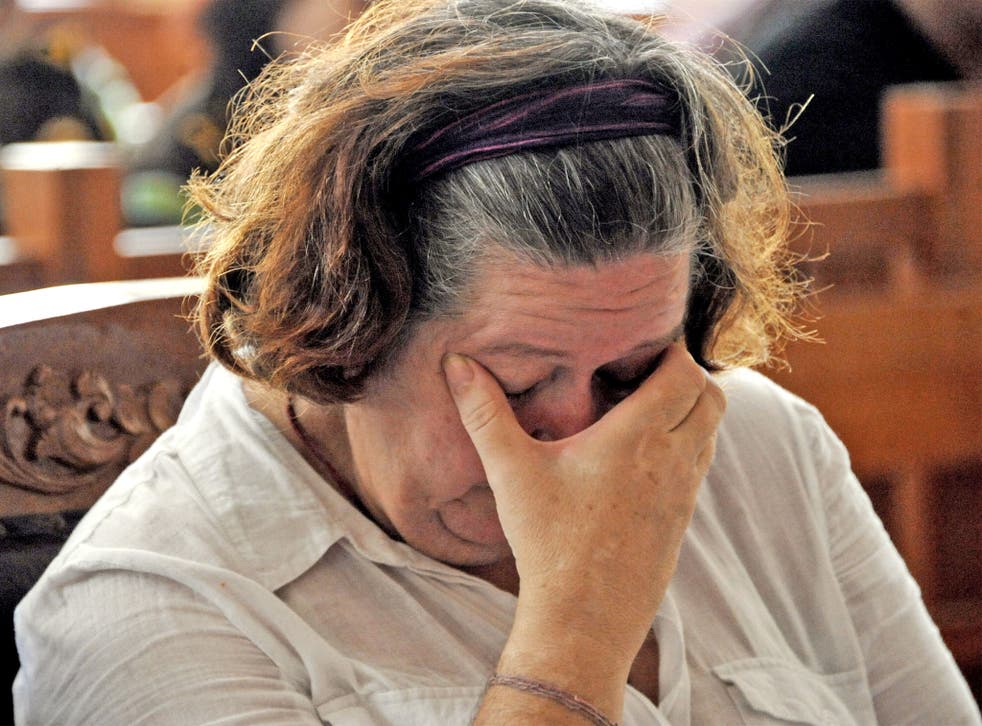 A British grandmother who is set to be executed for drug smuggling in Indonesia has said she will refuse to wear a blindfold when she faces the firing squad.
Lindsay Sandiford, 58, said it had been "heartbreaking" to hear from her jail cell last week that eight men, including her friend Andrew Chan, had been shot dead on Bali's so-called "Execution Island" Nusa Kambangan.
Speaking to the Mail on Sunday, she said that she was preparing to die like those men who sang Amazing Grace and looked their executioners "in the eye.
"I won't wear a blindfold," she said. "It's not because I'm brave but because I don't want to hide – I want them to look at me when they shoot me."
Sandiford said she would also sing – but that her song of choice would be Magic Moments by Perry Como.
And she revealed that she had begun this weekend to write letters to members of her family to say goodbye. She said she was "out of time to apply for clemency" and, with the British Government refusing to fund any further legal action, she hasn't the funds to appeal.
Bali Nine pair executed

Show all 22
Australians Chan and Myuran Sukumaran were shot along with four Nigerian nationals, a Brazilian and an Indonesian in the early hours of Wednesday 29 April.
In a statement released then through her lawyer, Sandiford, from Cheltenham, said Chan had been a "close friend and confidante" when they were at Bali's Kerobokan prison together.
"He counselled and helped me through exceptionally difficult times after I was sentenced to death in 2013," she added.
"Myu and Andrew used their time in Kerobokan to make life better for everyone around them. They introduced the concept of rehabilitation to a prison that never had it before."
"The men shot dead today were reformed men - good men who transformed the lives of people around them. Their senseless, brutal deaths leave the world a poorer place."
Sandiford, originally from Redcar, Teesside, was sentenced to death in January 2013 in Bali after being convicted of trafficking drugs.
She was found with cocaine worth an estimated £1.6 million as she arrived in Bali on a flight from Bangkok, Thailand, in May 2012.
She admitted the offences, but claimed she had been coerced by a drugs syndicate making threats to her son's life, and has since appealed against her sentence without success.
Register for free to continue reading
Registration is a free and easy way to support our truly independent journalism
By registering, you will also enjoy limited access to Premium articles, exclusive newsletters, commenting, and virtual events with our leading journalists
Already have an account? sign in
Register for free to continue reading
Registration is a free and easy way to support our truly independent journalism
By registering, you will also enjoy limited access to Premium articles, exclusive newsletters, commenting, and virtual events with our leading journalists
Already have an account? sign in
Join our new commenting forum
Join thought-provoking conversations, follow other Independent readers and see their replies