Injured Ben Nevis climber 'plunges to death' during RAF rescue
According to reports the helicopter was immediately grounded following the incident
Jonathan Brown
Thursday 28 February 2013 01:01 Comments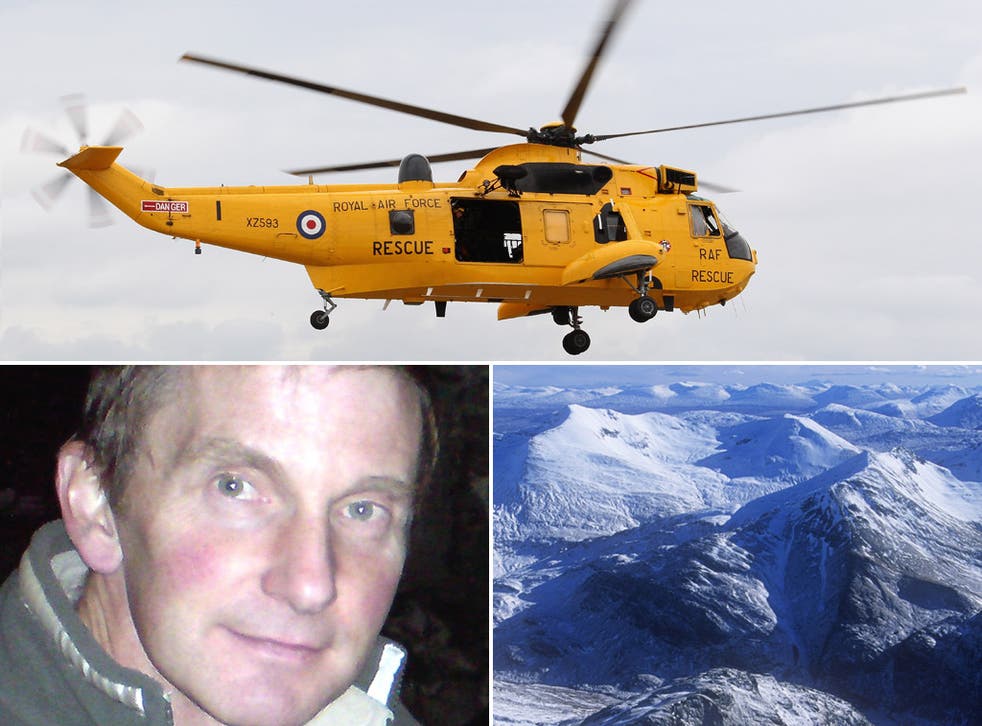 A police investigation is underway tonight into the death of an injured climber during an RAF rescue operation on Ben Nevis.
The Ministry of Defence described as "speculation" reports that Mark Phillips plunged hundreds of feet to his death after a safety line was severed before he was securely on board a helicopter that had been sent to take him to hospital.
The 51-year-old environmental health officer and father of one had earlier fallen while on a climbing expedition with friends in the Raeburn Buttress area of the UK's highest mountain. He is the 11th climber to die in the Scottish Highlands this winter.
Mr Phillip's widow said her husband had been taking advantage of "superb conditions" in the mountains which he loved on Monday when tragedy struck.
It is understood he had been left lying on a steep slope on the north face of Ben Nevis when he fell 160ft. He was saved by a safety rope and a search and rescue helicopter was dispatched from RAF Lossiemouth along with a local mountain rescue team.
Caroline Phillips from Spean Bridge said she had full confidence in the police investigation into his death.
Describing Mr Phillips as a "loving father and husband" she said: "He had spent the previous few days climbing and walking in the hills with friends. Tragically that day he sustained fatal injuries following an incident on Ben Nevis. Mark and I together with our son, Ruaridh, had moved to the Highlands about 12 years ago so as to live amongst the hills and community we had got to love."
She added: "I have noted certain speculation in the press surrounding Mark's death. I have entire confidence in the police and the process and I do not want to indulge such speculation."
According to reports the helicopter was immediately grounded following the incident. A second aircraft was deployed from HMS Gannet in Prestwick to recover Mr Phillip's body.
A Ministry of Defence spokesman said: "We can confirm that two military search and rescue helicopters were sent to assist in an operation to rescue a fallen climber on Ben Nevis, who sadly died. An investigation by Northern Constabulary is underway. It would be inappropriate for the MOD to comment further."
Northern Constabulary said officers were investigating the incident and a report would be sent to the Procurator Fiscal.
Police are due to interview the helicopter crew and members of the Lochaber Mountain Rescue Team. According to one report the death was the result of "basic human error".
This winter has seen much of the Highlands blanketed in snow and buffeted by strong winds. Three people have died on Ben Nevis whilst four more have been killed in Glencoe and another four in the Cairngorms.
Neil Gillies, director of the Highland Council department where Mr Phillips worked, said colleagues were shocked by his loss.
"He was a popular, helpful and highly valued member of our team in Lochaber and always went about his business in an efficient and professional manner. He will be sorely missed," he said.
11 climbers lost their lives in treacherous Scottish winter
Snow, ice and high winds have combined to make this winter one of the Scottish Highland's most treacherous of recent times with 11 climbers now losing their lives in a series of incidents including Mark Phillips.
Two involved multiple casualties. In January four people died during an avalanche at Bidean Nam Bian in Glencoe when a party of climbers was swept away plunging 1000ft. Two doctors - Dr Una Finnegan, 25, and Dr Rachel Majumdar, 29 - were among the dead as well PhD students Tom Chesters, 28, and Chris Bell, 24.
An avalanche in the Cairngorms on 18 February killed Squadron Leader Rimon Than, 33, Flt Lt Fran Capps, 32, and student William Currie, 18. They were among a group taking part in a winter mountaineering skills course.
In a separate incident Graham Paterson, 60, of Skye, was found after falling in the Cuillins on 29 December whilst Graham Connell, 31, from Castleford, West Yorkshire, died in the Cairngorms on 18 February. Another climber Jack Wooding, 29, was killed in the Cairngorms in January when he fell.
Register for free to continue reading
Registration is a free and easy way to support our truly independent journalism
By registering, you will also enjoy limited access to Premium articles, exclusive newsletters, commenting, and virtual events with our leading journalists
Already have an account? sign in
Join our new commenting forum
Join thought-provoking conversations, follow other Independent readers and see their replies