International Migrants Day: Activists replace 200 Tube adverts with instructions on how to stop deportations
Campaign asks members of the public to protest deportations on commercial flights by refusing to take seat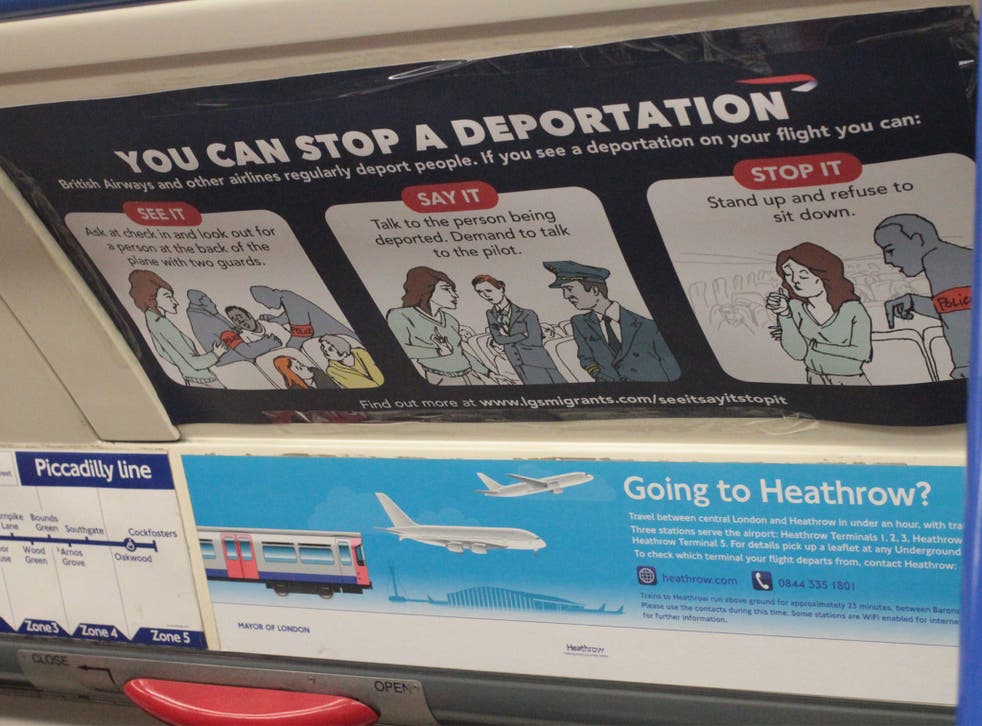 Campaigners have "hacked" hundreds of adverts on the London Underground, replacing them with notices telling passengers how to disrupt attempted deportations on passenger airlines.
The signs, branded "See It, Say It, Stop It" in reference to the British Transport Police's "See It, Say It, Sorted" public safety slogan, encouraged people to take action on commercial flights if they believe someone is being forcibly removed from the country.
Posters called on passengers to demand to talk to the pilot or to remain standing and refuse to sit down if a deportation is taking place.
More than 200 ads were replaced with the signs on the Piccadilly, Victoria and Central lines as part of the campaign by queer activist group Lesbians and Gays Support the Migrants (LGSMigrants) on Tuesday to mark International Migrants Day.
"Often when we are confronted with situations where we see vulnerable people falling victim to an abusive system we feel powerless to help," Sam Björn from the group said.
"We want to change that. We aim to build a movement to resist this brutal, racist practice of secretive deportations and the hostile environment as a whole.
"We hope to empower everyone to take a stand and refuse to sit in silence."
Recent months have seen a number of incidents on commercial airlines where passengers have rebelled against deportations being carried out.
In July, Swedish student Elin Ersson single-handedly stopped the deportation of an Afghan man on a flight from Gothenburg to Istanbul by refusing to sit down when ordered to do so by the pilot and airline crew.
The 21-year-old won widespread and international acclaim for her actions, but was later told she would be charged by prosecutors with violating aviation law. A date for her trial has yet to be set.
Support free-thinking journalism and attend Independent events
In October, holidaymakers on a flight from Heathrow to Istanbul staged a protest forcing authorities to halt the deportation of 29-year-old Somalian national Yaqub Ahmed.
However, it later emerged Ahmed was being removed from the country after serving a nine-year prison sentence for taking part in a gang rape in north London.
Virgin Atlantic, which had previously offered seats to detainees and accompanying security officers on its flights, said in June it would no longer assist the Home Office amid concerns over the wrongful deportations of Windrush citizens to the Caribbean.
A charity helping people removed from the UK re-settle in Jamaica reported at the time that deportees had been regularly arriving on Virgin flights.
Register for free to continue reading
Registration is a free and easy way to support our truly independent journalism
By registering, you will also enjoy limited access to Premium articles, exclusive newsletters, commenting, and virtual events with our leading journalists
Already have an account? sign in
Register for free to continue reading
Registration is a free and easy way to support our truly independent journalism
By registering, you will also enjoy limited access to Premium articles, exclusive newsletters, commenting, and virtual events with our leading journalists
Already have an account? sign in
Join our new commenting forum
Join thought-provoking conversations, follow other Independent readers and see their replies