IoS exclusive: Someone's leaving Ecuador's embassy... but it's not Julian Assange
Ana Alban, Ecuador's ambassador to Britain, recalled to Quito over her failure to bring an end to the WikiLeaks founder's asylum saga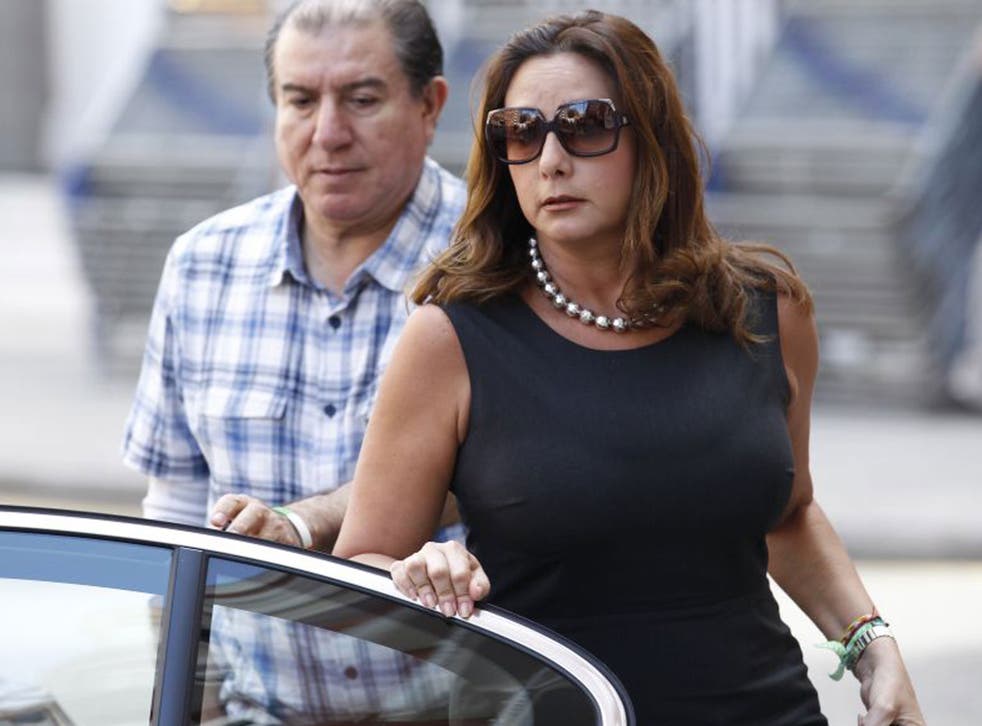 Ana Alban, Ecuador's ambassador to Britain, is being recalled to Quito over her failure to bring an end to the Julian Assange asylum saga, in which the WikiLeaks founder has been holed up in her west London embassy for nearly a year.
Ms Alban, whose relations with the Government are said to have soured since Mr Assange was given asylum, is to be replaced by an ambassador charged with ending the long-running drama. A Quito source told The Independent on Sunday that a request for agrément (the approval of a new diplomatic representative) has been sent.
Ecuador is understood to be desperate to negotiate a way for Mr Assange to quit its embassy amicably and is growing frustrated with the lack of progress. Quito sources said they believe Britain is happy to leave Mr Assange marooned.
At a meeting last Tuesday between Ms Alban and Hugo Swire, the Foreign Office minister responsible for Latin America, Ms Alban is said to have asked: "What are we going to do about the stone in the shoe?"
Mr Swire's response, according to a source who was in the room, was: "Not my stone, not my shoe."
Ms Alban is also said to have repeatedly raised Argentina's claim to the Falklands at the meeting.
She will now take up a senior role in the new government of President Rafael Correa, a Quito source said. No specific date has been set for her departure but it was said to be expected "shortly". Her successor is yet to be publicly named.
Last weekend, it was announced that Ecuador's Foreign Minister, Ricardo Patino, is to visit London on the eve of the first anniversary of Mr Assange's arrival at the embassy. He will meet Mr Assange and has offered to hold talks with the Foreign Secretary, William Hague.
The Independent revealed in March that Ecuadorean officials had approached the Labour Party in the hope of striking a deal should it form the next government in 2015.
Mr Assange first sought asylum on 19 June 2012 after his extradition to Sweden over alleged sexual offences against two women there was approved. He claimed the extradition was a pretext for his onward extradition to the United States to answer charges over the posting of classified documents on the Wiki-Leaks website.
Last Monday, the court martial of the US soldier Bradley Manning – on 21 counts relating to the transmission of hundreds of thousands of documents to Wikileaks – opened the Fort Meade military base, near Baltimore, Maryland. Prosecutors are seeking a life sentence.
Mr Assange has been criticised by a lawyer acting for one of his Swedish accusers, who said: "Assange's behaviour and [the] procrastination of the investigation in this case complicates the suffering of my client... the investigation in Sweden must be conducted in a conventional and prompt way, according to the Swedish legal system, even if the suspect [is] called Assange."
A spokesman for the Ecuadorean Foreign Ministry said: "Ana Alban has made a significant contribution to creating a greater understanding in the UK of Ecuador's progressive social policies... [and] has highlighted the importance that Ecuador gives to protecting human rights and in defending the principles of the right to seek asylum from political persecution."
A Foreign Office spokesman refused to comment on Ms Alban's recall, saying: "This is a matter for the Ecuador government."
On the Assange case, it added: "We remain committed to seeking a diplomatic solution to this situation and must also ensure that our laws are followed. The UK has a legal obligation to extradite Mr Assange to Sweden... and the British police must fulfil this."
Julian Assange did not respond to requests for comment.
Register for free to continue reading
Registration is a free and easy way to support our truly independent journalism
By registering, you will also enjoy limited access to Premium articles, exclusive newsletters, commenting, and virtual events with our leading journalists
Already have an account? sign in
Register for free to continue reading
Registration is a free and easy way to support our truly independent journalism
By registering, you will also enjoy limited access to Premium articles, exclusive newsletters, commenting, and virtual events with our leading journalists
Already have an account? sign in
Join our new commenting forum
Join thought-provoking conversations, follow other Independent readers and see their replies