Iraq crisis: Britain to 'step up' number of troops in Iraq
He stressed that combat troops will not be deployed in Iraq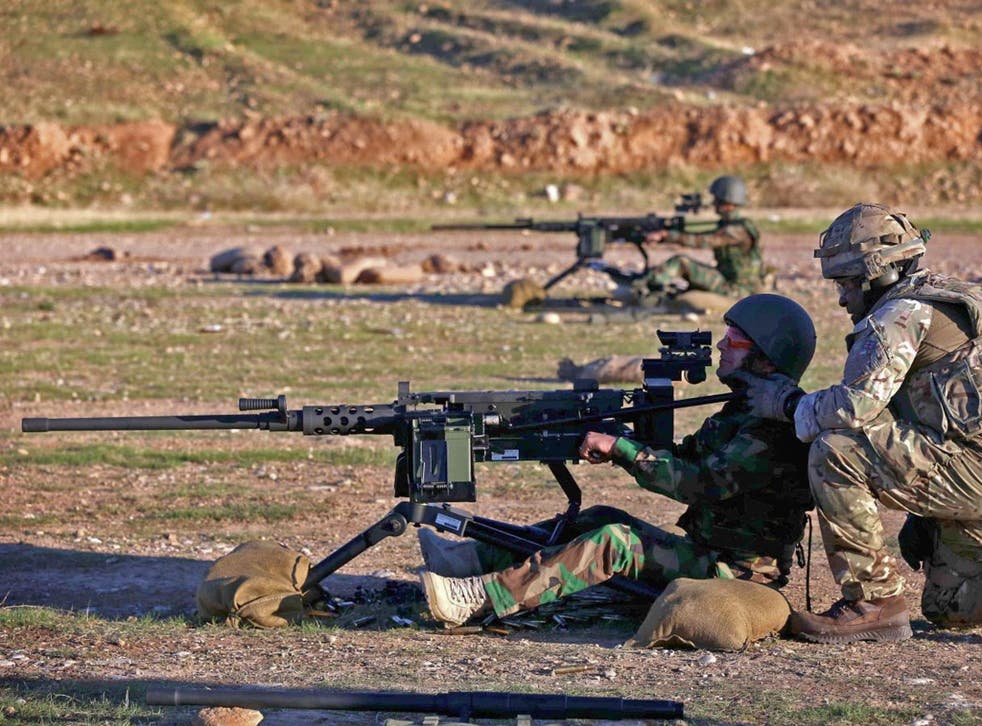 Britain is "stepping up" its military presence in Iraq, by sending in troops to help local forces who are battling against Isis militants, the Defence Secretary has announced.
In the next few weeks, an undisclosed number of military personnel will train Iraqi soldiers and Kurdish Peshmerga fighters at a US headquarters, in a move which expands the UK's involvement in the US-led campaign in Iraq.
Michael Fallon stressed that the mission will be "very limited" and said the Government remains clear forces will not be deployed in combat missions. The UK has not had combat troops in Iraq since April 2009, with a small number staying on to train Iraqi forces until 2011.
Troops will instead join a small specialist team in Iraq, which was sent to instruct Peshmerga fighters in the northern city of Erbil, he said.
Army personnel will teach the Kurdish infantry skills including sharp-shooting and first aid, and more equipment will be provided.
During his first visit to Iraq, where he met British army trainers teaching Peshmerga fighters to use heavy machine guns supplied by the UK, Defence Secretary Michael Fallon told the BBC: "We are going to be stepping up our training effort."
Timeline: The emergence of Isis

Show all 40
"I can't give you precise numbers. I'm here to evaluate training needs and there are areas of expertise, particularly in counter-IED, roadside car bombs, where we can help from our experience in Afghanistan.
"So we will be putting in more training people to help at the training centres across the country, not just in the Kurdish areas.
He added: "The need is now" and called the challenge from Isis, also known as the Islamic State, as "very immediate".
"As they [Iraqi forces and Peshmerga] start to push Isil [Isis] back out of the villages and towns that Isil have gone into they are going to need this kind of assistance with roadside bombs, particularly to counter the terror tactics that Isil have been using.
The move comes amid mounting calls for help from Iraq's new Prime Minister Haider al-Abadi, as his country's troops struggle to reclaim territory in the north and west claimed by IS. Answering his demand, the US has agreed to send around 500 soldiers to Iraq and elsewhere in the region to retrain the Iraqi army, BBC News reported.
RAF Tornado fighter-bombers have carried out air strikes as part of the US-led bombing raids on Isis since late September, prompting reporters to ask Fallon whether the mission would see troops gradually creep further into Iraq.
But he urged that the mission is "very limited" and that Prime Minister David Cameron has dismissed the prospect of sending in ground troops to fight IS.
"What we are going to do is to help the new government of Iraq and its own army take the fight to Isil through the aircraft we have deployed in the sky, through intelligence gathering, and through specialist training," he said.
Register for free to continue reading
Registration is a free and easy way to support our truly independent journalism
By registering, you will also enjoy limited access to Premium articles, exclusive newsletters, commenting, and virtual events with our leading journalists
Already have an account? sign in
Register for free to continue reading
Registration is a free and easy way to support our truly independent journalism
By registering, you will also enjoy limited access to Premium articles, exclusive newsletters, commenting, and virtual events with our leading journalists
Already have an account? sign in
Join our new commenting forum
Join thought-provoking conversations, follow other Independent readers and see their replies