Islamic State: David Cameron sets Britain on fast track to war by seeking approval for bombing campaign against Isis
Parliament recalled as PM insists the West must not be 'frozen' by past mistakes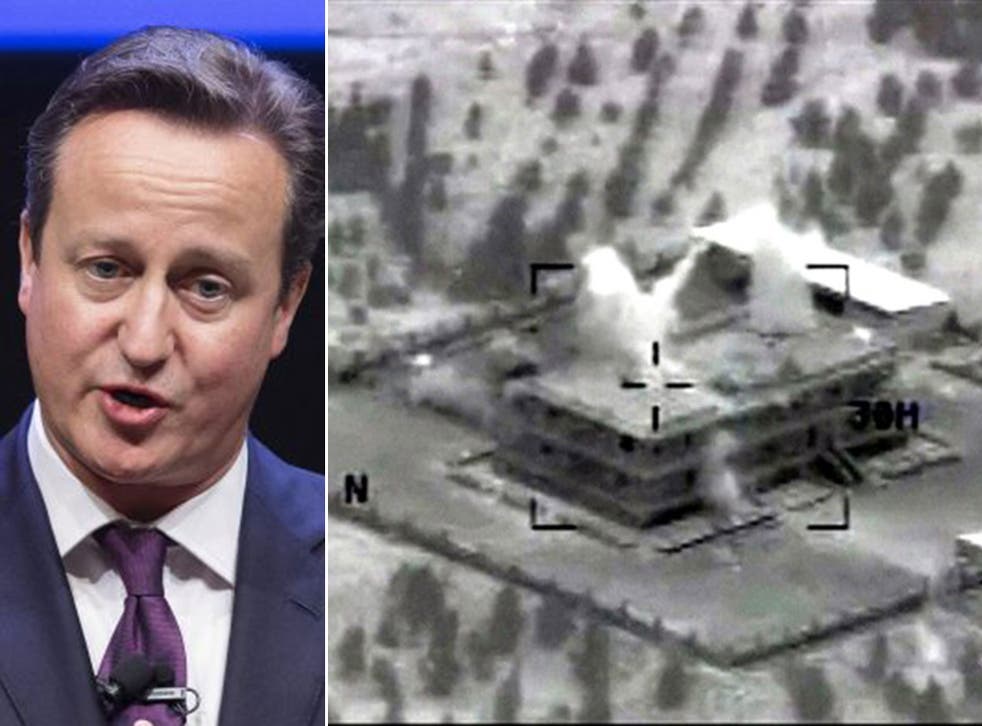 David Cameron has set Britain on the path to war in Iraq again as he announced he was seeking parliamentary approval for a sustained bombing campaign against Islamic extremists who now control large swathes of the country.
In a speech to the United Nations just hours before US warplanes launched a third night of air strikes in Syria, Mr Cameron said the international community must not be "so frozen with fear" by old mistakes that it withdrew into "isolation" and failed to confront the threat of Isis.
The Prime Minister, who himself voted for the last war in Iraq, later told the UN Security Council: "We need to act and we need to act now."
MPs will be recalled to give their approval for British air strikes on Friday and military action could potentially begin at the weekend.
Mr Cameron discussed the plan this afternoon with the Labour leader Ed Miliband, who will support the Commons motion. The Cabinet will meet on Thursday. Nigel Farage attracted scorn by claiming that the recall had been timed to distract attention from Ukip's annual party conference.
The move will mark the first time British combat forces have played an active role in Iraq since they withdrew five years ago. However there will be no UK involvement in air strikes in Syria and no "boots on the ground".
The decision came after an official request was made for British help by the Iraqi Prime Minister, Haider al-Abadi.
Timeline: The emergence of Isis

Show all 40
Addressing the UN General Assembly, Mr Cameron said that while it was "absolutely right" that Britain and the West should "learn the lessons of the past", those lessons had to be the "right lessons".
"Yes to careful preparation; no to rushing to join a conflict without a clear plan," he said. "But we must not be so frozen with fear that we don't do anything at all. Isolation and withdrawing from a problem like Isil will only make things worse. We must not allow past mistakes to become an excuse for indifference or inaction. The right lesson is that we should act – but act differently."
Mr Cameron said the coalition being put together by the US would be comprehensive, intelligent and inclusive. "We should be comprehensive – defeating the ideology of extremism that is the root cause of this terrorism – so we win the battle of ideas and not just the battle of military might.
"We should be intelligent – supporting representative and accountable governments and working with them at their request, not going in over their heads. We should be inclusive – working with partners in the region who are prepared to be part of the solution."
In a briefing to journalists, Mr Cameron acknowledged that Britain's involvement could jeopardise the prospects of securing the release of the hostage Alan Henning.
"It's a desperate situation," he admitted. "But let's be clear about two things. One is that we are dealing with psychopathic, murderous, brutal people who will stop at nothing to carry out dreadful acts on these hostages.
"And secondly, it's very important that we do the right thing as a country and we stick to the path that we set out… about having a comprehensive strategy including all the elements at our disposal – humanitarian aid, diplomacy and also, where appropriate, military action."
He added that Isis was a "clear and present danger" to the UK. "I think this is completely different to 2003. I think everyone can see that Isil is a direct threat to the UK. They have taken hostages, they have conducted plots to kill and maim British citizens."
Mr Miliband also voiced support for action against Isis, also known as Isil or Islamic State. The Labour leader said: "We cannot turn away from the threat of Isil which is a murderous organisation, has taken British hostages, threatens the stability of the region and is therefore a threat to the UK's national interest. That is why we will be supporting the Government's proposal for UK air strikes in Iraq against Isil. I want to reassure people there is no question of committing UK ground troops."
Mr Cameron met the Iranian President, Hassan Rouhani – the first time leaders of the two countries have met since the Iranian revolution in 1979. Downing Street said the two leaders agreed that they should seek to "progressively improve our bilateral relationship". They said this would help build mutual trust and create the environment in which issues such as the future of Iran's nuclear programme could be addressed.
Meanwhile, a radical Islamic preacher who spent four years in a UK jail for soliciting murder and hate speech has made a video plea for Isis to spare Mr Henning. Abdullah el-Faisal, who is said to have helped radicalise the shoe bomber Richard Reid, said: "I've spoken to many people about Alan Henning and everyone spoke well about him. He loves people. He's a good Samaritan. He's a philanthropist. He is a sympathiser to Muslims. So to kill someone like that, an aid worker, is un-Islamic."
Register for free to continue reading
Registration is a free and easy way to support our truly independent journalism
By registering, you will also enjoy limited access to Premium articles, exclusive newsletters, commenting, and virtual events with our leading journalists
Already have an account? sign in
Register for free to continue reading
Registration is a free and easy way to support our truly independent journalism
By registering, you will also enjoy limited access to Premium articles, exclusive newsletters, commenting, and virtual events with our leading journalists
Already have an account? sign in
Join our new commenting forum
Join thought-provoking conversations, follow other Independent readers and see their replies