Irn Bru fans react to upcoming recipe change by stockpiling Scotland's favourite soft drink
Sugar content of iconic beverage is being more than halved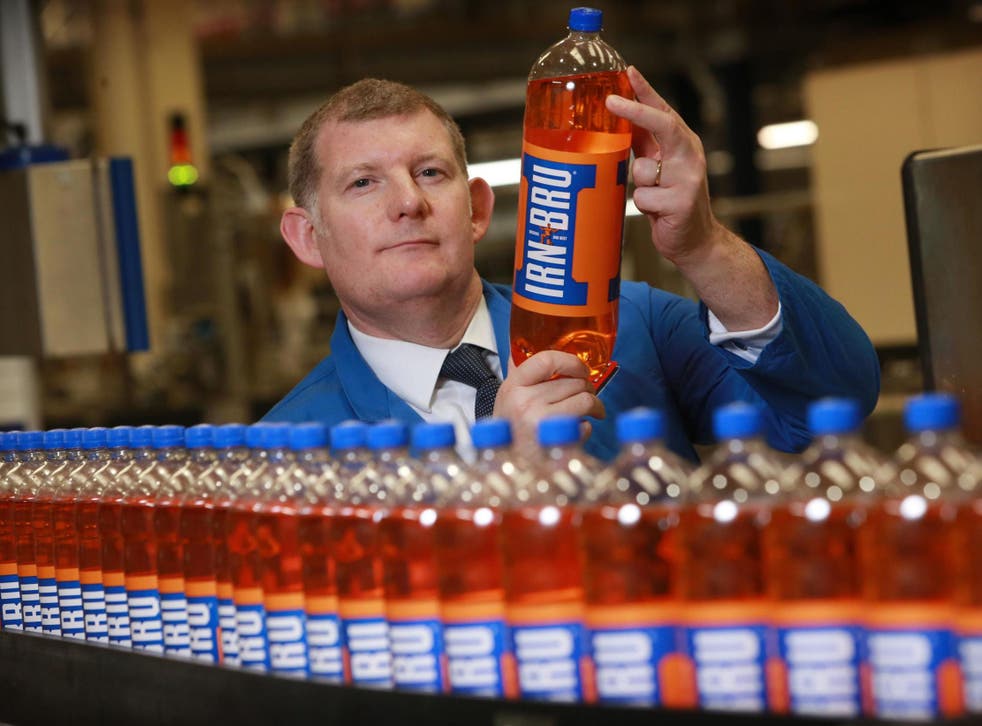 Irn Bru fans angry at a planned change to its recipe have started stockpiling the soft drink.
Makers AG Barr are cutting the sugar content by more than half ahead of a planned government levy on sugary drinks in April.
The new recipe, which is expected to be launched in shops later this month, has reportedly led to drinkers buying up to 250 cans to keep at home.
Stephen McLeod Blythe, of the Save Real Irn-Bru crusade, told The Scottish Sun: "People are stockpiling."
"A guy said he stocked up on 250 cans to try and ride this out," he said. "I suspect this change has come as a misguided response to declining fizzy drinks sales overall. It will eventually be reversed."
An online petition titled "Hands off our Irn Bru" has attracted more than 7,000 signatures. It calls on AG Barr to "rethink" its decision to change the ingredients of the Scottish "national treasure".
Ryan Allen, the man behind the petition, told the BBC he had 24 glass bottles of the soft drink in his loft for "emergencies".
Sugary drinks and unhealthy snacks 'fuelling obesity epidemic among children'
"I know it's not going to be the same product and I don't want to get used to it," he said. "I know sugar has its concerns but so do sweeteners and people are not as aware of that as they should be."
The maker announced last year it would cut Irn Bru's sugar content to below 5g per 100ml, down from 10g per 100ml, as part of its "long-standing sugar reduction programme".
On the petition's website, Mr Allen wrote: "I believe that a responsible adult should have the choice as to what poisons they want to put in their body and I think that Irn Bru should continue to sell its original full sugar recipe even if that is at a price increase."
He continued: "It is a national treasure in Scotland and really is part of our culture with its unique taste, branding and marketing.
"It's also well known to alleviate the effects of a hangover and is many a person's craving, saviour or go-to drink after a night on the tiles. I think to deny people in that condition their crutch would be a crime."
Soft drinks grow up: A former restaurateur thinks he's found a tasty alternative to alcohol

Show all 2
A spokesman for AG Barr said: "Irn Bru will continue to be made using the same secret Irn Bru flavour essence, but with less sugar. The vast majority of our drinkers want to consume less sugar so that's what we're now offering."
He continued: "Irn Bru will remain a sugary drink as the sugar in a can will reduce from 8.5 teaspoons to four. A can of Irn Bru today has just under 140 calories and in the future will have around 65 calories.
"Most shoppers can expect to buy Irn Bru with reduced sugar from later this month. Give it a try when it comes out!"
Scotland is entering an obesity epidemic, with two-thirds of Scottish adults overweight, including 29 per cent who are classified obese.
A recent survey found more than a third of Scottish children consume a non-diet soft drink at least once a day.
The Chancellor, Philip Hammond, announced details of the sugar tax in his budget statement in March, saying the money raised would go to the Department for Education (DfE) for school sports.
Tax on drinks with more than 5g of sugar per 100ml will be levied by 18p per litre, while those with 8g or more of sugar per 100ml will have an extra tax of 24p per litre.
Join our new commenting forum
Join thought-provoking conversations, follow other Independent readers and see their replies