Dozens of British children held in Syrian camps amid threat of Isis prison breaks, report says
Children are being left at risk while the 'most dangerous terrorists in the world are packed together', experts warn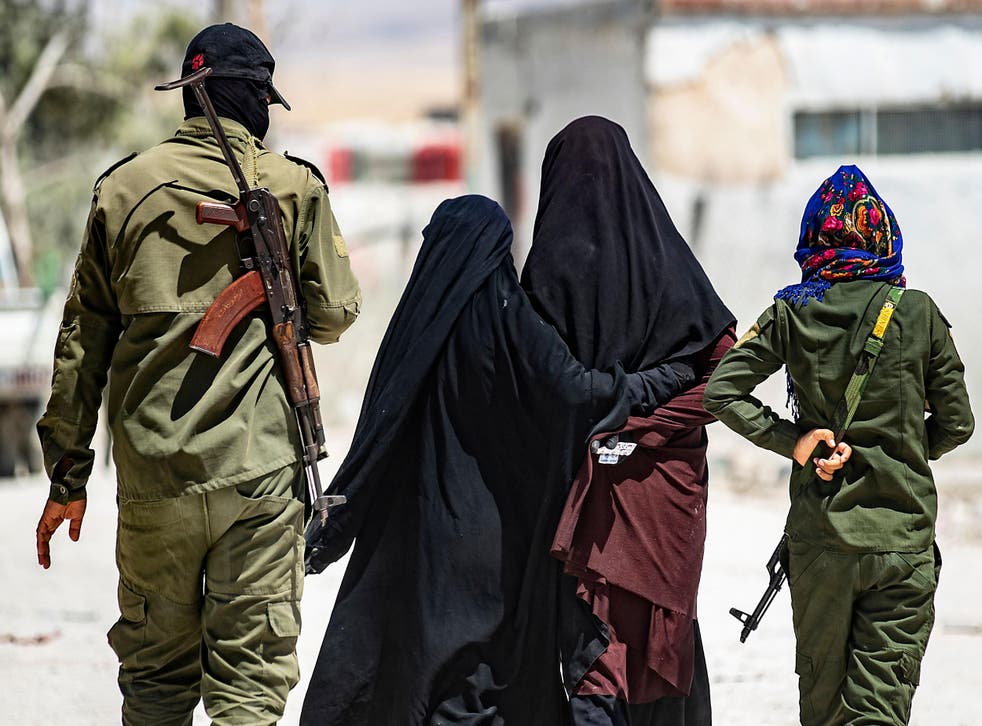 Dozens of British children are being held in worsening conditions in Syrian camps for Isis detainees, a new report has found.
Several children, including Shamima Begum's baby son, have already died and coronavirus is adding a new threat on top of malnutrition, poor sanitation and harsh weather conditions, according to the Egmont Institute.
It warned that the refusal to repatriate their parents from overcrowded prisons and camps was increasing the risk of mass breakouts and leaving the "most dangerous terrorists in the world packed together".
New figures compiled by the Belgian think tank estimate there are currently 35 British children and 24 adults — 15 women and nine men — held in camps and prisons controlled by Kurdish authorities in Syria.
Two alleged members of the Isis "Beatles" cell were recently flown to the US for trial, and in July former London student Ishak Mostefaoui died in a Syrian jail.
A report published on Wednesday said the UK had repatriated four unaccompanied children, but the fate of those who remain with their families is uncertain.
"The majority of them are below five years old, and they have every chance to fully resocialise in their home countries," it added. "Children are not 'ticking time bombs', but they could become ones if we do not bring them back."
The Egmont Institute said repatriation was also "the most sensible option, for security, legal and ethical reasons" for former Isis fighters and female members of the terrorist group.
It accused Britain and other countries that have stripped detained nationals of their citizenship of trying to "avoid any obligation" and avoid "political suicide".
International debates about how alleged Isis fighters should be punished had "put off" the issue but would not make it disappear, the report said.
"During their detention period, in Syria or Iraq, European fighters will continue to be at risk of further radicalisation and networking with other foreign Isis inmates," added authors Thomas Renard and Rik Coolsaet.
"Non-repatriation does not imply that these individuals will never be released or able to return to Europe.
Jeremy Hunt says British officials didn't rescue Shamima Begum's baby because it was too dangerous
"The only question we should ask ourselves is whether we are willing to abandon any form of control on European foreign fighters, at the risk to see them come back in some years even more radicalised, or if we'd rather take back control to ensure their proper prosecution, detention and rehabilitation."
The report noted that Isis's creation was linked to clandestine US prisons in Iraq, and that current policies had once again left "some of the most dangerous terrorists in the world packed together".
Maya Foa, the director of legal charity Reprieve, said the British government was capable of repatriating the "tiny number" of families concerned and prosecuting adults on terror charges.
"If the UK continues to do nothing, these families will either be transferred to Iraq or Assad-controlled Syria, where they will face torture, disappearance or death, or otherwise be lost track of altogether," she told The Independent.
"This serves neither our national security interests nor our core human rights principles."
Several prominent politicians have urged the government to change its stance, including former ministers Andrew Mitchell, David Davis and Tobias Ellwood.
"We are concerned that their current indefinite detention in increasingly precarious Kurdish detention camps poses a significant security challenge to the UK, as well as significant harm to the children involved," they wrote to the foreign and home secretaries in July.
"We urge you to ensure that these individuals are brought back to the UK so that any adults accused of crimes can be fairly prosecuted with due process, and the children's safety is ensured."
Timeline of the Isis caliphate

Show all 19
There are around 400 adult Isis detainees from EU countries, who now have more than 600 children in total.
The largest group of European Isis prisoners are thought to come from France, the Egmont Institute said, followed by Germany, the Netherlands, Belgium, Sweden and the UK.
It warned of the mounting risk of prison breaks, after several escapes and riots in Kurdish-controlled prisons and camps.
A recent report by US military officials raised similar concerns, finding that the security situation was deteriorating in Syrian Democratic Forces-run facilities.
It said "the risk of a mass breakout cannot be discounted" and that the number of detainees held indefinitely in prisons and camps were "an enduring and ever-increasing risk to mission".
Kurdish authorities have repeatedly appealed for European countries to repatriate foreign fighters and warned that they may not be able to secure them amid the ongoing Syrian civil war.
Around 750 foreign women and children escaped the Ain Issa camp after an invasion of northern Syria by Turkish forces last October, including two women from the UK and Ireland and their children.
Experts said it was a "small miracle" that further mass breakouts had not happened, amid internal revolts and vows by Isis to free its imprisoned followers.
Several bouts of unrest have been reported this year in the main prison for Isis fighters, including British men, in the Syrian town of Hasakah.
The al-Hol camp, where 65,000 women and children are being held, has seen rebellions, violence and crackdowns by women attempting to impose Isis-style sharia law.
"There are concerns that measures to prevent the spread of Covid-19, such as less physical contact between guards and prisoners, might facilitate informal power grab by Isis-linked groups and exacerbate a permissive environment for criminal activity," the Egmont Institute said.
Most of the women who have escaped so far are thought to have travelled to Idlib province in northwest Syria and may have rejoined jihadi groups, although the whereabouts of many is unknown.
The British government said it was working with international partners to secure justice for foreign fighters and would repatriate unaccompanied or orphaned children.
A spokesperson said: "Our priority is to ensure the safety and security of the UK. Those who remain in Syria include some of the most dangerous individuals who chose to stay to fight or otherwise support a group that committed the most atrocious crimes including butchering and beheading innocent civilians.
"The government has been clear that they should face justice for their crimes in the most appropriate jurisdiction, which will often be where their offences have been committed."
Join our new commenting forum
Join thought-provoking conversations, follow other Independent readers and see their replies