Isis Beatles: UK 'must not let standards slip' in face of terror, Ken Clarke warns
Government drops death penalty objection for captured militants after bypassing parliamentary approval for lethal drone strikes
Lizzie Dearden
Home Affairs Correspondent
Monday 23 July 2018 22:07 Comments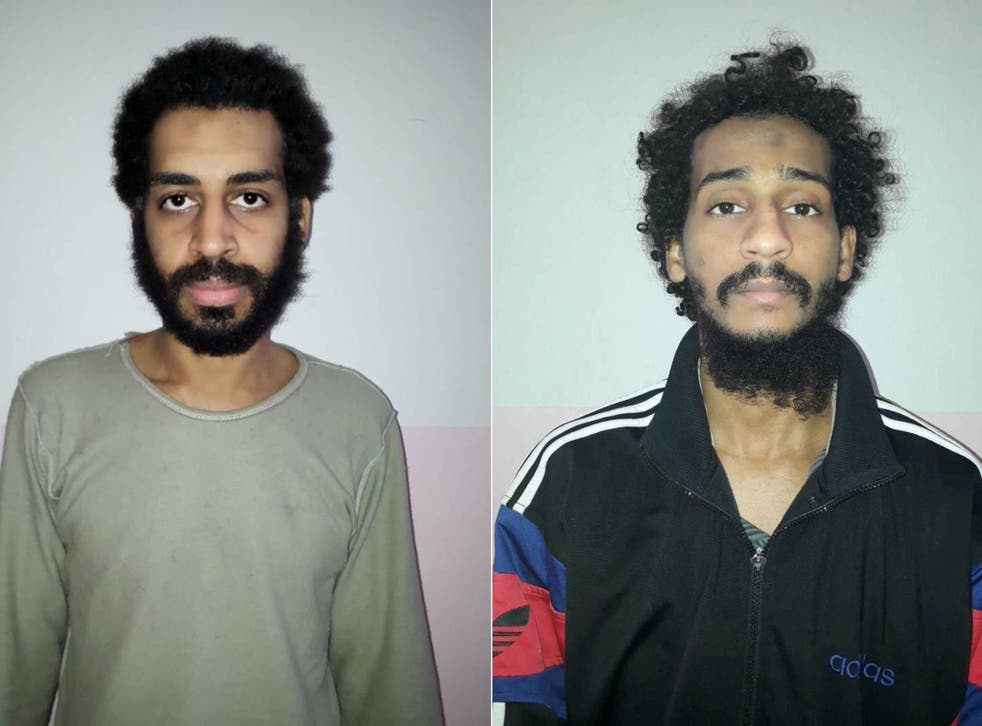 The UK "must not let its standards slip" in the face of terror, Tory grandee Ken Clarke has said amid uproar over the government's decision not to stop two Isis fighters being given the death penalty in America.
The home secretary broke a decades-long policy of refusing to aid investigations that could result in capital punishment by sharing evidence against alleged "Beatles" Alexanda Kotey and El Shafee Elsheikh.
Currently imprisoned by the Syrian Democratic Forces, they are to be transferred to the US after months of diplomatic wrangling over which country would take responsibility for their prosecution.
In a letter to the US Attorney General, Sajid Javid insisted that the case does not affect the UK's opposition to the death penalty, but did not seek the normal assurances that it would not be used.
The prime minister was "aware" of the decision but ministers did not seek parliamentary approval and it only became public when the document was leaked to the media.
In a heated debate in the House of Commons, the government was accused of "hypocrisy" as it outwardly continues global opposition to the death penalty.
Mr Clarke, the former home secretary and current chair of the All-Party Parliamentary Group on Extraordinary Rendition, said he could not remember any other cases where assurances against capital punishment had not been sought.
"We should have nothing to do with cases of this kind unless we have assurances that people aren't subject to the death penalty," he told The Independent.
Isis 'Beatles' militants captured in Syria: 'It is too late for a fair trial'
"The reputation of this country depends on upholding the highest standards of human rights and individual liberty, and things like torture, rendition and the death penalty should not be part of our tough and effective intelligence services."
Mr Clarke said that although some members of the public may support capital punishment for Isis fighters, "we can't slip into that – we mustn't allow fear to cause us to abandon standards of freedom, liberty and human rights on which this country stands".
"We must make sure we don't let our standards slip," he added.
The government previously bypassed parliamentary approval to launch drone strikes targeting British Isis militants in Syria, announcing them when they had already been carried out and refusing to release the legal advice said to have legitimised the bombing.
The chair of the All-Party Parliamentary Group on drones found last week that ministers' arguments were "weak and inconsistent".
Professor Michael Clarke said the government knew that MPs would be unlikely to object to the move because they could not be seen to support Isis fighters.
"Because they were bad guys we said 'it doesn't matter' ... but the principles being compromised are very important," he told The Independent. "If you're fighting terrorism you've got to be unambiguously lawful in what you do."
The security minister, Ben Wallace, used Isis' horrendous crimes to bat away questions from MPs over why the government had not followed normal policy for Kotey and Elsheikh.
"The crimes that we are talking about include the videoed beheading of dozens of innocent people by one of the most abhorrent organisations walking this earth," he told the House of Commons, accusing critical MPs of wanting them to "roam free".
But Dominic Grieve QC, the former attorney general who chairs the Intelligence and Security Committee, said it would have been "perfectly proper" to demand guarantees the two men would not be given the death penalty before sharing evidence with the US and warned: "This is going to continue to haunt the government."
Timeline: The emergence of Isis

Show all 40
Conservative MP Andrew Mitchell pointed out that: "On human rights, we cannot distinguish between good and bad people."
Diane Abbott, the shadow home secretary, cited calls from the mother of murdered hostage James Foley for a fair trial and another captive who survived told The Independent he did not want to see Kotey and Elsheikh be given the "satisfaction" of execution.
But Mr Wallace refused to reverse the decision and insisted that the US was the "most appropriate jurisdiction" for the pair to be put on trial.
"We are not going to seek of assurances because it is our reality that we do not think we have the evidence here to try them in the UK," he added.
"At the end of the day this is about the security of our country and about security being delivered where it can be done."
Mr Clarke said that values had wavered since the 9/11 attacks and rise of jihadi threats, when the UK allowed a "serious lapse in our normal standards" with involvement in extraordinary rendition to Libya and other countries where people faced torture.
"The government continues to make all the right protestations ... but that does not explain why we engaged in it so extensively," he added, calling for a promised Detainee Inquiry to be reconstituted.
"Something needs to be done to find out exactly what went wrong and to make sure in future it never happens again."
Mr Clarke said the Intelligence and Security Committee had been "effectively stopped" from investigating post-September 11 cases and that parliamentary scrutiny was being bypassed once again.
Mr Wallace insisted that the UK shared intelligence on the basis that Kotey and Elsheikh would not be sent to the Guantanamo Bay detention camp without trial.
Originally from London, both militants were declared "specially designated global terrorists" by the US State Department ahead of their capture in January, with official documents naming them as members of the "The Beatles" and saying the cell had beheaded more than 27 hostages and tortured many more.
Hostages have told of their brutality, which included torture, waterboarding, electric shocks, mock executions, and crucifixions.
Executioner Mohammed Emwazi, who became known as "Jihadi John", was killed in a drone strike, while the remaining "Beatle" Aine Davis is imprisoned in Turkey.
Kotey and Elsheikh are among the Isis fighters stripped of British citizenship for the "public good" – a power being increasingly used by the government to stop them returning home after the terrorist group was driven out of territories across Syria and Iraq.
The government's 2018 Transparency Report on Disruptive and Investigatory Powers, which was released on Monday, showed that 104 people were deprived of British citizenship in 2017 – up from just 14 the year before.
Security services have also withdrawn passports from terror suspects to stop them travelling abroad and excluded 26 people from Britain on national security grounds in the year.
A further nine terror suspects were put on "no fly" lists meaning they cannot return to the UK without notifying authorities under set conditions, and eight are currently subject to restrictions under Terrorism Prevention and Investigation Measures.
The Home Office said there were "a range of tools in our toolbox" to disrupt people who pose a security risk, even if they cannot be prosecuted or deported.
Of around 900 jihadis known to have travelled to Syria and Iraq, the government estimates that 40 per cent have returned and 20 per cent have been killed in the region.
Register for free to continue reading
Registration is a free and easy way to support our truly independent journalism
By registering, you will also enjoy limited access to Premium articles, exclusive newsletters, commenting, and virtual events with our leading journalists
Already have an account? sign in
Join our new commenting forum
Join thought-provoking conversations, follow other Independent readers and see their replies