Isis hacking group claims it has a mole in the Ministry of Defence
The threats against the UK were made as the group released a list of US Air Force 'targets'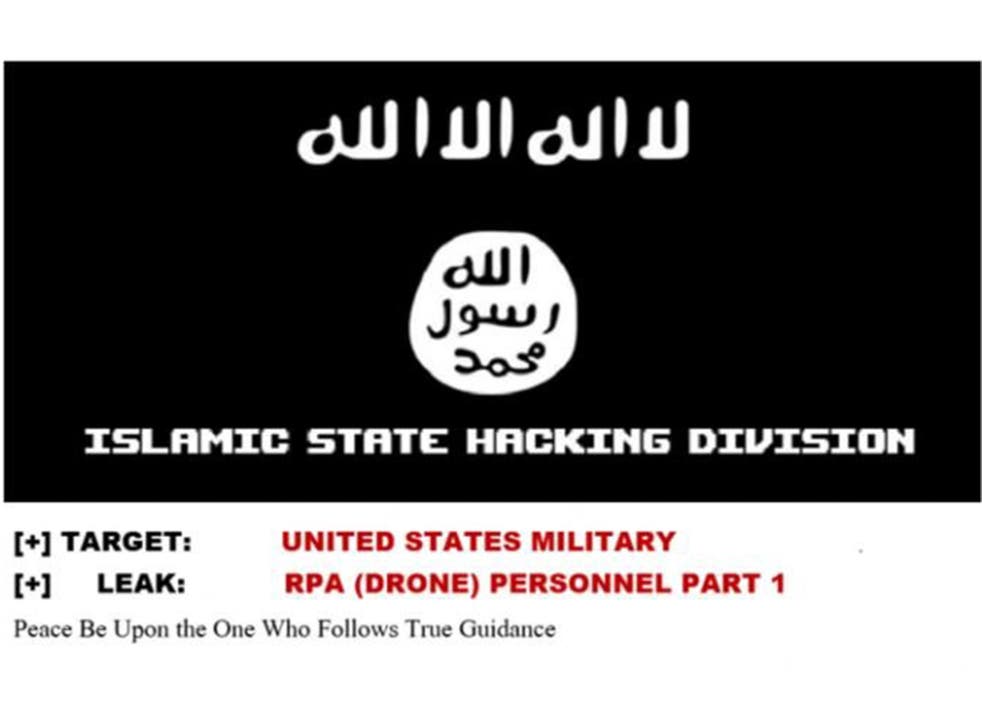 An Isis-linked hacker group claims to have a mole in the Ministry of Defence which it is using to "slowly and surely" infiltrate Britain.
A cyber outfit calling itself 'Islamic State Hacking Division' voiced the threat as it published a 'hit list' of people – regarded as targets to kill - it claimed were US drone pilots.
However, despite the apparent credibility of the people featured in the hit list, the information seemed to have been gleaned through publically available information online, rather than through compromised security, The Sunday Times reported.
The cyber outfit wrote: "In our next leak we may even disclose secret intelligence the Islamic State has just received from a source the brothers in the UK have spent some time acquiring from the Ministry of Defence in London as we slowly and secretly infiltrate England and the USA online and off."
The MoD declined to comment on what personnel security measures it provides for its staff. A spokesman said: "While we don't comment on cyber threats, Britain is a world leader in cyber security and we are investing more than ever before in the UK's capabilities to protect our national interest.
"Our increasing defence budget means that we can stay ahead of our adversaries in cyberspace while also investing in conventional capabilities."
In pictures: The rise of Isis

Show all 74
The group also published names, photographs and other biographical details about people it claimed were US Air Force personnel involved in drone operations.
"These 75 crusaders are posted as targets for our brothers and sisters in America and worldwide to hunt down and kill," a message said.
"Kill them wherever they are, knock on their doors and behead them, stab them, shoot them in the face or bomb them."
Despite the reaction to the list, it is not the first time jihadi-linked cyber groups have published alleged leaks or hacks of 'targets'. Analysts at SITE intelligence group have recorded a group calling itself Islamic State Hacking Division releasing 'kill lists' targeting US and Italian military personnel in 2015. In addition, media outfits, including the Huffington Post, were also hacked, according to the group.
Major Adrian Rankine-Galloway, a Pentagon spokesman, said: "We are aware that Isil [Isis] and other terrorist organisations have periodically purported to release personal information on US service members and military members of our coalition partners involved in operations against Isil.
"We take proactive measures to protect our service members and their families and keep them apprised of changes to the security situation.
"We will not comment on the authenticity of the information in question, and this will have no effect on operations against Isil."
Register for free to continue reading
Registration is a free and easy way to support our truly independent journalism
By registering, you will also enjoy limited access to Premium articles, exclusive newsletters, commenting, and virtual events with our leading journalists
Already have an account? sign in
Register for free to continue reading
Registration is a free and easy way to support our truly independent journalism
By registering, you will also enjoy limited access to Premium articles, exclusive newsletters, commenting, and virtual events with our leading journalists
Already have an account? sign in
Join our new commenting forum
Join thought-provoking conversations, follow other Independent readers and see their replies