Isis releases video showing execution of five 'British spies' and warning to 'imbecile' David Cameron
The video shows a militant speaking in a British accent calling David Cameron an 'imbecile'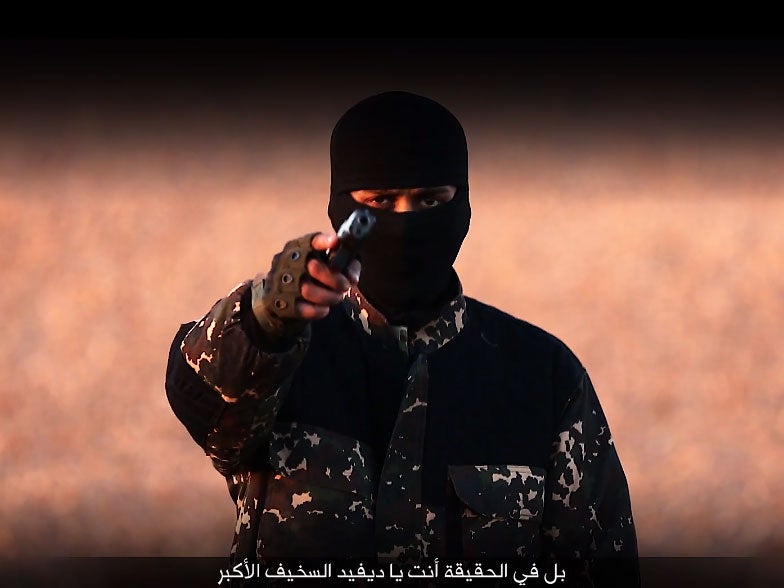 The Isis militant group has released a new video purporting to show the execution of five British spies, and threatening David Cameron over the UK's campaign in Syria.
In the video, which appears to have been released by the group's Raqqa-based media arm, five men are shown wearing orange jumpsuits and "confessing" to spying on behalf of the UK security services.
Later in the 10-minute video the alleged spies are shown kneeling on the ground before five executioners, as a militant speaking in a British accent says they have been "abandoned" by the British government.
It is thought the spies are not British citizens, but have been executed for working for the coalition and providing photos and videos from inside Raqqa. Charlie Winter, an expert in Isis's media output, said they are alleged to have handed intelligence to foreign fighters from the UK.
Speaking to the camera, the masked gunman can be heard saying: "This is a message to David Cameron," who he describes as an "imbecile" and "slave of the White House".
Addressing "the people of Britain", the militant says Isis will "one day invade your land, where we will rule by the Shariah".
The militant compares the Prime Minister to "arrogant and foolish" predecessors Gordon Brown and Tony Blair, and concludes : "You will lose this war, as you lost in Iraq and Afghanistan.
"But this time, when you lose, your children will inherit your defeat and remember you as the fools who thought they could fight the Islamic State."
Iraq: National flag waves over Ramadi after army liberate city from ISIS
The video, which cannot be independently verified, ends with a trailer for a further execution and a brief clip of a young child, wearing militant garb and speaking with a British accent, appearing to say: "We will kill the kuffar [non-believers] over there."
Middle East analysts have reported a sharp increase in the number of propaganda videos released by Isis after its loss of the Iraqi city of Ramadi.
In pictures: The rise of Isis
Show all 74
A mixture of old and new footage, the flurry of activity has been seen as an attempt to distract from that significant defeat.
A spokesperson for Downing Street was not immediately available for comment.
More follows
Join our commenting forum
Join thought-provoking conversations, follow other Independent readers and see their replies