Isis threat to UK remains despite terror group's demise in Middle East, warns commander
Operation now underway to reclaim Hajin, the last area remaining under militants' control
Kim Sengupta
Defence Editor
Wednesday 12 September 2018 17:54 Comments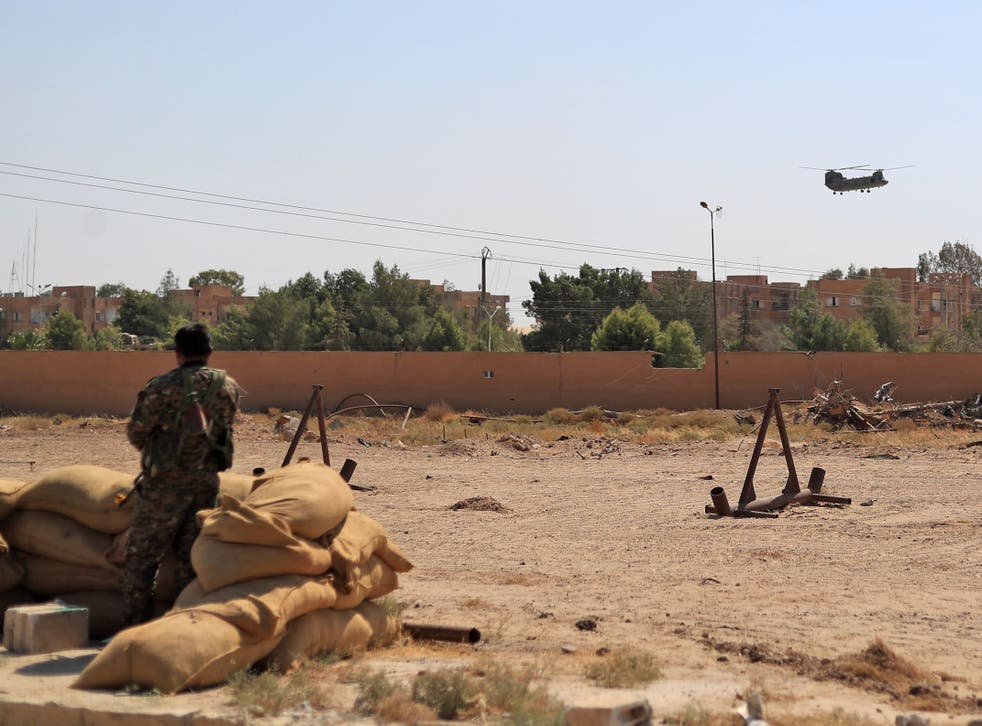 Islamist fighters are making their final stand in the Syrian battleground on two fronts. But the most senior British military officer in the coalition against Isis has warned that violent jihad is far from over and threats of attacks remain potent in the region and beyond it to the west, including Britain.
As well as an impending offensive by Russian, Iranian and Assad regime forces on the rebel enclave of Idlib, a second operation is under way by US and European backed forces to reclaim Hajin, the last area remaining under Isis control.
However Major General Felix Gedney, the deputy commander of the American led "Inherent Resolve" mission, cautioned that the fall of the two remaining strongholds will not mean that the danger of Islamist terrorism is over.
"We have caused huge damage to the leadership of Daesh [Isis] and we have crushed much of it. But we have not destroyed Daesh totally and the terrorist threat remains in Syria, Iraq and our country," he said. "We need to remain committed to ensure that this organisation, an evil organisation, does not continue to inflict bloodshed and suffering."
Maj Gen Gedney acknowledged that despite experiencing losses, the whereabouts of some of the Isis hierarchy, including the head, Abu Bakr al-Baghdadi, remains unclear. "Baghdadi remains very important, he popped up a little while ago, we don't know where he is at the moment," he said. "Daesh is changing and adapting, it is becoming more of an insurgency, carrying out terrorist attacks, bombings, and we can expect this to continue."
Eyewitness of deadly ISIS suicide attack in Afghanistan describes the event
He acknowledged that foreign fighters seeking to return to the West, including the UK, continue to pose a grave danger. Hundreds remain in Syria and Iraq, said Maj Gen Gedney, the numbers of British citizens among them remain unclear.
"We don't know the exact number from here; some who were UK citizens are no longer so because their citizenship has been revoked," he said. "But they are present and it is obviously a problem. It is not for me to say how we deal with them, but we do need to deal with them, otherwise they would be after us again and try to carry out terrorist attacks."
A group of foreign fighters, including British nationals, are known to be in the Hajin area, said Maj Gen Gedney. There is also evidence that other Isis foreign jihadists are heading for Idlib, which is held at present by rebel groups including the al-Qaeda linked Hayat Tahrir al-Sham, which previously called itself Jabhat al-Nusra, and Turkish organised National Liberation Front.
There have been repeated warnings from the US and other Western states as well as the UN that a full scale military assault on Idlib would result in severe suffering for civilians. Maj Gen Gedney said: "We are obviously looking out for impact on coalition areas on the humanitarian aspect of this. We are also aware of foreign fighters and need to interdict them there and in Hajin, this is extremely important."
Syrian Democratic Forces take Raqqa from Isis – in pictures

Show all 8
The international forces had been criticised for allowing the evacuation of Islamist fighters, including foreign jihadis, after the fall of Raqqa, the "capital" of the so-called Islamic State.
But Maj Gen Gedney maintained: "The tribal elders at the time made a strong pitch for the Arab population to be able leave and the UN was asking for a humanitarian effort. We had to go along with it. Many of those who left were civilians, but yes there were some fighters among them. We subsequently killed or captured many of them, some of them are now wallowing in [penal] institutions in northern Syria."
Register for free to continue reading
Registration is a free and easy way to support our truly independent journalism
By registering, you will also enjoy limited access to Premium articles, exclusive newsletters, commenting, and virtual events with our leading journalists
Already have an account? sign in
Join our new commenting forum
Join thought-provoking conversations, follow other Independent readers and see their replies