First British citizen refused entry to Israel under anti-BDS law says move 'undermines claim to be a democracy'
Israeli embassy accuses former Labour parliamentary candidate of 'associating' with Hamas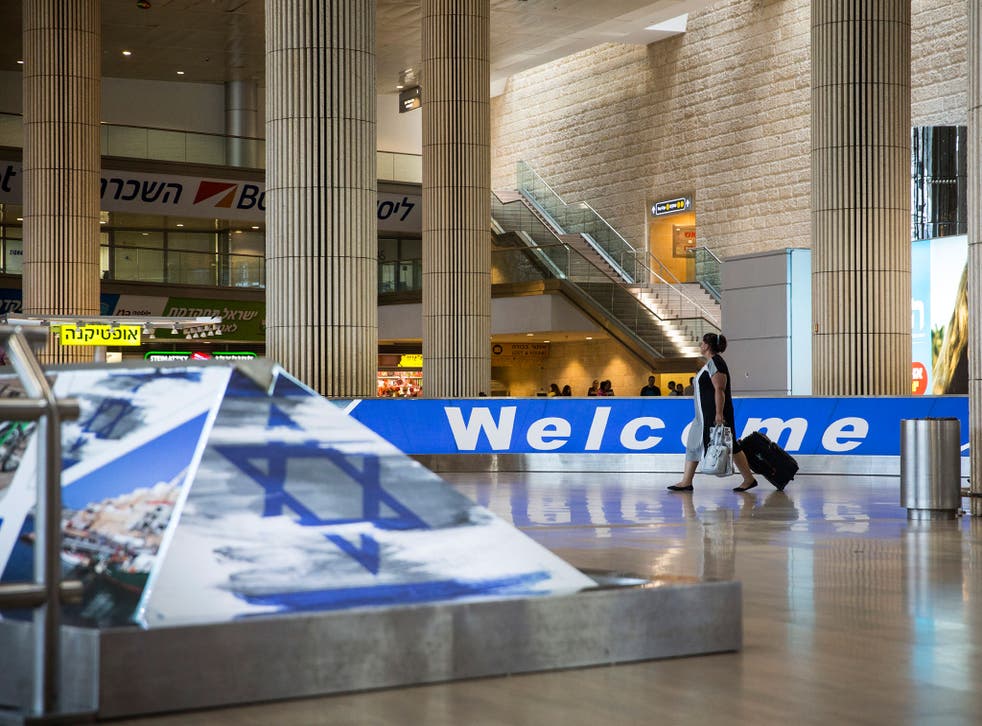 The first British citizen to be refused entry to Israel under a controversial law banning supporters of the boycott movement says the decision "undermines their claim to be a democracy".
Hugh Lanning, chair of British activist organisation the Palestine Solidarity Campaign (PSC), was detained for questioning after landing at Ben Gurion airport on Sunday and returned to the UK.
He told The Independent there had been "no problem at all" on around a dozen previous visits to Israel and the Occupied Palestinian Territories spanning several years.
But Mr Lanning's most recent trip came just days after the Israeli Knesset approved a new law banning anyone found to support the Boycott, Divestment and Sanctions (BDS) movement from entering the country.
"When they scanned my passport, they instantly got someone to escort me off to the reception area," he said, recounting hours of repeated questioning in Tel Aviv.
"At different stages it felt like they were testing me against what they already knew…at one point they showed me my Wikipedia page, which is not written by me.
"At another point they showed me a picture of myself in Gaza."
Mr Lanning was part of the Miles of Smiles international convoy that entered the coastal enclave in 2012, with photographs showing him alongside Hamas leader Ismail Haniyeh and other fundamentalist figures.
The Israeli embassy in London described Mr Lanning as "associated" with the Islamist group Hamas and accused the PSC of "leading the campaign in the UK to demonise and boycott Israel".
"Lanning is associated with the leaders of Hamas, which is designated as a terror group across the EU; a group whose anti-Semitic charter calls for the killing of all Jews," a spokesperson said.
The Israeli–Palestinian conflict intensifies

Show all 10
"Israel is seeking a peaceful resolution to its conflict with the Palestinians. Those who promote extremism should not be allowed to forment their hatred in Israel."
Mr Lanning denied any involvement with Haniyeh – then the disputed Palestinian Prime Minister – or any other members of the extremist group.
"I stood in the same room, I was introduced with him and moved along a platform as they took the photos," the 64-year-old added.
"I've also stood in the same room as Margaret Thatcher, Tony Blair and Bill Clinton and had the same amount of contact. If that's being 'associated with', I plead guilty."
Mr Lanning said he was introduced to Haniyeh at a public reception but had no further contact and stressed that the PSC does not ally itself with Hamas, Fatah or any other Palestinian political groups.
A former trade union official, he became chair of the PSC in 2009 and ran as the Labour candidate for Canterbury and Whitstable in the 2015 general election.
Mr Lanning said he was questioned for around eight hours on his political activities, previous visits and contacts in Israel, the West Bank and Gaza and whether he supported the BDS movement.
The law approved last week bars activists from entering Israel "who knowingly issues a public call for boycotting Israel that, given the content of the call and the circumstances in which it was issued, has a reasonable possibility of leading to the imposition of a boycott – if the issuer was aware of this possibility".
"I said I was far too old to be an 'activist'…but I do believe that Israel ought to comply with international law," Mr Lanning said.
"At 11pm the most senior person said 'we've decided we're not going to allow you entry for activities hostile to Israel'.
"At no point did they ever accuse me of anything and when I asked what [I'd done] they refused to say."
He was put on a plane back to London on Monday morning and informed that he would need to apply for permission to visit Israel in future, rather than being interviewed for a visa on arrival like other British citizens.
Mr Lanning said he could not be considered a security threat and supported only non-violent legal action to oppose Israeli occupation in the West Bank and Gaza.
"Stopping people going in won't stop criticism and I think it undermines their claim to be a democracy if they won't allow critics to be physically present," he added.
"While they're not complying with international law then it's legitimate to criticise the Israeli state for the occupation, breaches of human rights, for the wall - there's a catalogue of things that most of the world thinks are wrong.
"Even the British Government thinks so – will they stop them coming in? Where do you draw the line?"
The new law also bans entry visas and residency rights for those who call for boycotts of Israeli institutions in any "area under its control", including Jewish settlements in the West Bank that are regarded as illegal under international law.
The bill allows for exceptions to be made by the interior ministry, but it was unclear whether foreign politicians, academics and journalists would be turned away at the border.
Ben Jamal, director of the PSC, said Mr Lanning was the "first victim" of the new law and argued it violates rights to the freedom of speech and movement.
"If Israel believes that by introducing these draconian undemocratic laws it will intimidate its critics into silence it is mistaken," he added.
"We call upon the British Government to make clear to Israel that it is not acceptable for it to ban entry to British citizens whose only crime is to advocate for human rights of the Palestinian people and to protest against policies that violate those rights ."
The Foreign and Commonwealth Office has updated its travel advice to reflect the law, which it said could affect any foreign nationals who have publicly called for a boycott of Israel or settlements, or belong to an organisation that supports the movement.
"We are seeking clarification from the Israeli Government on the potential impact on British nationals and have updated our travel advice for Israel to reflect last week's vote in the Israeli Parliament, " a spokesperson said.

Register for free to continue reading
Registration is a free and easy way to support our truly independent journalism
By registering, you will also enjoy limited access to Premium articles, exclusive newsletters, commenting, and virtual events with our leading journalists
Already have an account? sign in