Israel boycott ban: Local councils face legal action at High Court over boycott on Israeli goods made in West Bank
Jewish Human Rights Watch (JHRW) is seeking judicial review against Leicester City Council, Swansea City Council and Gwynedd Council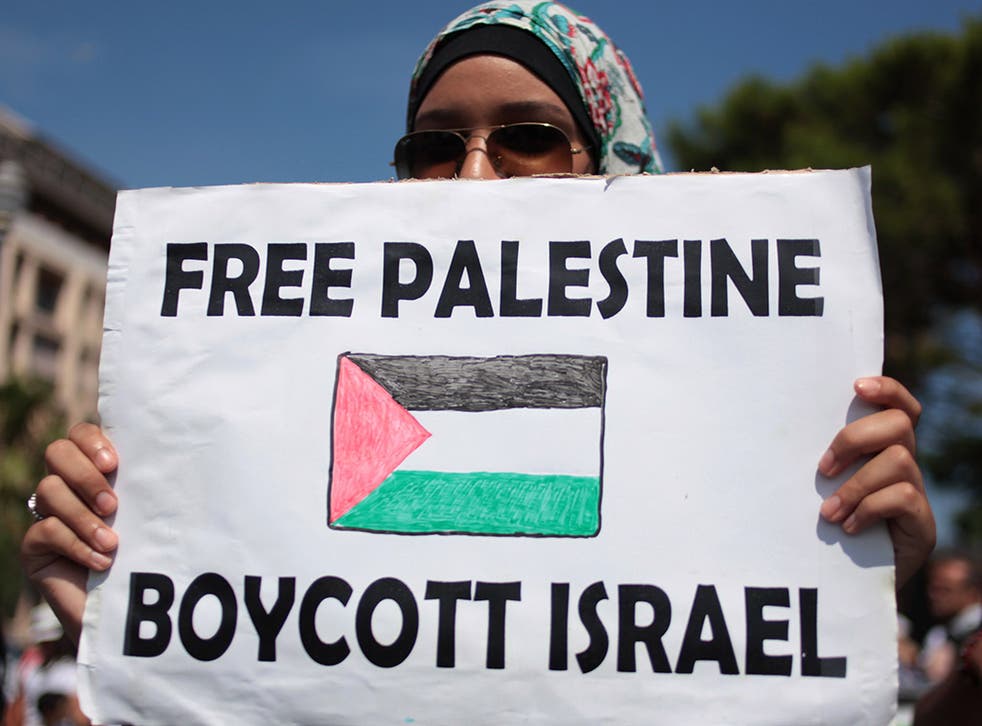 Local councils are facing legal action at the High Court over their decisions to impose boycotts on Israeli goods produced in illegal Israeli settlements in the West Bank.
Jewish Human Rights Watch (JHRW) is seeking judicial review against three authorities - Leicester City Council, Swansea City Council and Gwynedd Council.
The campaign group is expected to ask Lord Justice Simon and Mr Justice Flaux, sitting in London, to rule the "anti-Semitic" boycotts unlawful because they breach the Local Government Act 1988 and the Equality Act 2010.
The organisaton has likened the "divisive" town hall action to the boycott of Jewish shops in 1930s Nazi Germany.
But the charity War on Want has condemned the JHRW legal challenge as "shameful".
Senior campaigner Ryvka Barnard said: "It's shameful that local councils are being attacked for ensuring their policies are in line with international and UK law.
"The illegal settlements are a part of the systematic abuses of international law and human rights committed by Israel against the Palestinians."
The Government is issuing new guidance to public authorities warning such bans are "inappropriate" unless formal legal sanctions or embargoes have been put in place by the Government itself.
The Cabinet Office says boycotts could "undermine good community relations, poison and polarise debate, weaken integration and fuel anti-Semitism".
At the same time they could hinder the UK's export trade and harm international relationships, say ministers.
But Ms Barnard said: "The UK Government has reiterated over and over again that Israeli settlements in the Occupied Palestinian Territories are illegal, and has issued advice to businesses on the risks of investing in or trading with illegal settlements."
The Labour-led Leicester council approved its motion in favour of a boycott in 2014.
Sarkozy: Boycotting Israel is unacceptable
The council has stated: "The motion has never been a boycott of Israel by Leicester and is not an attack on the Jewish people. It relates specifically to illegal Israeli settlements in the West Bank."
A Swansea council spokesman said: "The council has never boycotted Israeli goods and has no intention of doing so. For legal reasons, it would be inappropriate to comment further."
Gwynedd Council made clear that its own boycott was aimed at condemning the "attacks by the Israeli state on the territory of the Palestinians living in the Gaza Strip".
The Israeli–Palestinian conflict intensifies

Show all 10
It also said: "It must be made clear that the proposal condemned the Israeli state and not the Jewish religion."
Labour leader Jeremy Corbyn described the Government's new guidance as "an attack on local democracy".
His spokesman said: "People have the right to elect local representatives able to make decisions free of central government political control.
"That includes withdrawal of investments or procurement on ethical and human rights grounds.
"This Government's ban would have outlawed council action against Apartheid South Africa. Ministers talk about devolution, but in practice they're imposing Conservative party policies on elected local councils across the board."
Press Association
Join our new commenting forum
Join thought-provoking conversations, follow other Independent readers and see their replies