It's a palace, not a hall: French baron's stately home is renamed
Baron von Pfetten has ruffled feathers in heritage circles after the name of Apethorpe Hall in Northamptonshire was changed to Apethorpe Palace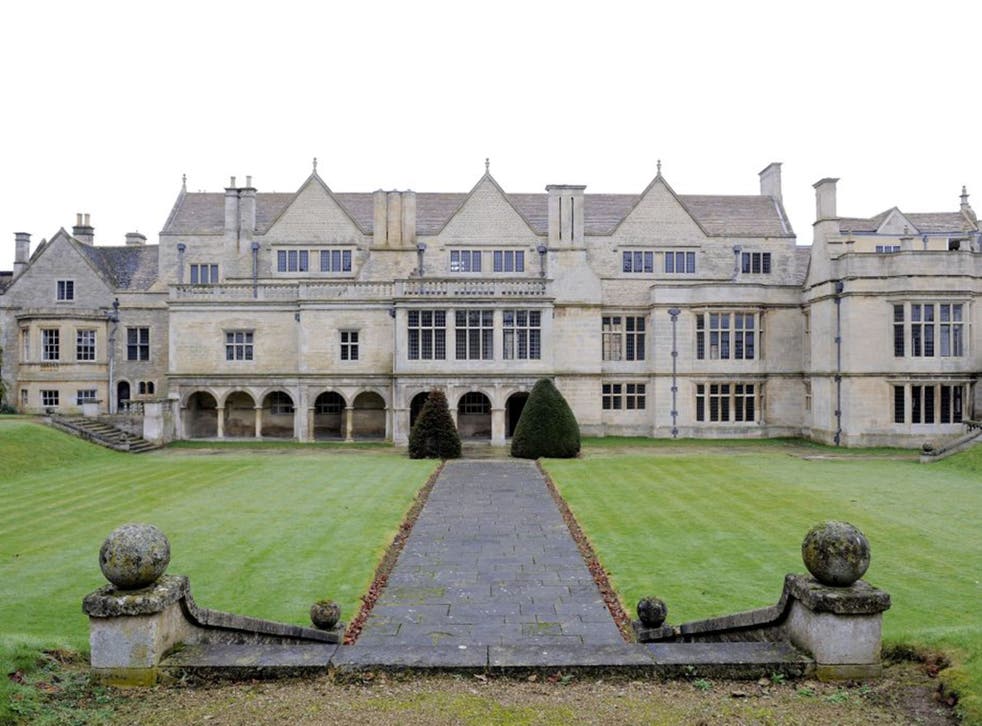 They are some of England's grandest homes. But while Buckingham Palace and Kensington Palace are familiar to any tourist, the sudden emergence of a new contender – Apethorpe Palace in Northamptonshire – is ruffling feathers in heritage circles.
By tacit agreement, a building is called a palace only if it is the official residence of royalty or bishops. But the decision to rename the Northampton stately home snapped up last year for £2.5m by a French aristocrat dubbed "the Red Baron" has raised eyebrows.
Jean Christophe Iseux, Baron von Pfetten, who was a senior adviser to China's communist government, has - with the knowledge and support of English Heritage - officially renamed Apethorpe Hall Apethorpe Palace, according to Land Registry documents. The French professor and diplomat bought the 48-bedroom Jacobean manor in a deal with English Heritage that saved the magnificent 15th-century Grade I-listed home from ruin. Baron Pfetten has agreed to an 80-year commitment of 50 days public opening a year, which English Heritage say is "a far more extensive undertaking than the normal period of 10 years in the case of English Heritage grant-aided properties."
At the time of the sale the property had no running water or electricity. The baron declared it should "regain its deserved place in British history", but while there is appreciation of his efforts to restore the building, some believe he has overstepped the mark by converting the hall into a palace.
Built between 1470 and 1480, Apethorpe was a power base for prominent Tudor and Jacobean families for more than 150 years. Although the house once hosted monarchs including Elizabeth I, James I and Charles I, it never served as a royal residence, although English Heritage say it was "lived in regularly" by James 1.
Andrew Triggs, an amateur architectural historian and editor of the BISH (British & Irish Stately Homes) blog, said: "I am not convinced that Apethorpe's history warrants it being named a palace just because it was visited once by Elizabeth I when she owned it. Osborne House, managed by English Heritage, was owned and built by Queen Victoria and Prince Albert, who visited many more times, but is not called a palace, so it seems inconsistent.
Weird and wonderful listed buildings

Show all 5
"I would imagine that if English Heritage had not been the seller of the house, more effort may have been made to challenge and discourage the name change. But it does raise an interesting issue over whether English Heritage should limit the free use of certain names, to maintain the integrity of our heritage."
The Government issued a £3.5m compulsory purchase order for Apethorpe Hall in 2004. Four years later, it went on the market for £4.5m but no one was interested. Baron von Pfetten bought it last November after English Heritage used £8m of taxpayers' to keep it in a secure state.
A spokesperson for English Heritage said "English Heritage has no power or influence over what people call their houses and it is up to owners to choose names that they are happy with. For a period in its history Apethorpe was a royal palace lived in regularly by James 1. At the point of sale the name of Apethorpe Hall was changed to palace at the request of its new owner with the knowledge and support of English Heritage."
Baron von Pfetten said that the idea of palatial status for Apethorpe originated from English Heritage during early discussions at the start of negotiations for the purchase of the property and that "the final decision to rename Apethorpe was taken jointly by English Heritage and myself well before exchange."
Turning Dunromin into Versailles
Make a written request to the highways or engineers department of your council. You cannot change a number (apart from adding a letter for an extra dwelling) or swap a number for a name, but you can use a name in addition. The highways department will tell Royal Mail of an approved name change. You need to register the change with Land Registry, your council tax department, the electoral roll, phone and utility providers, mortgage lender and everyone who writes to you.
Register for free to continue reading
Registration is a free and easy way to support our truly independent journalism
By registering, you will also enjoy limited access to Premium articles, exclusive newsletters, commenting, and virtual events with our leading journalists
Already have an account? sign in