Italy's divorce law reforms endanger domestic violence victims and pose grave threat to women's rights, prominent lawyer warns
'This law is a clear political sign this government is going against women's rights, women's autonomy, and women's emancipation. We are very worried,' Marcelle Pirrone says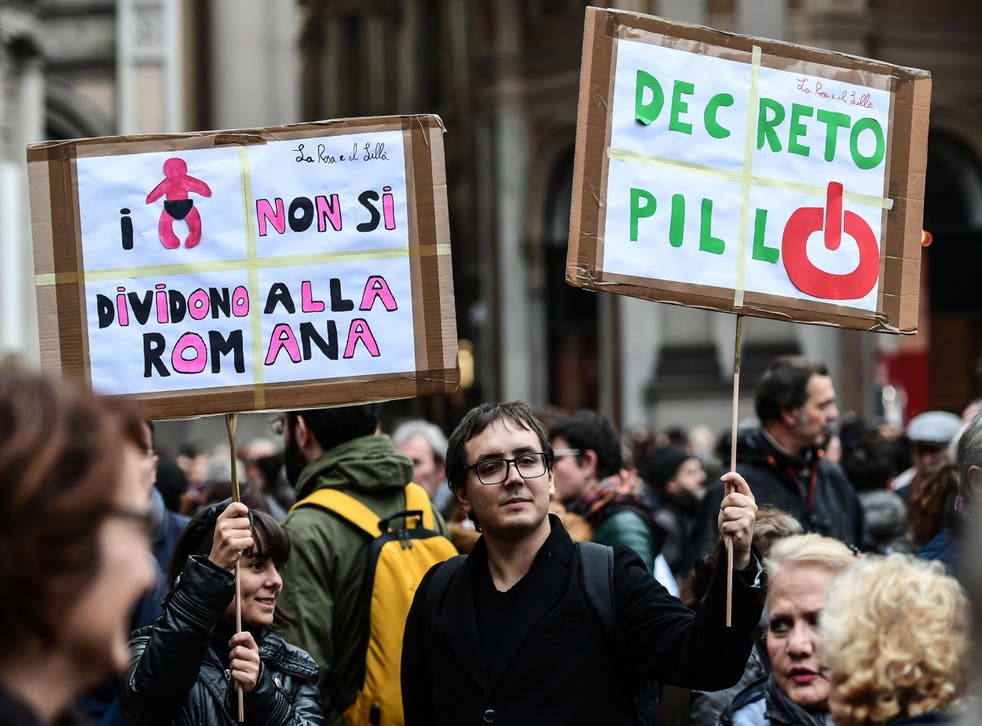 Italy's divorce law reforms put domestic violence victims in danger and pose a grave threat to women's rights, a prominent lawyer in the country has warned.
Marcelle Pirrone, a family lawyer who has been focusing on women in the criminal justice system for 30 years, said the new law being considered by parliament was against human rights law and the Italian constitution itself.
Ms Pirrone said women's rights were being radically rolled back under the country's far-right League party and she was concerned about the country's lurch to the right.
She raised alarm bells over the bill, which has been proposed by conservative senator Simone Pillon of the hardline anti-immigration party, saying it would turn the clock back 50 years for women, children and domestic abuse survivors.
The bill requires all couples wanting a divorce with children who are legally minors to go through an obligatory mediation process that they have to pay for out of their own pocket.
They must use a professional mediator to outline a parenting plan which chooses residence, schooling and holiday arrangements. It must meet shared custody measures that force children to spend at least 12 days a month with each parent and class them as resident at both parents' addresses instead of one, as is the current situation.
Mr Pillon, who has long been against gay marriage, same-sex parents and abortion, has been accused of having a conflict of interest because he himself is a mediator.
Thousands of people, including members of women's rights groups, and legal and psychologist associations, took part in protests in 60 cities across Italy on Saturday to show their opposition to the highly controversial bill which has also been criticised by the United Nations.
World news in pictures

Show all 50
Ms Pirrone, a feminist activist who sits on the board of Women Against Violence Europe in Italy, said: "The proposal of this law is shocking. This comes from a man who is clearly against divorce. Even though it is a law we have had for 40 years which we thought was untouchable, now we see it is not.
"The bill is denying the problem of domestic violence. Mediation is in conflict with the Istanbul Convention against violence against women and domestic violence. You can't impose mediation to a situation with domestic violence but they are saying every couple has to go regardless of it being a violent situation."
The bill would eradicate monthly child support and replace it with directly paid maintenance, which sees parents pay for children's needs as and when they appear rather than giving a fixed sum in advance.
The reforms also endeavour to address so-called "parental alienation syndrome" – a controversial theory which argues one parent is able to manipulate the couple's children to reject the other parent.
Concerns have been voiced that the theory puts abused women and children at greater risk because it allows violent fathers to manipulate custody battles and demand continued access.
"If a child says 'I do not want to see my father, I am worried', they will immediately analyse the mother for alienation syndrome and if the judge thinks they have been manipulated [the children] go to another family," Ms Pirrone said.
"All over the world, it has been proved it is a constructed syndrome – lots of psychologists say it is not scientific and now it is set to be in law.
"It creates this prejudice against the mother and it is clear it will disregard domestic violence because the judges are forced to follow certain procedures and rules as this law is very strict. It means judges can't do their job properly. They recognise that after 30 years domestic violence is being viewed as a serious issue and they are trying to push it back into the silence with a very threatening law.
"This law is not even trying to hide its intent. It is against women. He has a very clear ideology and this is a very ideological law. It is punishing the woman and it is pushing them back into a very dependent situation where they are not able to take autonomous decisions or get away from a bad situation."
She argued Italy was a "highly patriarchal" country with traditional stereotypes about the role of women and this was worsening under Matteo Salvini, Italy's interior minister and the leader of the League.
"Everyone in Italy is discussing whether we can use the word fascist about him. I will not use that word but he is patriarchal, undemocratic, racist and misogynist, that is for sure," she said.
"This law is a clear political sign this government is going against women's rights, women's autonomy, and women's emancipation. We are very worried."
Some 100 women from feminist movement Non Una di Meno in Rome went from the Colosseum to the Capitoline Hill dressed as handmaids from Margaret Atwood's The Handmaid's Tale on Saturday to protest against the proposed bill.
"Away with maintenance cheques, away with the ideological battle of women against men. We think only of the child," Mr Pillon told Vanity Fair Italia.
The senator, who has suggested women with unplanned pregnancies should be forced to give birth, also pledged to crack down on "false accusations of [domestic] violence" in the interview.
Support free-thinking journalism and attend Independent events
Statistics for gender-based violence in Italy are roughly comparable with the European average but the country has among the highest femicide rates in Europe.
Some 149 women were murdered in 2016, according to figures from Istat, the national statistics agency. Of this number, 59 were killed by a current partner, 17 by an ex, 33 by a family member and nine by a person they knew.
There is also a profound issue around cultural attitudes surrounding domestic violence in the country – with women who report violence struggling to be believed by police, the courts or even their own families.
Italy's Women against Violence Network (D.i.Re) has created a petition against the bill that has amassed over 100,000 signatures.
Join our new commenting forum
Join thought-provoking conversations, follow other Independent readers and see their replies