Italy earthquake: British victims named as London couple and teenage boy after death toll rises to 267
Disaster kills Maria and William Henniker-Gotley and Marcos Burnett, 14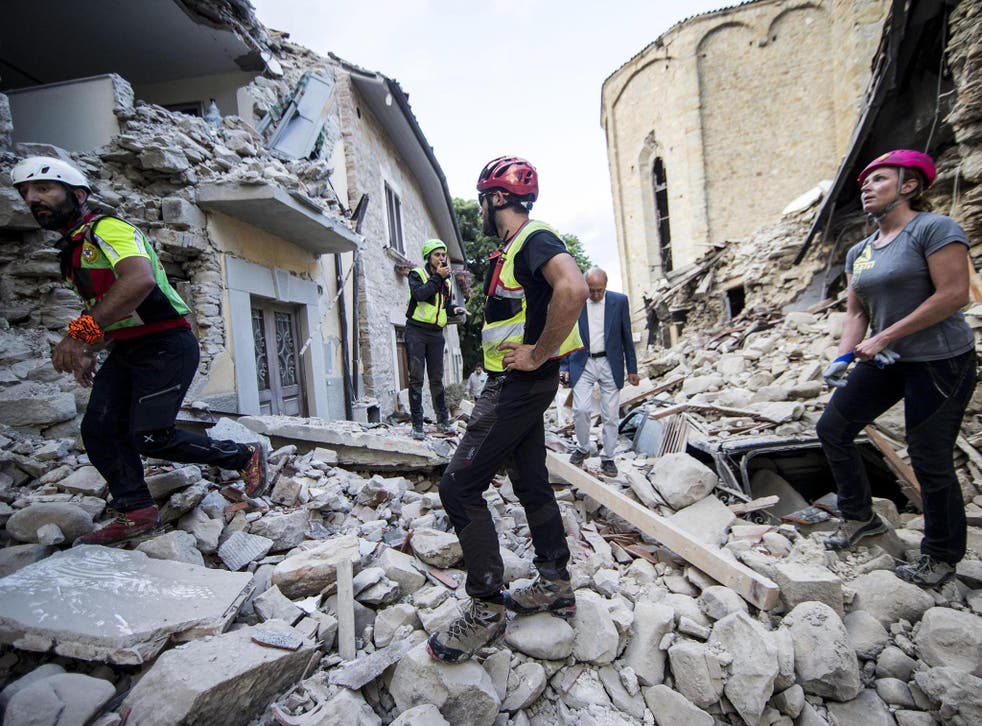 The three Britons killed in the earthquake that devastated central Italy have been named as a married couple and a 14-year-old boy.
Maria and William Henniker-Gotley, from south London, and Marcos Burnett, 14, died after the 6.2 magnitude quake struck in the early hours of Wednesday morning.
A joint statement from their families paid tribute to the "tireless work of the Italian rescue workers and hospital staff" and expressed their gratitude for the love and support they have received from Italians.
The earthquake levelled three small towns and has left at least 250 people dead.
Italy earthquake: Rescuers continue search for survivors
A state of emergency has been declared in the areas affected and aftershocks have continued to strike, including one of a preliminary magnitude of 4.7 on Friday morning.
It is believed Mr and Mrs Henniker-Gotley owned a property in Sommati, a village about 1.3 miles from Amatrice.
Their two children, believed to be aged 12 and 14, survived but their condition is unknown.
A neighbour, who did not want to be named, said: "It's terrible news, so awful. I knew them all very well.
"They were lovely. They were a lovely family. It's very hard to take in.
"They were very warm and friendly, extremely good neighbours. It's just so awful to think of their children."
She added: "I think Maria's father came from the village and was possibly born there. When he was ill - he has since died - they bought a house there and they go out every summer."
Magnitude 6.2 earthquake hits Italy - in pictures

Show all 15
Another neighbour, who also did not want to be named, said: "They were just absolutely lovely people. He was an entrepreneur and she was finance director for Children & The Arts."
Marcos is understood to be the teenage son of another family who were staying with the couple.
His parents, Anne-Louise and Simon Burnett, are thought to be in hospital and their daughter also survived. Her condition is unknown.
The mother and father had initially been taken to separate hospitals 40 miles (60km) from each other, where the woman was being treated for facial fractures and the man was being treated for a broken leg.
Rieti Hospital director Pasquale Carducci said: "The British woman was brought here by rescue workers on Wednesday while her husband was taken to L'Aquila.
"When we discovered he was there, we decided they would be happier together, so we decided to reunite them.
"Since the man was less badly hurt, it was easier to bring him to her. We hope that they can be a support to each other."
The latest aftershock hit the region at 6.28am local time on Friday. The US Geological Survey said it had a preliminary magnitude of 4.7.
Italy's national geological institute put the magnitude at 4.8. It was preceded by more than a dozen weaker aftershocks overnight and followed by another nine in the subsequent hour.
The quake zone has experienced more than 500 aftershocks, some measuring 5.1, in the two days since the original pre-dawn quake on Wednesday.
Foreign Secretary Boris Johnson said on Thursday that a number of Britons had been "affected" by the earthquake.
He said extra staff had been sent to the region to help provide support to affected Britons, while the Government has offered "any assistance that we can" to the Italian authorities.
He said: "My deepest sympathies are with the Italian people and everyone affected by the terrible earthquake that struck central Italy.
"The British Government has offered any assistance that we can to help with the recovery effort and I have spoken with Italian Foreign Minister Paolo Gentiloni to express my condolences personally.
"As the scale of the disaster has become clearer, we now know that a number of British nationals have been affected.
"British embassy staff are in the region providing consular support, and we have deployed additional staff to support this effort."
Firefighters and rescue crews using sniffer dogs have been working in teams around the hardest-hit areas of the country.
"We will work relentlessly until the last person is found, and make sure no-one is trapped," said Lorenzo Botti, a rescue team spokesman.
Press Association
Register for free to continue reading
Registration is a free and easy way to support our truly independent journalism
By registering, you will also enjoy limited access to Premium articles, exclusive newsletters, commenting, and virtual events with our leading journalists
Already have an account? sign in
Register for free to continue reading
Registration is a free and easy way to support our truly independent journalism
By registering, you will also enjoy limited access to Premium articles, exclusive newsletters, commenting, and virtual events with our leading journalists
Already have an account? sign in
Join our new commenting forum
Join thought-provoking conversations, follow other Independent readers and see their replies