Britain to impose near-total ban on ivory
Declining elephant population 'shames our generation', says Michael Gove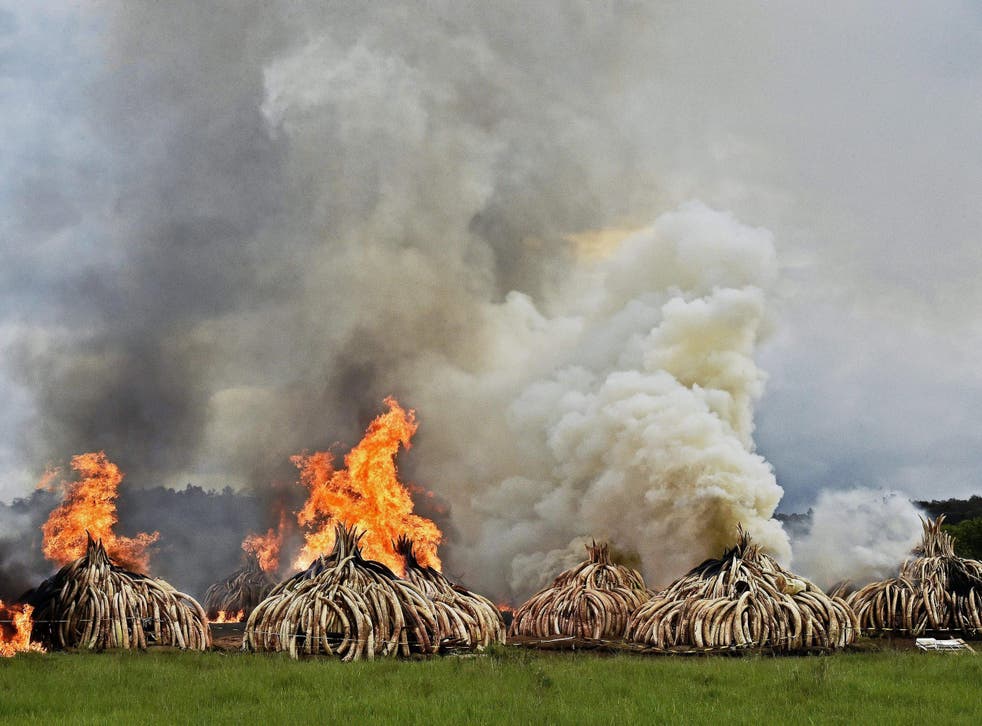 The sale of almost all ivory will be banned under new Government plans to stop elephant poaching.
Laws brought in in September 2016 made it illegal to sell ivory which is less than 70 years old, but stopped short of a total ban.
Conservation groups have called for the Government to outlaw almost all ivory items, warning that the UK's legal market has been used as a cover for the illegal trade of elephant tusks.
Setting out proposals for a near-total ban on ivory sales, including antiques, Environment Secretary Michael Gove said declines in elephant populations fuelled by poaching "shames our generation".
Around 20,000 elephants are being slaughtered every year to satisfy demand for ivory products.
If poaching continues at this pace, the animals could become extinct in some African countries in a matter of decades, experts warn.
The UK currently makes legal shipments of antiques to Asia, helping supply the world's largest ivory markets which are driving the poaching crisis.
Existing rules allow for "worked" or carved items produced before 3 March 1947 to be sold in the UK while sale of raw ivory of any age is prohibited.
Under the new proposals, which are being put out for consultation, sales of the older worked items would be banned.
The plans include some exemptions for items which do not contribute to the poaching of elephants, including musical instruments such as pianos with ivory keys, items containing only a small proportion of ivory and those which have significant historic, artistic or cultural value.
Sales to and between museums would also be exempted under the plans.
Mr Gove said: "The decline in the elephant population fuelled by poaching for ivory shames our generation.
"The need for radical and robust action to protect one of the world's most iconic and treasured species is beyond dispute.
"Ivory should never be seen as a commodity for financial gain or a status symbol — so we want to ban its sale.
"These plans will put the UK front and centre of global efforts to end the insidious trade in ivory."
UK news in pictures

Show all 50
The UK Government is also training an elite force of anti-poachers in African countries in an effort to tackle poaching. Meanwhile UK Border Force officers share expertise with counterparts in other countries to stop wildlife trafficking.
Stop Ivory chief executive John Stephenson said: "By starting the process to bring in a total ban on ivory sales in the UK, the Government continues to work with the African countries leading the Elephant Protection Initiative to secure a meaningful future for elephants across Africa.
"The unprecedented crisis we face – with Africa's natural heritage being destroyed and communities put at risk due to poaching by illegal armed gangs – will only stop when people stop buying ivory."
WWF chief executive Tanya Steele said the plans showed the UK wanted to continue to be a leader in the fight to end large-scale poaching of elephants, but warned there was a long way to go and "no time to waste".
She added: "Whilst discussions roll on, 55 African elephants a day are killed. We need to be the generation that ends the illegal ivory trade once and for all.
"This is about a lot more than banning ivory sales in one country.
"It means working with global leaders and communities around the world, particularly in China and south-east Asia, to implement bans and stop the illegal trade."
The US has already introduced a near-total ban while China and Hong Kong have announced plans to close their domestic markets.
Press Association contributed to this report
Register for free to continue reading
Registration is a free and easy way to support our truly independent journalism
By registering, you will also enjoy limited access to Premium articles, exclusive newsletters, commenting, and virtual events with our leading journalists
Already have an account? sign in
Register for free to continue reading
Registration is a free and easy way to support our truly independent journalism
By registering, you will also enjoy limited access to Premium articles, exclusive newsletters, commenting, and virtual events with our leading journalists
Already have an account? sign in
Join our new commenting forum
Join thought-provoking conversations, follow other Independent readers and see their replies