'Freedom!': Women around world descend on streets to celebrate International Women's Day
From Spain to the Philipines, France, Pakistan and beyond, women across globe took to streets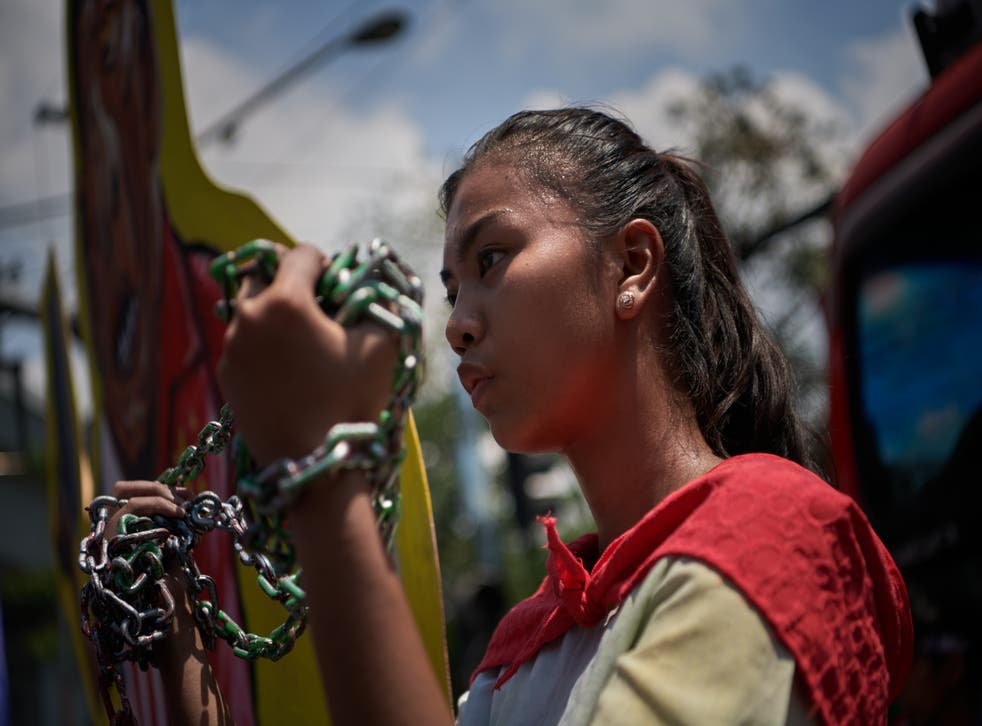 Women around the world have descended on the streets to celebrate International Women's Day and condemn violence against women.
Celebrated on 8 March each year, the event has provided a chance to reflect on female achievements and celebrate women's rights movements for more than a century.
Almost 20,000 women – draped in sunshine yellow scarves to represent the colour of mustard fields – came together on the peripheries of the Indian capital of New Delhi to show their support for farmer protests. Some carried out hunger strikes, while others held sit-ins.
In France, celebrations for International Women's Day started on Sunday, with activists gathering at Republique square in Paris, brandishing a banner that said "Stop Killing Women". Some 90 women were killed by their husband last year in France, according to the ministry of justice.
While in Lyon on Monday, two topless demonstrators could be seen kissing letting off purple smoke canons.
In Spain, women celebrated International Women's Day with small-scale protests and bike rides due to the country's Constitutional Court on Monday rebuffing eleventh-hour requests from unions and campaign groups to hold protests in Madrid.
Over 100 protesters ignored the government's ban and held a socially distanced gathering in the Spanish capital's Puerta del Sol central square where they yelled "enough with patriarchal justice!"
Meanwhile, three demonstrators were killed in Myanmar, with two of them shot dead. The country has erupted into chaos since the military, known as the Tatmadaw, grabbed power earlier in February, arresting and detaining the southeast Asian country's elected leader Aung San Suu Kyi alongside other party leaders. Weeks of nationwide protests against military rule have seen hundreds of people arrested.
Witnesses said those who died were holding a protest when police blasted tear gas and stun grenades. Elsewhere in the country women-led anti-coup protests with demonstrators waving flags made from sarongs to celebrate International Women's Day.
In Pakistan, thousands of women took to the streets to call for greater rights for women with around 500 people dancing and chanting in the capital of Islamabad, around 500 people danced. Shouts of "freedom!" and "my body, my right" could be heard.
While hundreds came together in the Philippine capital of Manila to voice their opposition to the killings of a number of activists on Sunday.
Some 400 protesters descended on Brandenburg Gate in Berlin – which is the only state in Germany where International Women's Day is a holiday.
In Mexico, fencing to keep the capital's National Palace safe, before a scheduled march to celebrate International Women's Day, was redecorated by activists. The names of hundreds of women who died from femicides – defined as the gender-motivated killing of women – have been painted in white on the black metal fencing.
Mexico has high levels of violence against women and the government estimates at least 939 women were estimated to have been victims of femicide in 2020.
In the UK, International Women's Day was a more restrained affair than usual due to the pandemic but was instead celebrated with musical performances, fun runs and walks, and bike rides.
Join our new commenting forum
Join thought-provoking conversations, follow other Independent readers and see their replies