'Prison is s***, but it's worth it': Freed fracking protester jailed for 16 months vows to keep fighting injustice
Fellow inmate told Simon Blevins: 'I'm here because I'm greedy, you're here because you care about the planet'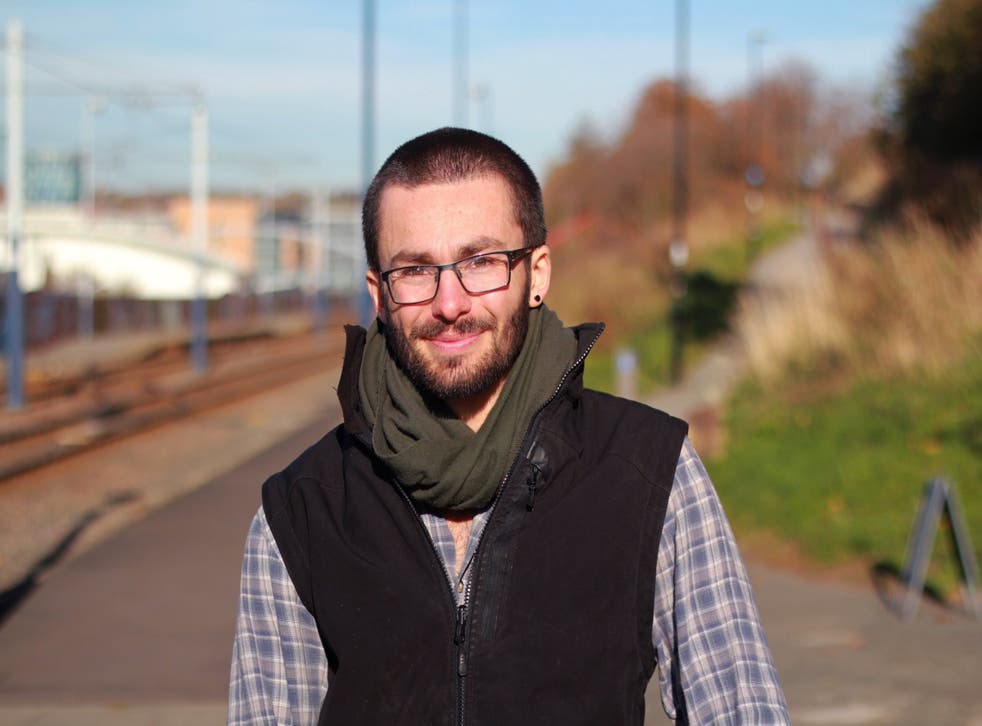 While in prison, Simon Roscoe Blevins and his two co-convicted, Richard Roberts and Rich Loizou, were given nicknames by the other inmates: the frackers.
"We said to them 'anti-frackers, surely?'" he says today. "But it stuck."
In September, the trio were jailed after protesting against the development of the UK's first shale gas wells since 2011 by the company Cuadrilla.
Their crime was to climb on to a trio of lorries, delaying equipment being delivered to the hugely controversial – and vehemently opposed – Preston New Road site in Lancashire. They caused no damage and came down three days later voluntarily. They didn't even leave litter.
For this, Blevins and Roberts were sentenced to 16 months in jail, and Loizou to 15 – terms that sparked astonishment among environmentalists, academics, human rights activists and, it seems, those inside HMP Preston.
"One guy asked if I was a political prisoner," recalls Blevins, a 26-year-old soil scientist. "I said maybe we all are in a way. He said, 'No, I'm here because I'm greedy. You're here because you care about the planet'. That was pretty humbling."
Blevins – soft of voice, with a bear-like handshake – is speaking to The Independent a fortnight after the sentence was quashed. Lord Chief Justice Ian Burnett called the term "manifestly excessive", and released the three on conditional discharges.
Questions have since been raised about the original trial judge, Robert Altham, and his family links to the shale industry: his father runs JC Altham and Sons, a company understood to be part of the supply chain for energy giant Centrica, which invests heavily in fracking.
Blevins, after arriving at our meeting by bicycle, says he is happy to be back in his home city of Sheffield – but has no regrets about what happened either. "Prison is shit," he says. "But compare that to the threat of fracking and climate change – if me being in there for three weeks draws attention to that threat or galvanises support, it's a no brainer that's worth it."
He wants to talk today about those environmental dangers, as well as injustice, inequality and the failure of democratic accountability in the UK.
So, when I ask how one eats – and goes to the toilet – while on top of a lorry for 75 hours, he is singularly unimpressed. "It's completely irrelevant to the message," he says. "The key things isn't if the leek and potato soup was nice but that this was a really key moment in history."
Well, maybe.
UK news in pictures

Show all 50
Fracking – extracting gas from underground rocks using high-pressure chemicals – has long been controversial. It pumps toxins into the atmosphere and has been known to contaminate water supplies. The UK's first ever well, also run by Cuadrilla, was closed in 2011 after it was linked to a series of earthquakes near Blackpool.
The Preston New Road site became a focal point for protests in 2016, when the government overturned Lancashire county council's refusal for the land to be fracked.
Local campaigners – naming themselves "the Nanas" because that's what most are – were left aghast that a process repeatedly linked to tremors, environmental damage and multiple public health issues was being forced on them by Downing Street.
"That was the most shocking thing to me," says Blevins, the son of a factory worker and receptionist from Bedford. "These campaigners had worked for years, educated themselves and won the debates – which is how politics should be done, right? – and then the government turns around and overturns the council's decision anyway? That's not democracy working – so you have to find other ways."
His way came on 25 July last summer during what was, it seems, his first ever day protesting at the site.
At 8am, a convoy of trucks attempting to deliver machinery was stopped by activists. Roberts, a 36-year-old piano restorer from London, and Loizou, a teacher from Devon aged 31 – climbed on to the cabs of two lorries. Several hours later, just after 3pm, Blevins saw a chance to follow suit.
"A police officer walked away from one lorry," he shrugs. "I just seized the opportunity."
For three days he stayed up there: "I had a conversation with the driver – I said I was sorry and explained it was nothing personal but I was doing what I felt was right and important. I felt I needed to act."
When he eventually came down at 4.45pm on 28 July, he was charged with causing a public nuisance, a common law crime with a maximum sentence of life in prison. He suspects Lancashire Police and the Crown Prosecution Service deliberately chose such an obscure offence in a bid to have the trio sent to prison – and deter other protesters.
Nonetheless, he says, receiving a 16-month sentence hit hard.
Support free-thinking journalism and attend Independent events
"There was a personal shock but we … felt that 16 months for protesting, that the wider implications for politics, democracy, justice were fairly profound," he says. "That was the main concern. As a precedent, locking people up for protesting: that's really bad."
Plenty agreed. An open letter was signed by more than 200 academics, while the trio received dozens more letters every day during the three weeks. "They came from around the world," says Blevins. "Just, 'We're thinking of you, we're with you'."
Other inmates, too, were supportive. "It's a local prison so they all knew about the fracking site," he recalls. "A few said they'd driven past and beeped their horns in support. They said we should keep protesting."
Now that the Court of Appeal has released them, they plan to do just that.
Eighteen hours after walking out of prison, they went back to the Preston New Road to meet the activists still there.
"There were mixed feelings," says Blevins. "Elation to be out and seeing people but at the same time, seeing the drill rigs in the field – it made me feel sick actually. We haven't won. They've started fracking."
Nonetheless, he will continue to campaign against more operations being set up in other parts of the country. Proposed sites are spread across Nottinghamshire, Derbyshire and Yorkshire, and he has vowed to work with local groups to organise opposition to the development of wells there, while encouraging greater use of renewable energy sources.
"This is so important," he says. "What's happened has only made me more determined to try and bring about meaningful change."
Register for free to continue reading
Registration is a free and easy way to support our truly independent journalism
By registering, you will also enjoy limited access to Premium articles, exclusive newsletters, commenting, and virtual events with our leading journalists
Already have an account? sign in
Register for free to continue reading
Registration is a free and easy way to support our truly independent journalism
By registering, you will also enjoy limited access to Premium articles, exclusive newsletters, commenting, and virtual events with our leading journalists
Already have an account? sign in
Join our new commenting forum
Join thought-provoking conversations, follow other Independent readers and see their replies