Jamaican nationals taken off charter flight in eleventh hour over trafficking concerns
Home Office accused of presiding over deportations that 'lack due process' after it acknowledges men who were due to be on flight may have been coerced into criminal activity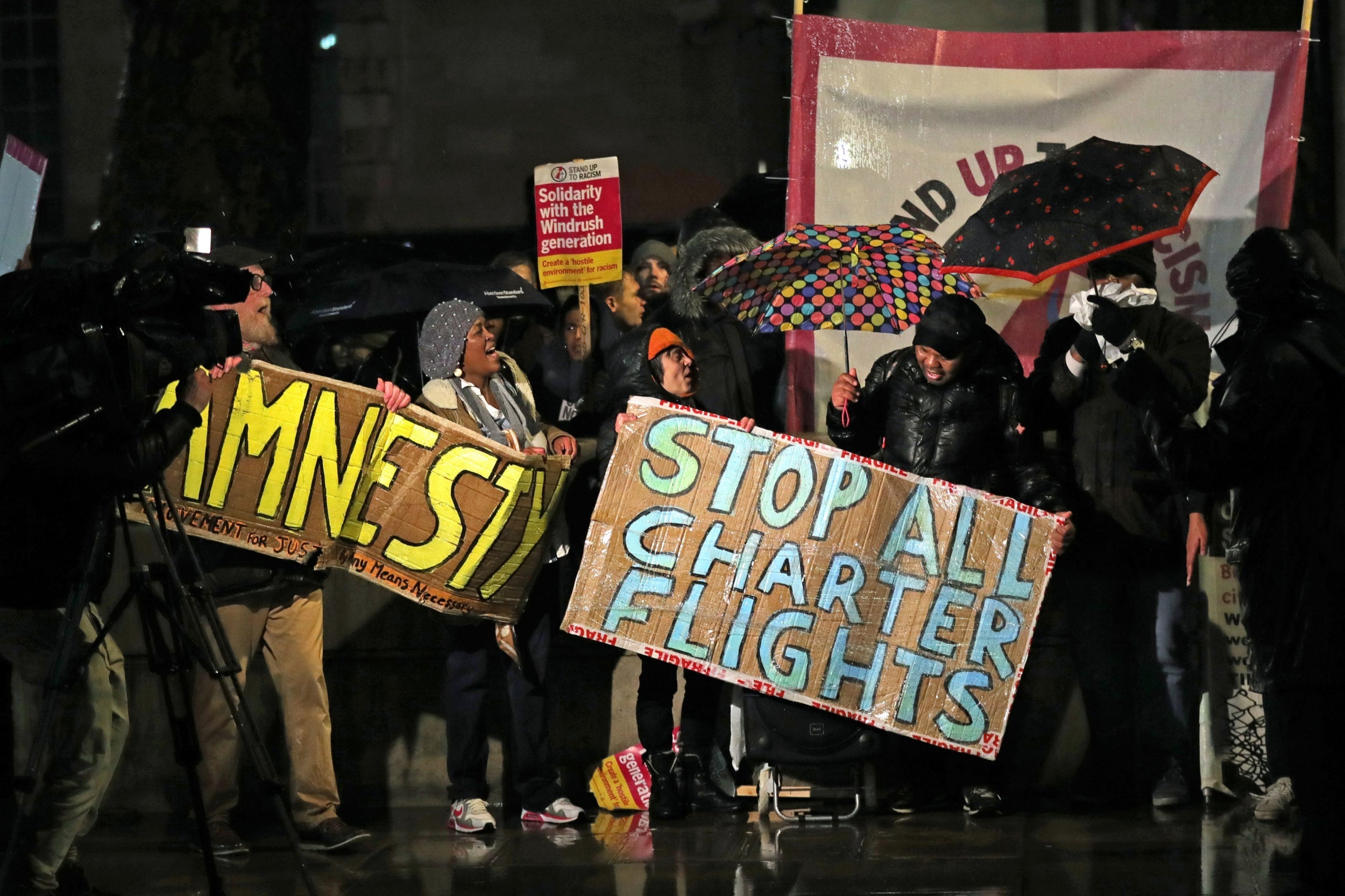 A number of Jamaican nationals who were due to be deported have been granted last minute reprieve after the Home Office acknowledged they may be victims of modern slavery.
Thirteen people were forcibly removed from the UK to Jamaica in the early hours of Wednesday. At least 10 of those who had been due to fly were taken off the flight hours before it was due to leave following legal intervention.
In one case, a 30-year-old man who came to the UK aged 11 had his deportation cancelled on Tuesday evening after the Home Office was forced to acknowledge that he had indicators of having been trafficked by county lines gangs in his twenties.
This is despite the fact that the department has reportedly struck a deal with Jamaica not to deport those who arrived in the UK aged under the age of 12 on the controversial flight – meaning he should not have been facing removal in any case.
The man, who was convicted of drug offences in 2019, was referred to the National Referral Mechanism (NRM), the UK's framework for identifying victims of trafficking, by his lawyer on Monday, and officials assessed his case and concluded that he may have been trafficked and therefore shouldn't be deported.
The Jamaican national, whose daughters – aged six and seven – are British nationals, told The Independent: "It was devastating to be waiting because I knew that flight was going in the night, but I'm so relieved now.
"I don't know what I would've done if I was sent out there. I would've been stuck in limbo. I would've had to leave my family behind."
It came as the Home Office fought off a last-minute legal challenge over its deportation practice and policy, in which the claimants are seeking to halt the removal of any parent of British children due to be on the flight where the interests of the child have not been properly assessed.
However, some individuals were taken off the flight on the basis of having children on the UK. One father, 43, was told by his solicitor on Tuesday that a judge had ruled he shouldn't be removed on the grounds that his deportation could breach his private and family life.
The father-of-four, whose children are aged 24, 22, 17 and 14, was detained on the basis that he was convicted of possession of an air gun in 2017, for which he spent a year and a half in jail. He had been convicted of two driving offences prior to that, for which he served several months each time.
The Jamaican national, who lives with his partner and 14-year-old daughter and sees his other children and two grandchildren frequently, told The Independent he was "so relieved" on hearing that he would no longer be on the flight.
"I was really thinking I wasn't going to be around the kids anymore. The impact it would have on them was plain to see," he said. "I think I would have gone crazy. Me and my daughter have a real father-daughter bond. It would've affected that. I will be so happy to see the family again."
Another individual who was taken off the flight, who cannot be named for legal reasons, has lived in the UK for most of his life and has a British mother and four siblings who are British. He was detained and threatened with removal after serving two years in jail for intent to supply class A drugs.
The man, who never had the money to go through the naturalisation process, said: "I thought I was British until all this happened. As far as I was concerned, this is my country. It's just so wrong what's going on with this deportation flight. I've never experienced anything like it in my life. Everyone is desperate. There's no help for people in this situation."
Responding to the last-minute U-turns, Labour MP Bell Riberio Addy said: "The fact that activists and lawyers are able to overturn decisions in a single appeal betrays the lack of due process behind this flight.  
"Rather than rushing ahead with further deportations, the government need to save themselves some embarrassment and save taxpayer money. They must halt all such flights, and comply with the Equality and Human Rights Commission (EHRC) recommendation to end the hostile environment."
Two British children brought urgent legal action against the government on Tuesday evening challenging its decision to deport their father to Jamaica, seeking an injunction relating to the removal of any parent where the interests of the child have not been properly assessed. Their challenge was unsuccessful.
Detention Action, which was granted permission by the court to intervene in the case,  estimates that if 28 people are deported on tomorrow's flight, approximately 100 children will be forcibly separated from a parent.
The government does not publish data on how many children in the UK have had a parent deported each year and it is unknown whether the Home Office collects this information.
Bella Sankey, director of Detention Action, said the charity had collected evidence that demonstrates the home secretary had failed to take account of these children's best interests, risking "gross injustice with irreversible consequences".
The Home Office has been approached for comment.
Join our commenting forum
Join thought-provoking conversations, follow other Independent readers and see their replies