Jamie Oliver says Theresa May doesn't 'give a f***' about child obesity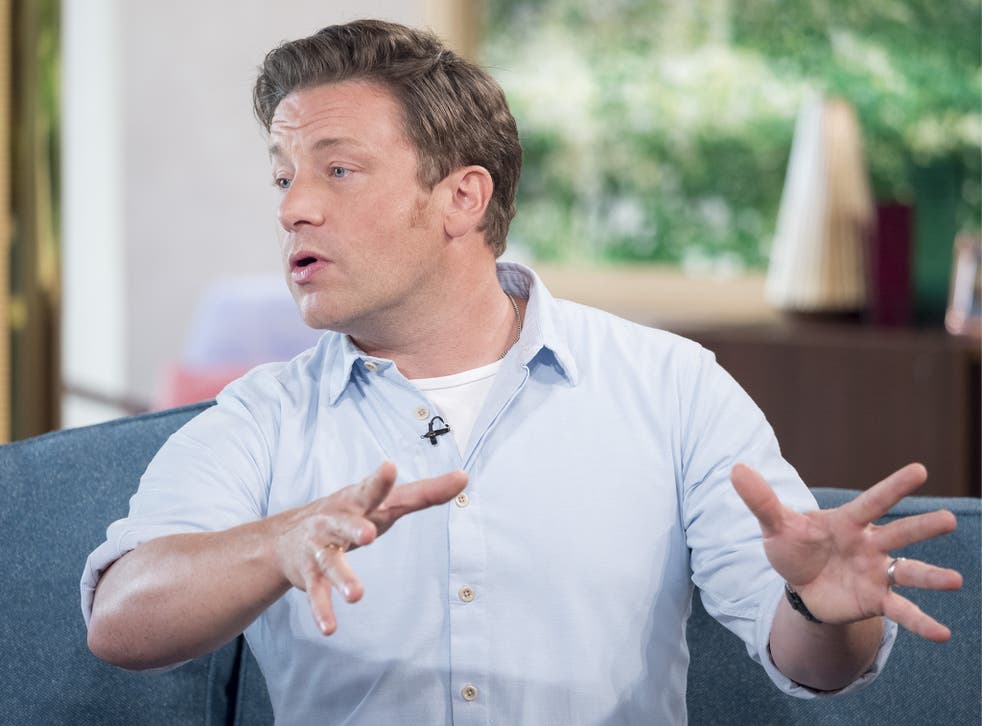 Jamie Oliver has launched into a scathing attack on Theresa May and argued the British Prime Minister and her team do not "give a f***" about tackling childhood obesity.
The celebrity chef and campaigner, famed for improving the quality of school dinners, accused them of diluting the anti-obesity strategy he helped formulate with David Cameron's government.
The strategy had been due to be released when Mr Cameron resigned over the Brexit vote in June 2016 but was instead quietly published by Ms May last August. The policy plan failed to include the two measures Public Health England said would have the greatest bearing on addressing child obesity - restrictions on advertising and promotional deals on junk food.
"It was released at the same time the A-level results came out, with no marketing, no comms, no PR," Oliver told Sunday Times Magazine.
"In code, that means, 'We don't give a f***'. It was unbelievable. Blatant. I had been working intimately with Mr Cameron and his group. It could have been a moment of national pride and at least she would have been able to look everyone in the eye and say we are going to get some change in the obesity graph in 10 years."
Theresa May in quotes

Show all 10
But the 42-year-old argued Ms May and her team "completely tore" the original strategy up, saying: "What she did was awful, how she did it was awful. When I saw Mr Cameron running those sessions, he had legit people debating the right thing."
"It wasn't all about, 'Oh, let's all pat each other on the back'," the restaurateur continued. "But what's even more scary is that when May released the child strategy that she had ruined, I believe her team were genuinely chuffed with what they had done!"
Childhood obesity is a growing problem in Britain where one in three children leave primary school overweight or obese. Research has suggested that if gone untreated 85 per cent of these children will become obese adults.
Oliver was similarly critical of Ms May's election manifesto which included plans to replace universal lunchtime meals for pupils up to the age of seven with free breakfasts for every primary school child. The PM was branded "the lunch snatcher" and came under heavy criticism for her plans which have been scrapped in the wake of her losing her parliamentary majority in the recent election.
He said: "It's like something a 10-year-old would do in basic maths to save cash. It's not strategic. It's not long- or even medium-term thinking. Given everything we know that you get from the school lunch system - better attainment, better learning, less absenteeism."
He continued: "So to make it a lead manifesto? We are going to stitch up the old, stitch up the young and we are going to bring back fox-hunting.' I mean, it was ... 'What the f***?'"
Oliver also argued Ms May's tightly controlled style of governance and reliance on close political aides was autocratic, saying: "I have never, ever seen …Look, I have met four prime ministers. They are all very different, but... May's government was completely locked down. Her advisers, that have now gone - thank you, Lord - kept all the information away from even their own ministers."
But Oliver, whose campaign for healthier food for British schoolchildren led to the scrapping of junk food options such as the infamous 'turkey Twizzlers' from school menus, was insistent he did not vote for Labour Leader Jeremy Corbyn in the election.
He said: "No, I didn't. I won't say how I voted, but I didn't vote Conservative and I didn't vote Corbyn."
The chef has opted not to cast a vote in the elections since making TV series Jamie's School Dinners in 2005 and working in close contact with the Labour government.
Join our new commenting forum
Join thought-provoking conversations, follow other Independent readers and see their replies