Jayda Fransen: Twitter suspends Britain First leader retweeted by Donald Trump
Account taken down for breaching policy prohibiting 'organisations that use or promote violence against civilians to further their causes'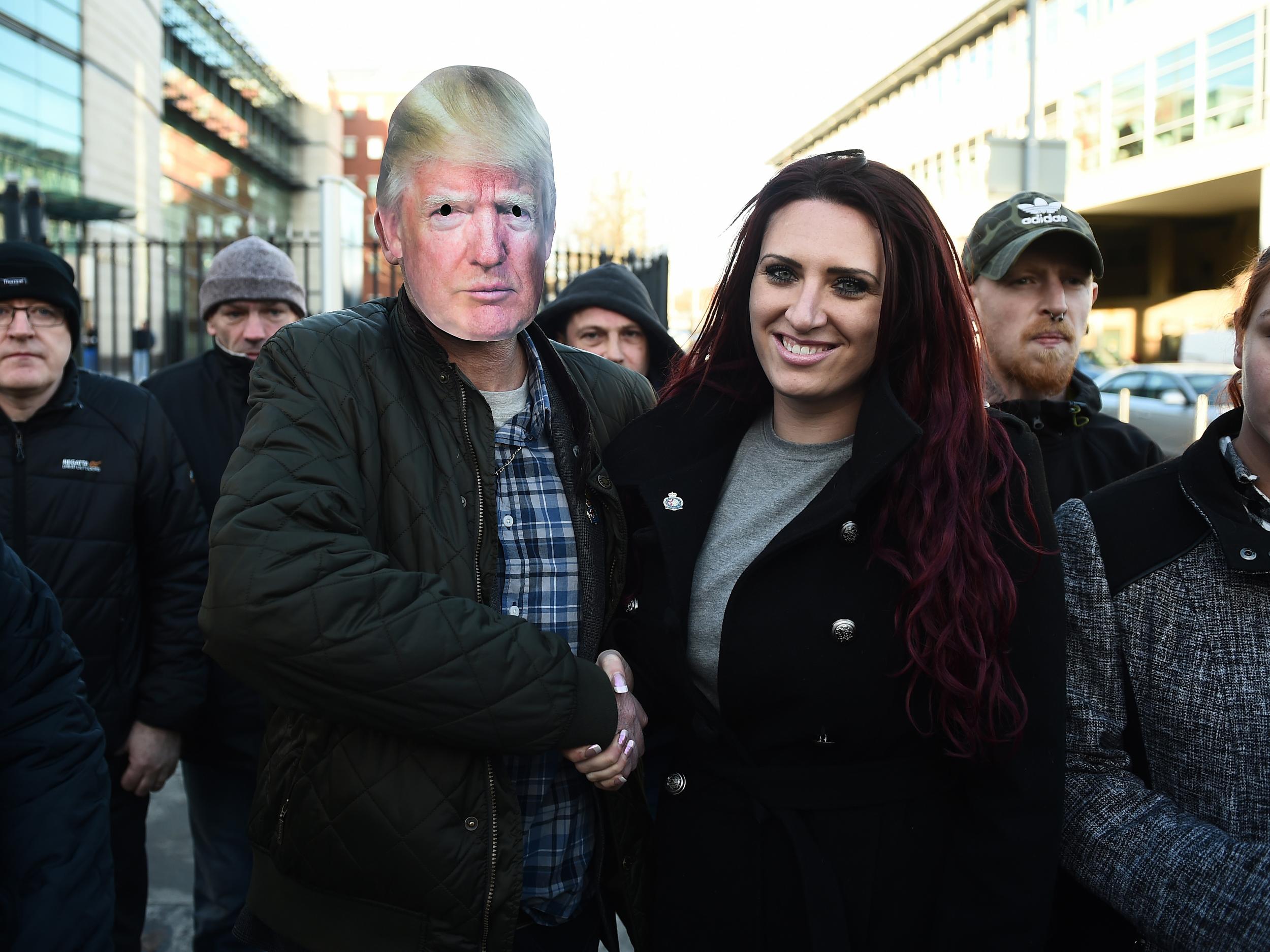 The deputy leader of far-right party Britain First, who was retweeted by Donald Trump, has been suspended from Twitter.
Jayda Fransen was the subject of headlines around the world in November when the US President shared a number of her Islamophobic posts.
Party leader Paul Golding also had his account suspended, it emerged on Monday, and The Independent understands they were taken down by Twitter because they contravene the company's new policy prohibiting "groups that affiliate with organisations that use or promote violence against civilians to further their causes".
Twitter began enforcing stricter anti-abuse rules on Monday following heavy criticism for failing to tackle online abuse and extremism.
Under the new rules, hateful imagery such as the Nazi swastika will now be hidden and users will have to opt to see the "sensitive media" if they wish to view it.
Those who repeatedly post the images will be asked to remove them and be banned from the platform if they continue to use them.
Twitter said the move would "reduce the amount of abusive behaviour and hateful conduct" on the platform.
The US President prompted criticism in November when he shared a series of tweets from Ms Fransen.
The first video claimed to show "Muslim migrants beating up a Dutch boy on crutches".
Gadget and tech news: In pictures
Show all 25
The attacker in the video from the Netherlands was neither a Muslim nor a migrant, according to local media, and was arrested over the incident.
A second re-post was captioned: "Muslim destroys statue of Virgin Mary", while a third read "Islamist mob pushes teenage boy off roof and beats him to death".
Local reports said the footage showed the 2013 murder of a teenager who was himself likely to be a Muslim during riots over the coup against Egypt's President Mohamed Morsi.
Mr Trump was criticised by Theresa May, who via a spokesperson said: "Britain First seeks to divide communities by their use of hateful narratives that peddle lies and stoke tensions.
"They cause anxiety to law-abiding people. British people overwhelmingly reject the prejudiced rhetoric of the far right which is the antithesis of the values this country represents, decency, tolerance and respect."
The President hit back, telling the Prime Minister: "Theresa, don't focus on me, focus on the destructive Radical Islamic Terrorism that is taking place within the United Kingdom. We are doing just fine!"
Join our commenting forum
Join thought-provoking conversations, follow other Independent readers and see their replies