JD Wetherspoon ordered to pay £24,000 in damages after judge rules staff denied Gypsies and Travellers entry
The judge ruled that the act amounted to 'racial stereotyping' - in what lawyers described as a 'seminal case'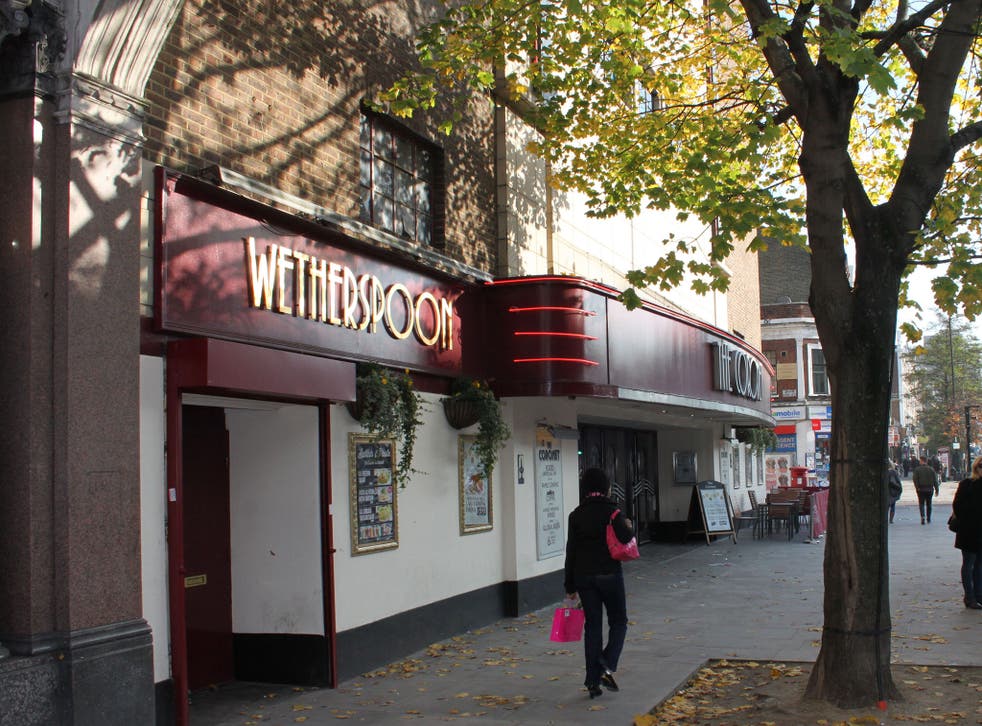 One of the UK's largest pub chains has been found guilty of racial discrimination after its staff refused to allow a group of Gypsies and Travellers into a branch in north London, in what lawyers described as a "seminal" case.
JD Wetherspoon has been ordered to pay £24,000 in damages after a judge ruled that staff at The Coronet in Holloway Road had acted illegally when they denied entry to a group of people who had been attending a nearby conference organised by the Traveller Movement charity.
Central London County Court heard that David Leach, the then manager of the pub who has since died, had been told about the November 2011 conference and had specifically hired security staff to stand outside the pub on the day it was scheduled to take place.
Lawyers for the Traveller Movement claimed that the group – which also included a police inspector, a barrister and a priest – were told by the doormen that the pub was "not allowing Travellers or people from the Traveller conference to enter". The allegation was denied by Wetherspoons, which has more than 900 premises throughout the UK.
But in a 91-page judgment handed down, Judge John Hand QC said Mr Leach's policy had been "irrational" and that his thinking had been "suffused with the stereotypical assumption that Irish Travellers and English Gypsies cause disorder wherever they go".
Concluding that Mr Leach's actions had amounted to "racial stereotyping", the judge added: "It can be reduced to this crude proposition: whenever Irish Travellers and English Gypsies go to public houses, violent disorder is inevitable because that is how they behave."
The judge awarded £3,000 in damages to eight individuals who he said were subjected to direct discrimination. Ten other claims were dismissed.
Yvonne MacNamara, the CEO of the Traveller Movement, said the charity was "overjoyed" with the decision. "In this day and age it is outrageous that a national pub chain like JD Wetherspoons can carry out such a blatant act of discrimination against members of the Gypsy and Traveller communities, their friends and colleagues," she added. "We hope Justice Hand's decision will mark a sea change in the unacceptably high levels of discrimination these communities experience."
Martin Howe, a partner at Howe+Co Solicitors, who brought the case on behalf of the group and was also a claimant himself, said he hoped that shops, restaurants, supermarkets, hotels, clubs and pubs around the country would take note of the "watershed" decision.
"What the judge has done is enforced what we all know: that there is a general attitude out there that Gypsies and Travellers equal trouble. It's about time that was blown out of the water," he told The Independent. "Travellers are decent, family-living individuals. There are bad apples everywhere, but the discrimination against them as a group needs to end."
He claimed that the case had been handled "at the very highest level" by Wetherspoons, with the company's founder and chairman Tim Martin attending "almost every day" of the court hearing. "They fought this case tooth and nail," he said, adding that in his view the company's decision to defend the claim made it more than "just a local issue".
Reacting to the ruling, a spokesperson for the Equality and Human Rights Commission said: "In modern Britain, no one should face being denied service in a shop or pub because of their race. Cases of this nature are unfortunately still too prevalent and that's why we've been trying to work with the industry to encourage a better understanding of the law and avoid costly court cases."
Tim Martin, the chairman of JD Wetherspoon, said the Coronet had employed door staff following the disturbances at Dale Farm in Essex in 2011. The Traveller site was cleared by Basildon Council bailiffs in October of that year after a court decided it was an illegal encampment.
"It is the first time that a claim of this nature has been brought against the company in the 35 years of its existence," Mr Martin said. "In light of the judgment, though we have always been fully committed to operating our premises in a non-discriminatory way, we will undertake a full review of our relevant policies, procedures and training."
JD Wetherspoon had apologised to the eight individuals who were denied entry to the Coronet for any "upset and distress" caused, he added.
Register for free to continue reading
Registration is a free and easy way to support our truly independent journalism
By registering, you will also enjoy limited access to Premium articles, exclusive newsletters, commenting, and virtual events with our leading journalists
Already have an account? sign in