Jeremy Corbyn says he is 'ready' for a Labour leadership challenge
'Yes, I'm here' says Jeremy Corbyn after being asked if he would run in any leadership contest
Charlie Cooper
Saturday 25 June 2016 18:20 Comments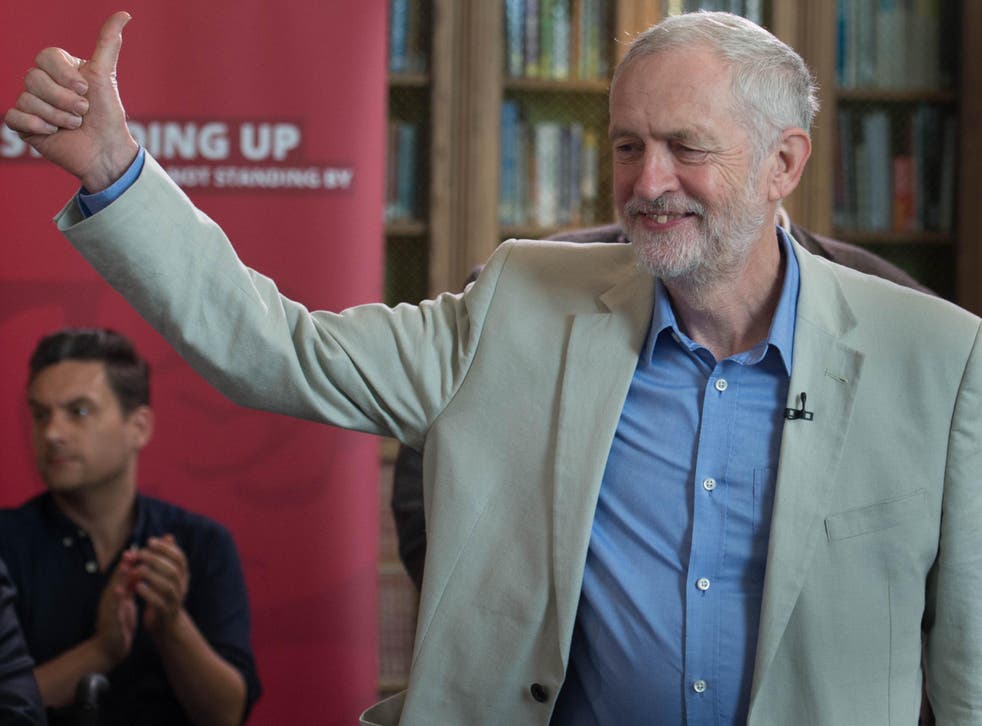 Jeremy Corbyn has said he is ready to face down a leadership challenge, ahead of a planned vote of no confidence when MPs return to Parliament on Monday.
As veteran MP Frank Field added his voice to those calling on Mr Corbyn to stand down over his handling of the EU referendum, the Labour leader scotched suggestions that he would back down, or hand over to Shadow Chancellor John McDonnell, if the vote leads to a leadership election. More than 50 MPs would have to back the motion of confidence to force a contest
Asked after a speech in London yesterday whether he would run in any leadership contest he said: "Yes, I'm here".
But his authority suffered another blow when Birkenhead MP Frank Field, who supported the Leave campaign, said the party needed new leadership and claimed that "nobody" thinks Mr Corbyn could win a General Election.
Mr Field, the Birkenhead MP, said Labour needed a leader who the public could view as an alternative Prime Minister. Another election could be held as early this year, after David Cameron announced he would stand down by October following Britain's vote to leave the EU.
Mr Field told BBC Radio 4's Today programme that he believed Mr Corbyn "clearly isn't the right person to lead Labour into an election, because nobody thinks he will win."
"We clearly need somebody who the public think of as an alternative prime minister," he said, warning that Labour had stopped "listening to the electorate".
"We have got to respond directly to the very large numbers of people in this country who have watched their living standards cut while the upper middle class in this country have actually lived the life of riley," he added.
Jeremy Corbyn speaks out after Brexit vote
More than 10 MPs have already said they will support the motion of no confidence in the leader, tabled by Dame Margaret Hodge and Ann Coffey.
In his speech yesterday, Mr Corbyn said the party could not "duck the issue" of immigration and acknowledged that Britain's vote for Brexit represented a "backlash" against EU freedom of movement rules.
But he warned against the emergence of "nasty and divisive" politics that blames immigrants for social problems.
The Labour leader said he was "not afraid" to talk about immigration, signalling that Labour's approach would seek to support communities hit by high levels of migration with extra government support.
However, he did not set out where the party would stand on the issue of freedom of movement.
Despite claiming that a vote to leave would allow Britain to take control of immigration, Vote Leave campaigners have suggested some form of free movement of labour could emerge from Britain's new relationship with EU.
Former Labour leadership hopeful Chuka Umunna has said it would be "inconceivable" for freedom of movement to be part of the new settlement after it was rejected by the electorate. Labour's deputy leader Tom Watson has also called for reform.
Mr Corbyn said it was communities, often in former industrial heartlands, that had tended to vote for Brexit.
"Across many parts of Britain there's a feeling of powerlessness. Communities that have been abandoned, from the mining industry's destruction onwards…Sports Direct factory on the site of a former mine says it all about the employment strategy of modern Britain," he said.
"Those communities have taken the full force of austerity and government economic failure," he added.
He said that the referendum had revealed a "very divided Britain", with London and Scotland backing Remain, while all Wales and all other English regions backed Brexit.
"The Tories' choice to make deprived communities pay for the crisis not of their making has opened the door to a very nasty, divisive form of politics in this country," he said.
"That divisive politics has sought to blame immigrants not government – government that has let industries go to the wall, that have failed to invest, that have deregulated the labour market and turned a deaf ear to the communities that have been left behind."
David Cameron's premiership - in pictures

Show all 15
He said that migration had "enriched" the country, but that he understood that it could cause "tensions and strain on services", as he reiterated Labour's commitment to restore the migrant impact fund – targeted government support for areas with high migration – which was introduced by Gordon Brown and scrapped by the Coalition government.
"Our policies on trade, the economy, and migration will change in light of the referendum vote … but that cannot be left to the likes of Johnson, Farage and Gove," he said.
"Labour will fight to ensure our agenda … is at the heart of the negotiations over our withdrawal from the European Union that lie ahead."
Register for free to continue reading
Registration is a free and easy way to support our truly independent journalism
By registering, you will also enjoy limited access to Premium articles, exclusive newsletters, commenting, and virtual events with our leading journalists
Already have an account? sign in
Join our new commenting forum
Join thought-provoking conversations, follow other Independent readers and see their replies