Jeremy Hunt: We can replace foreign doctors with British talent after Brexit
Number of doctors NHS imports thrown into 'sharp relief' by country's proposed exit from EU, says Health Secretary
Harriet Agerholm
Sunday 02 October 2016 14:35 Comments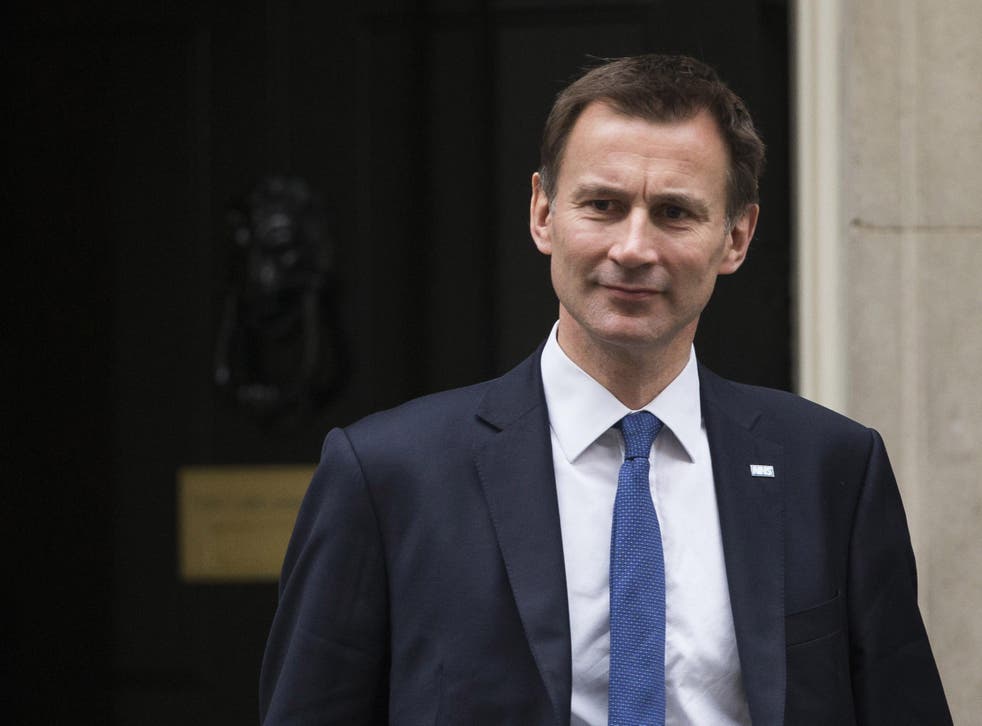 The NHS should slash numbers of foreign doctors and hire British ones in their place when the UK leaves the EU, Jeremy Hunt has said.
Britain has more foreign doctors working in its health service than any other major European country, with 36 per cent of its workforce born overseas according to the Organisation for Economic Cooperation and Development (OECD).
But the British Medical Association (BMA) has argued the Health Secretary's controversial new junior doctors' contract – due te be imposed in the coming days – will only drive more British-trained NHS staff away.
Brexit would "throw into sharp relief the number of doctors, nurses and healthcare assistants we need to import every year in order to sustain our health system", Mr Hunt told The Mail on Sunday.
He said: "I think people will ask whether it is right when we are turning away bright British youngsters from medical school – who might get three A* [at A-level] but still can't get in – at the same time we are importing people from all over the world. I think it's a debate we need to have."
Around 55,000 NHS staff are citizens of other EU countries – amounting to 4.6 per cent of the overall workforce – and NHS chiefs have repeatedly warned that staff from the EU are desperately needed to avoid the collapse of the service.
The status of NHS workers from the EU remains uncertain and union leaders have repeatedly called on the Government to offer them protection.
Polish NHS worker racially abused by passers-by during an interview
BMA leader Ellen McCourt warned in September that the morale of NHS staff was at "rock bottom" and said Mr Hunt's new junior doctors contract risked an exodus of UK-trained medics to other countries.
"The biggest risk with this contract, and also with this dispute continuing, is that doctors will leave the NHS," she said.
"You can't stretch us more thinly. There needs to be a plan – how are we going to make medicine more attractive to people? How are we going to make people stay in the NHS?"
While demand for NHS services grows by around 4 per cent a year, the percentage of GDP spent on it is shrinking.
In pictures: Junior doctors first all-out strike

Show all 10
At the current rate of healthcare spending, a £6bn shortfall in the social care system is predicted by 2020, according to the Health Foundation, an independent charity.
After the EU referendum, the Leave campaign abandoned its much-touted £350m pledge to the NHS.
In response to Mr Hunt's remarks, the NHS Confederation said: "The NHS awaits the details of these and other policy announcements in the Secretary of State's conference speech. We note and welcome his call in June for certainty for EU staff working in social care and the NHS."
Register for free to continue reading
Registration is a free and easy way to support our truly independent journalism
By registering, you will also enjoy limited access to Premium articles, exclusive newsletters, commenting, and virtual events with our leading journalists
Already have an account? sign in
Join our new commenting forum
Join thought-provoking conversations, follow other Independent readers and see their replies