'Jihadi Jack' Facebook posts labelled Paris attacks mourners 'bloody fools'
Exclusive: Messages posted from Jack Letts' account also include claims his friends in the Middle East have killed soldiers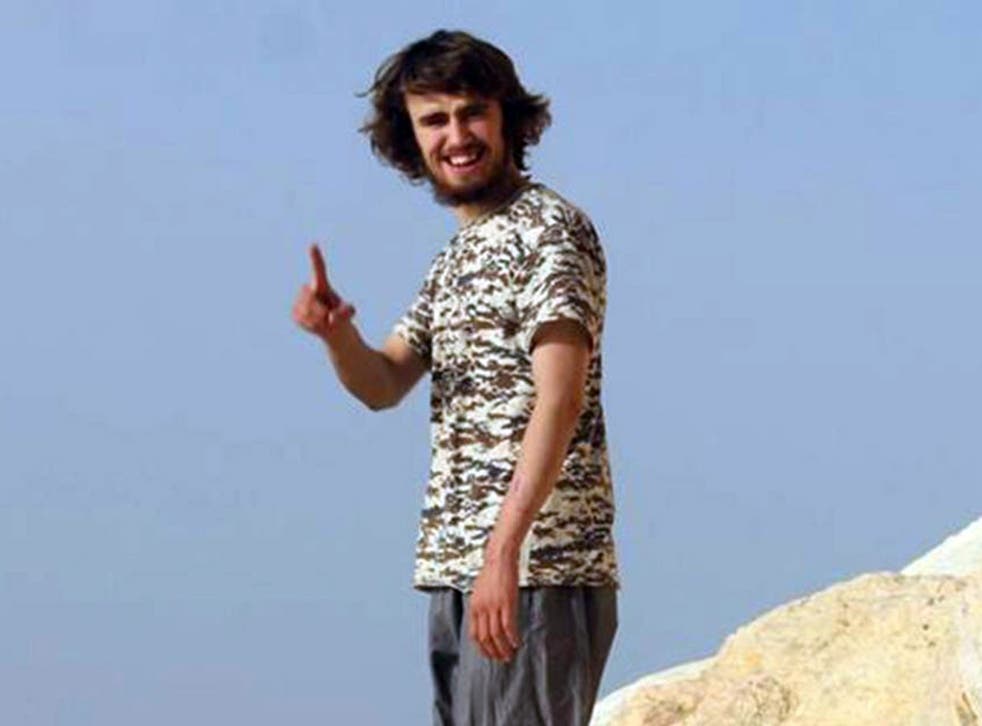 Facebook messages sent from the account of the 20-year-old Briton dubbed 'Jihadi Jack' appear to show him mocking people who mourned the Paris terror attacks as "bloody fools".
Messages posted from Jack Letts' account and seen by The Independent also include claims that his friends in the Middle East have killed soldiers, and references to beheading.
The Independent revealed that Mr Letts had used recent Facebook posts to deny being an Isis fighter – and claim that other "extreme" people had used his account to post inflammatory messages.
It is not clear whether the disturbing views expressed in a new cache of Facebook posts passed to The Independent were written by Mr Letts himself, or others with access to his account.
But the former Oxfordshire schoolboy remains under investigation by counter-terror police amid fears he has become the first white British man to go to there to fight for Isis. His family insist that he went to the Middle East country to help refugees.
In one Facebook post about jihad last October, the person controlling his account quoted the Prophet Muhammad as saying: "I was sent before the hour with the sword until Allah is worshipped alone without partners."
In pictures: The rise of Isis

Show all 74
After the Isis attacks in Paris last November, a message was posted mocking those who changed their Facebook photos to the French flag. It read: "Would not dare put a France flag on my profile pic. The same country who fines your mothers and sisters for wearing the veil. You bloody fools. What muppits you are."
In January another messages accused Saudi Arabia of cooperating with the US to persecute Muslims, and referred to Sheikh Nimr al-Nimr, the Shia cleric executed in Saudi Arabia at the start of this year, as a "filthy" scholar. Isis targets Shia Muslims, not regarding them as true believers in Islam.
The posting read: "Saudi helping America against muslims who attack its embassies is Kufra Akbar according to the quran, the sunnah and consensus of the scholars. Whoever is pleased with it is a disbeliever, kaafir. Make tawbah if you support this puppet regime. Ask Allah for the truth. (I don't include the filthy shi'I scholar that was killed when I use the term 'muslims' so don't get confused)"
In response to another Facebook users comment taht he should "Go and behead someone," Mr Letts' account responded: "Your way to far away for me to behead you."
This echoes comments made in an exchange on Facebook last November in which a posting purportedly from Mr Letts reportedly told his former classmate, Enoch Hadrada: "your not my mate. My mates died fighting and killing your countries brainwashed soldiers and its servants in the east. " Thames Valley Police said: "The South East Counter Terrorism Unit is aware of reports regarding a 20-year-old man from Oxford travelling to Syria and can confirm we are investigating. This investigation began in March 2015 and is ongoing. "
Mr Letts went to Cherwell School in Oxford and his interest in Islam is thought to have been prompted by the Arab Spring in 2011. By last year he was in Syria, having initially told his family he was travelling to Kuwait to study Arabic.
Mr Letts appeared keen to put his side of the story, posting: "Does anyone know a sincere muslim journalist who will not change my quotes? I want to speak to them to clarify misinformation on both sides."
Register for free to continue reading
Registration is a free and easy way to support our truly independent journalism
By registering, you will also enjoy limited access to Premium articles, exclusive newsletters, commenting, and virtual events with our leading journalists
Already have an account? sign in
Register for free to continue reading
Registration is a free and easy way to support our truly independent journalism
By registering, you will also enjoy limited access to Premium articles, exclusive newsletters, commenting, and virtual events with our leading journalists
Already have an account? sign in
Join our new commenting forum
Join thought-provoking conversations, follow other Independent readers and see their replies