Jimmy Savile gropes teenager in newly released Louis Theroux footage
Video clip in new BBC documentary shows infamous paedophile grab young girl in restaurant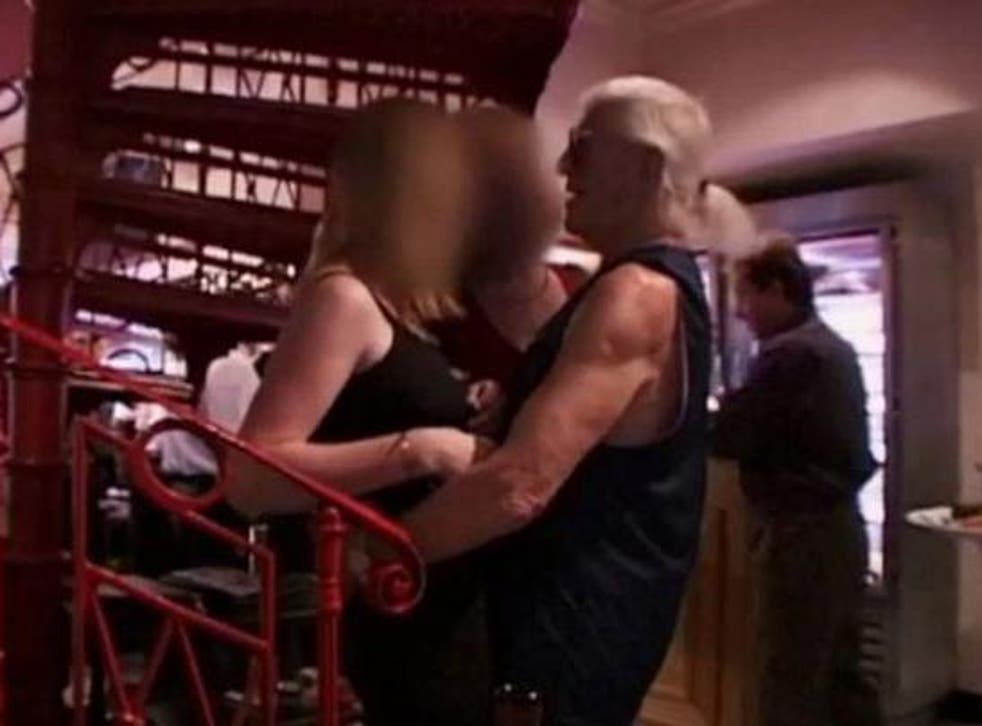 New footage has emerged that appears to show Jimmy Savile sexually assaulting a teenage girl.
The video of Savile rubbing himself against the young girl and touching her bottom was shot in a restaurant in Leeds in 2001, where the incident happened in the presence of the girl's mother, who Savile knew personally, and documentary filmmaker Louis Theroux.
It will be screened for the first time on Sunday night as part of a new BBC documentary, Louis Theroux: Savile.
Mr Theroux first interviewed Savile in 2000 for his BAFTA award-winning series When Louis Met...
Louis Theroux says Savile didn't seem 'malevolent' at the time
The acclaimed filmmaker said he recently found the clip of Savile, who is wearing a vest top, with his grey hair in a ponytail, while reviewing his video archive for footage to use in his new documentary.
Theroux challenged Savile on a number of subjects in his original documentary, including asking the television personality about rumours of peadophilia in one particularly tense interview.
But Theroux admitted that by the time the documentary was completed "a part of me had come to see him as something of a friend".
The filmmaker continued to meet Savile and to record further footage. The incident in the restaurant is believed to have been filmed the summer after the original programme aired.
Theroux and Savile are seen laughing and joking as they leave the Flying Pizza restaurant after the sexual assault.
In his new documentary, Theroux said he felt guilty for not doing more to bring the sex offender to justice while he was still alive.
"At the time, I'd done my best to be tough with him," he said
"I knew he was weird and, with all his mannerisms, rather irritating - I had no interest in making a soft piece about Jimmy the Charity Fundraiser.
"The dark rumours - of sexual deviance, of being unemotional, of having a morbid interest in corpses - were one of the reasons I'd taken him on as a subject.
"I wanted to get the goods on Savile. The trouble was, I had no clear sense of what those goods were."
In 2001, Theroux reported Savile to BBC bosses over allegations he had slept with a 15-year-old girl, but a senior producer decided not to pass the information on to police.
After Savile's death in 2011, aged 84, it emerged the presenter and long-time charity campaigner had sexually abused hundreds of women and children over six decades.
He molesting victims as young as five at NHS hospitals and assaulted as many as 72 people while working at the BBC.
When Theroux challenged Savile about rumours of paedophilia over a decade ago, Savile said: "We live in a very funny world. And it's easier for me, as a single man, to say 'I don't like children', because that puts a lot of salacious tabloid people off the hunt."
Theroux asked: "Is that basically so the tabloids don't pursue this whole is he or isn't he a paedophile line?"
"Oh, aye," Savile said. "How do they know whether I am not? How does anybody know whether I am? Nobody knows whether I am or not. I know I'm not… That's my policy and it's worked a dream."
In the new documentary Theroux explained: "I wanted to make sense of my own failure to see him for what he was, to see what clues there were in hindsight."
Theroux said he felt particularly bad about two women who contacted him soon after the original documentary was aired to tell him about what they described as earlier 'relationships' with Savile. One of them said she had been 15 at the time.
More than a decade later, the two women came to understand their involvement with Savile as abuse and were among the hundreds who came forward to describe what they had suffered.
"It was upsetting to realise I'd actually met two of the victims while Jimmy Savile was still alive," Theroux said.
"I wondered if I'd handled the encounter differently they might have said more – or if they simply hadn't been ready."
Jimmy Savile: Life in pictures

Show all 15
One woman, Sam Brown, who was repeatedly raped by Savile while attending church aged around 11, told Theroux: "He mugged you off by giving you what he wanted to give you."
In response, the filmmaker confessed: "I feel a bit ashamed now – knowing what we know. I knew he had a secret, I just didn't know what it was.
"I accept that I was one of many people who failed to see what he was about."
Louis Theroux: Savile will be shown on BBC2 at 9pm on Sunday.