Jeremy Clarkson comparison to Jimmy Savile branded 'totally offensive' by victims of notorious paedophile
An unnamed BBC chief was quoted by the Mail on Sunday as claiming the Clarkson situation was 'Savilesque' in terms of his protection and support
Loulla-Mae Eleftheriou-Smith
Monday 16 March 2015 10:10 Comments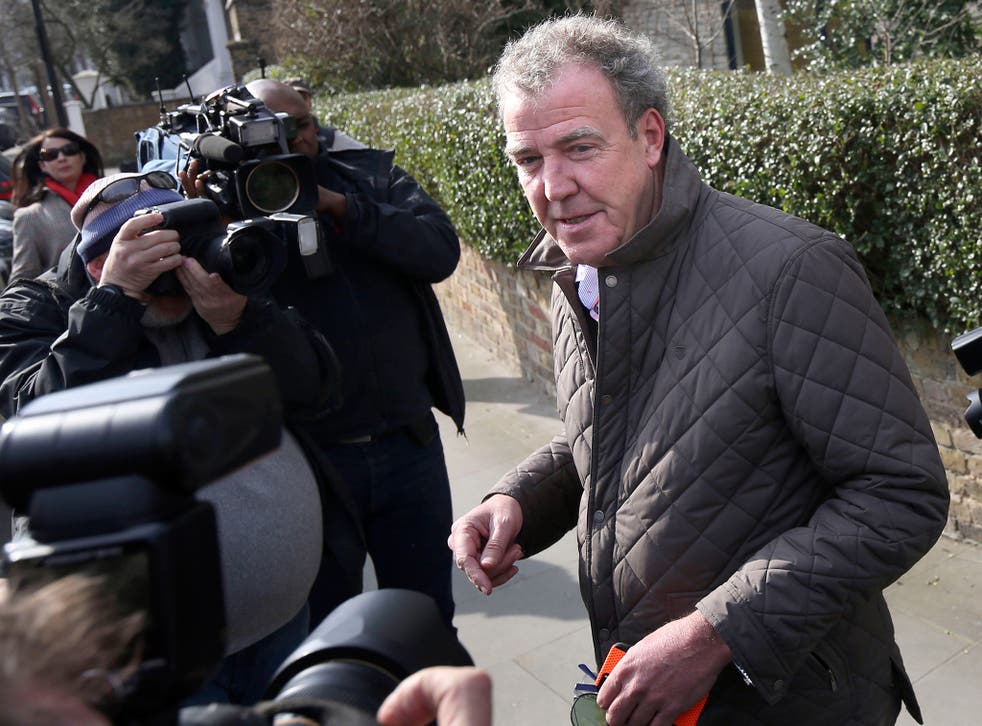 Victims of Jimmy Savile have condemned suggestions that suspended TV presenter Jeremy Clarkson has been afforded the same kind of support and protection shown to the deceased paedophile, who abused thousands of people, as "totally offensive".
Clarkson is alleged to have punched producer Oisin Tymon in an argument over hot food. The Top Gear presenter reportedly called Tymon a "lazy, Irish c***" before hitting him, though Clarkson is expected to deny using xenophobic language when he faces a disciplinary inquiry at the BBC.
As the scandal has unfolded, Tymon has made it clear that he did not report the incident, while it has been revealed that Clarkson initiated the investigation into his actions by reporting himself to the BBC.
Jeremy Clarkson's Top 25 Most Obnoxious Lines

Show all 26
An unnamed senior BBC official was quoted in the Mail on Sunday as suggesting Clarkson's stature and his powerful friends, which includes Prime Minister David Cameron, gives him the freedom to behave in any manner he wishes, and that the support shown for Clarkson appeared "Savilesque".
"The pressure this guy [Tymon] is under is so Savilesque in a way," the official reportedly said, adding: "If you look at what David Cameron says or what [former culture secretary Maria Miller] says and you swap Clarkson for Savile, you get this: David Cameron is effectively saying that Savile's a real talent, Maria Miller saying Savile will be Savile."
Savile's victims have branded the reported comments as "upsetting" and "totally offensive".
Liz Dux, a lawyer from Slater and Gordon, the firm representing 169 of those abused by the paedophile, said many found the comparison "highly inappropriate".
"Many of Savile's victims find a direct parallel between these issues to be upsetting and highly inappropriate," she said.
"One victim said that while both have celebrity status, to suggest other similarities is totally offensive.
"Nevertheless, they want the lessons from Savile learned, whereby fame and celebrity must never be an excuse to overlook wrongdoing."
A BBC spokesperson said: "The BBC's position is the one we set last week and we will not defend or dignify any unsourced story - any such comparison is obviously nonsense and our priority remains to establish the real facts, which is what Ken MacQuarrie is doing."
Additional reporting by PA
Register for free to continue reading
Registration is a free and easy way to support our truly independent journalism
By registering, you will also enjoy limited access to Premium articles, exclusive newsletters, commenting, and virtual events with our leading journalists
Already have an account? sign in
Join our new commenting forum
Join thought-provoking conversations, follow other Independent readers and see their replies