Jo Cox death: Family pay tribute to 'perfect' MP and offer thanks to public
Kim Leadbeater says her sister only saw the good in people as family hug at memorial in Birstall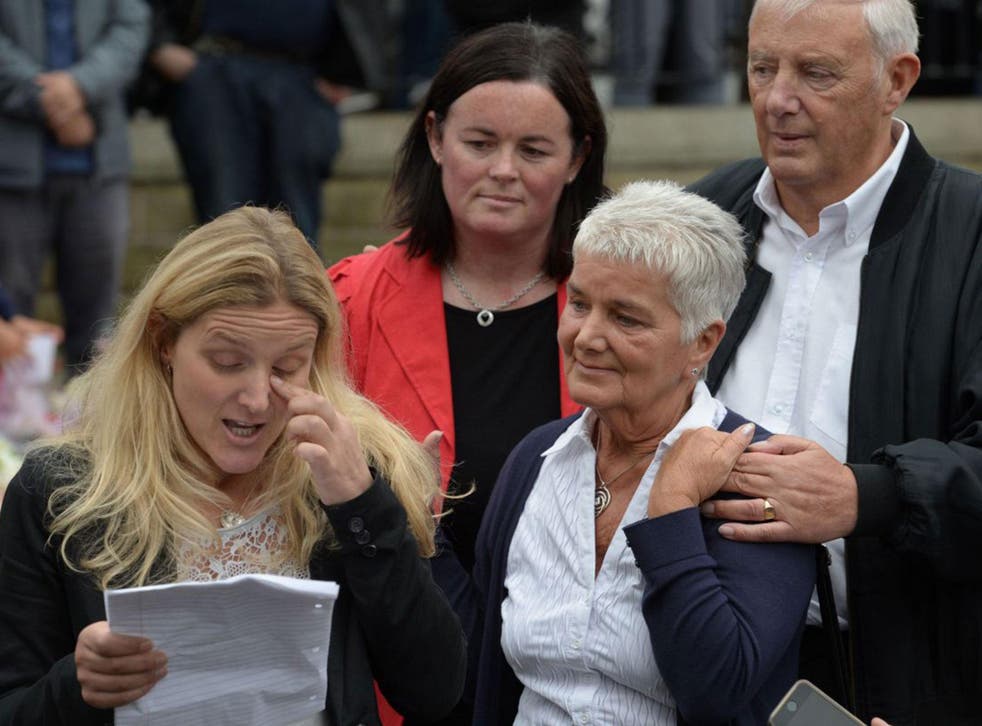 The sister of Jo Cox has paid tribute to the "perfect" MP as she and her family visited floral tributes in the West Yorkshire town where she was killed.
Kim Leadbeater - Ms Cox's younger sister - also spoke of the MP's characteristic optimism, saying she "saw only the good" in people.
About 20 members of Ms Cox's family visited Birstall, where the MP was attacked on Thursday. They saw the massed ranks of flowers. They saw a crowd gathered half a dozen deep in the Market Square, in respectful, supportive silence. They saw that they were amongst their own. Ms Cox had been, as she put it, "proud Yorkshire."
Ms Leadbeater saw it all, smiled and departed from the prepared script that was clutched tightly, nervously, in her hand. The night before she had formally identified her older sister's body.
Mum Jean and dad Gordon stood just behind her, Gordon's hand clutched by his wife as it rested on her shoulder.
As one daughter spoke of the other, and admitted "this isn't going to be easy", the parents looked on encouragingly, occasionally smiling, sometimes nodding, willing their girl to get through it.
"She was my sister, my only sibling and my parent's first born child, a wife and a mum," Ms Leadbeater said.
Jo Cox tributes - in pictures

Show all 20
She hadn't ever wanted to be in the public eye, Ms Leadbetter admitted, but she couldn't stay silent in the face of the "overwhelming outpouring of genuine grief, sympathy and love" for her sister.
Ms Leadbetter praised the "absolutely outstanding" police and emergency services, the "amazing courageous gentleman", Bernard Kenny, 77, who had tried to rescue Mrs Cox during the attack, suffering a serious stab wound in the process.
And then Ms Leadbetter turned her attention to who her sister was, and what she stood for – the 41-year-old mother of two young children that we now all knew a little about, the former aid worker who had been so passionate about uniting communities.
Yes, there were evil people in the world. But as her sister always told her, there were an awful lot of good people too - and it was this positivity Ms Leadbeater would focus on.
Ms Leadbeater spoke of the abuse that her sister had received on social media platforms such as Facebook and Twitter but that Ms Cox still see "the positive" and the MP would "talk about the silent majority who don't always shout the loudest but who she knew were in her corner".
"I am somewhat embarrassed to say that I was sometimes part of that silent majority," Ms Leadbeater said. "I don't do social media and I would shout at the TV or get upset at home.
But, Ms Leadbeater said, people had not been silent over the last 48 hours. "They have been vocal and passionate and have spoken from the heart – genuine emotion and no hidden agendas. Jo would have loved it," she said.
Calling for this "solidarity" to continue in "the days, months and years to come" Ms Leadbeat said people should focus on - as her sister would say - "that which unites us and not that which divides us."
Jo Cox: Tributes to the Labour MP
Ms Leadbeater finished by saying: For now, our family is broken, but we will mend over time. And we will never let Jo out of our lives. She will live on through all the good people in the world, through Brendan, though us, and through her truly wonderful children, who will always know what an utterly amazing woman their mother was.
"She was a human being and she was perfect. Thank you."
The MP's husband Brendan Cox - who Ms Leadbeater said could not attend with the rest of the family as he was looking after the couple's children - tweeted that he was "very proud" of Ms Leadbeater. He said that she spoke "on behalf of us all" and "did her sister proud".
Register for free to continue reading
Registration is a free and easy way to support our truly independent journalism
By registering, you will also enjoy limited access to Premium articles, exclusive newsletters, commenting, and virtual events with our leading journalists
Already have an account? sign in