Inverdale in new sexism row after suggesting Kate Middleton doesn't understand laws of rugby
Social media backlash after presenter suggests sports-loving Duchess 'must have been confused'
Rachel Roberts
Sunday 19 March 2017 19:30 Comments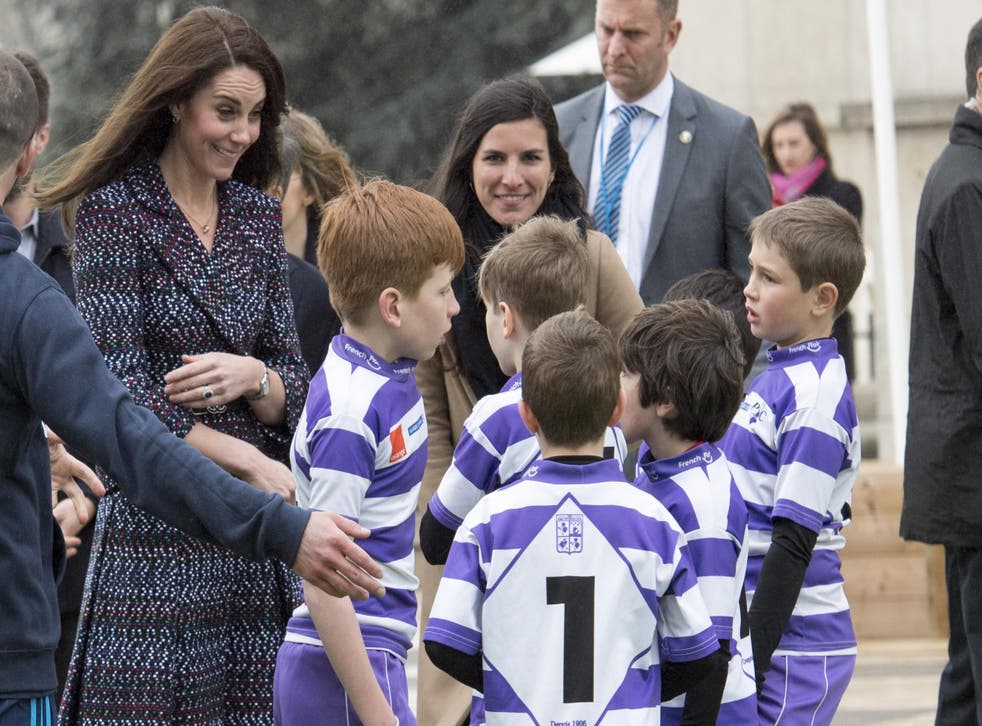 Presenter John Inverdale has sparked fresh accusations of sexism over comments he made about Kate Middleton's knowledge of rugby union.
The commentator appeared to suggest the sports-loving Duchess of Cambridge might not understand the laws of the game as she and her husband watched the tense Six Nations match between Wales and France.
As the camera panned over the Duke and Duchess, Mr Inverdale remarked: "I don't know exactly how au fait with the rules Kate is, but I assume she must have been struggling a bit in the last 20 minutes."
His comments sparked an immediate Twitter reaction – although the BBC later insisted the gaffe-prone presenter was talking more generally about the confusing last few minutes of the match where an astonishing 20 minutes of overtime saw France snatch victory from the jaws of defeat.
The BBC added that Mr Inverdale had said Kate "wasn't alone" if she was confused.
But some viewers accused him of "shameful sexism" while others tweeted the BBC directly to complain, with one asking: "@BBCSport for how much longer are you going to pay John Inverdale to spout his misogynistic bullshit? #licencefeewasted".
Another said: "I may not be a princess but I'd like John Inverdale to know that I know a damn sight more about rugby than he does. Sexist plonker."
Both the Duke and Duchess are sports enthusiasts, and Kate was seen playing rugby with schoolchildren in Paris earlier in the day.
Mr Inverdale was famously criticised over remarks he made about French tennis champion Marion Bartoli, whose 2013 Wimbledon victory promted him to say: "I just wonder if her dad, because he has obviously been the most influential person in her life, did say to her when she was 12, 13, 14, maybe, 'Listen, you're never going to be, you know, a looker. You're never going to be somebody like a Sharapova, you're never going to be 5 ft 11, you're never going to be somebody with long legs, so you have to compensate for that.
"You're going to have to be the most dogged, determined fighter that anyone has ever seen on the tennis court if you're going to make it,' - and she kind of is."
Mr Inverdale, who has two daughters, apologised the next day for his "ham-fisted comments" following a media backlash, and claimed his thinking had been clouded by hayfever.
He was accused of sexism again during the 2016 Rio Olympics when he congratulated Andy Murray on being the first player to win two gold medals. Although Murray is the first in his sport to win two individual gold, both Venus and Serena Williams had previously won four golds each including both singles and doubles titles, as Murray pointed out in the courtside interview.
He was criticised for his presenting style during the 2016 Rio Olympics after he and co-presenter Steve Redgrave clashed several times on air, with claims the rowing champion was not given his fair share of air time compared to the more talkative Mr Inverdale.
Although he has his detractors, Mr Inverdale also has his defenders. Telegraph journalist Rob Bagchi wrote a piece asking, "Why does everyone hate John Inverdale?" suggesting critics were enjoying "the vicarious thrill of a sustained pile-on".
During the Rio Olympics, Mark Davies of The Spectator was sufficiently moved to pen an article, In Defence of John Inverdale, where he claimed the presenter had been subject to a large volume of "totally unwarranted" criticism, possibly motivated by resentment of his long career at the helm of sports presenting.
Register for free to continue reading
Registration is a free and easy way to support our truly independent journalism
By registering, you will also enjoy limited access to Premium articles, exclusive newsletters, commenting, and virtual events with our leading journalists
Already have an account? sign in
Join our new commenting forum
Join thought-provoking conversations, follow other Independent readers and see their replies