John Sentamu snubbed – and Church may take months to name new Archbishop
Andrew Johnson
Monday 01 October 2012 11:38 Comments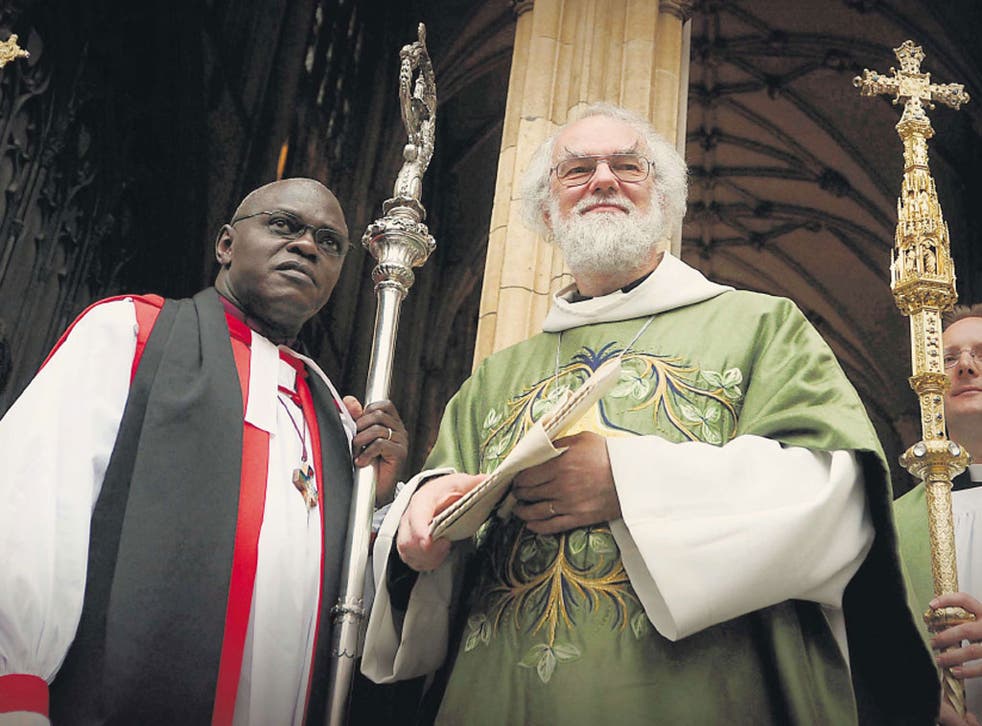 John Sentamu, the charismatic Archbishop of York, appears to have been snubbed in the hunt for a successor to Rowan William, amid claims that church leaders are in "deadlock" and could take months to nominate a new Archbishop of Canterbury.
Speculation about who will be the next head of the Church of England went into overdrive yesterday after the Crown Nominations Commission (CNC) failed to announce a decision.
The CNC had been widely expected to send a two-name shortlist to the Prime Minister on Friday after meeting in secret last week. The PM then recommends the leading candidate to the Queen.
But instead the commission released an opaquely worded statement saying "its work was continuing". Leading contenders such as Dr Sentamu and the Bishop of London, Richard Chartres, were thought to be out of the running last night, with new favourites including the "compromise candidate" Graham James, the Bishop of Norwich, installed.
The two final candidates – a first and second choice – have to be thoroughly vetted, approved and accept the job before a public announcement is made. A spokesman for the CNC said yesterday that the body had no timetable and was under no obligation to make an announcement by any deadline.
"We'll do our job and make the announcement as and when," he said. "Whatever happens Rowan Williams will step down at the end of December. Even if we had made an announcement on Friday the new archbishop wouldn't be enthroned until Easter so in any event there will be a hiatus."
Peter Ould, a high-profile blogging priest, wrote: "Am being told by a very reliable source that the CNC have NOT chosen Richard Chartres. I will eat my hat if he ends up getting Augustine's throne."
Giles Fraser, the former Canon of St Paul's, reiterated calls yesterday for an open election instead of the current secretive system.
"It's all speculation. No one knows anything," he said. "I suspect they haven't made a decision. But it could be a badly worded press release. The argument against a transparent election is that it would create politicking. But there is politicking anyway."
Higher calling: the frontrunners
Graham James, 61, Bishop of Norwich
He is considered an uncontroversial safe pair of hands – which means there are doubts over his leadership qualities: think John Major. He has said he doesn't want the job.
Justin Welby, 56, Bishop of Durham
A former oil industry executive who is on the parliamentary committee looking into banking standards, he is the dark horse of the contest. He also says he doesn't want the job.
Register for free to continue reading
Registration is a free and easy way to support our truly independent journalism
By registering, you will also enjoy limited access to Premium articles, exclusive newsletters, commenting, and virtual events with our leading journalists
Already have an account? sign in
Join our new commenting forum
Join thought-provoking conversations, follow other Independent readers and see their replies