Johnny Depp libel trial: Elon Musk offered to give Amber Heard '24/7 security', High Court told
Amber Heard said on Monday she feared Depp was 'going to kill her'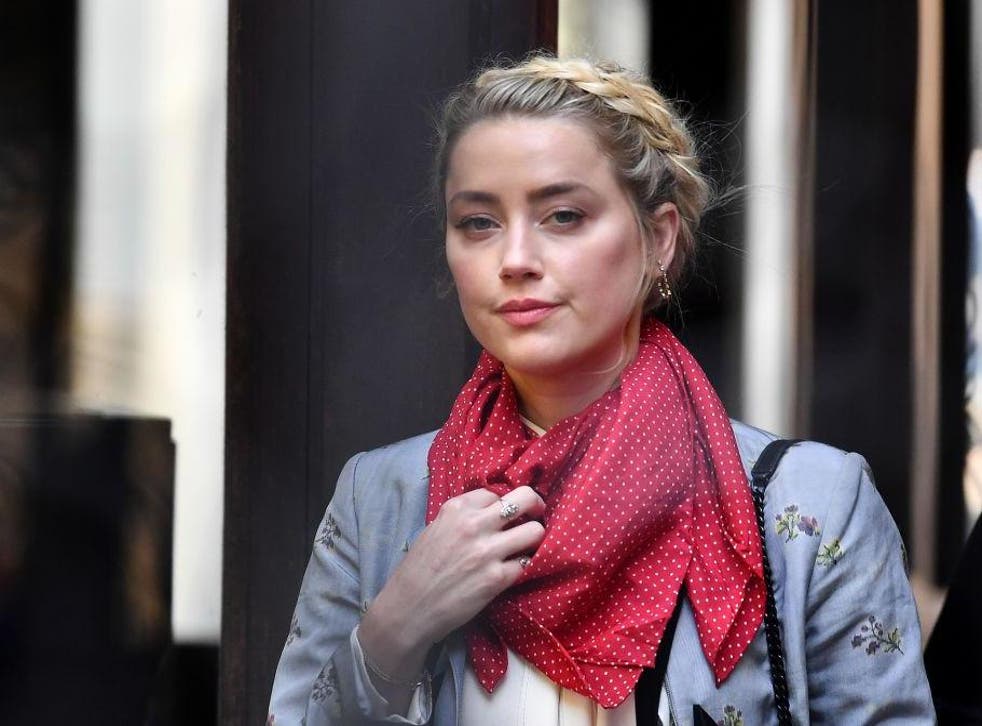 Elon Musk offered to provide Amber Heard with "24/7 security" after she said she would apply for a restraining order against her now ex-husband Johnny Depp, the Royal Court of Justice has heard in the latest day of testimony relating to the couple's marriage.
Ms Heard, 34, has accused the Pirates of the Caribbean actor of physical and psychological abuse over the course of their marriage – including a trip to Australia which she described to the court as a "three-day hostage situation".
Mr Depp denies the allegations – and instead alleges it was Ms Heard who was violent towards him while "building a dossier" of false allegations against him as an "insurance policy for later".
Now Eleanor Laws QC, representing Mr Depp, has read out text messages between Ms Heard and the billionaire SpaceX CEO from May 2016, in which she tells Mr Musk that she is going to obtain a restraining order against her then-husband.
Ms Heard has denied having an affair with the businessman while married to Mr Depp.
Questioning Ms Heard, Ms Laws said Mr Musk offers to "arrange 24/7 security for you", adding: "The offer would stand, even if you never wanted to see me again... anyway, sorry for being an idiot. The radio silence hurts a lot. It only matters because I really like you."
The barrister then referred to evidence given by Alejandro Romero, a concierge at the Eastern Columbia Building, who said he saw Mr Musk visiting Ms Heard "when Mr Depp was in Australia".
Ms Heard responded: "He's wrong. I wasn't even in communication with Elon until 2016."
In his written witness statement, Mr Romero said: "From March 2015 onwards, Ms Heard was visited regularly late at night, at around 11pm to midnight, by Mr Elon Musk."
The concierge said Ms Heard gave Mr Musk his own fob to access the building.
On Monday, Ms Heard claimed she feared Mr Depp was "going to kill" her on several occasions – and says he would later blame his actions on "the monster", an "alter ego" she says she was "terrified of".
Ms Heard has accused Mr Depp of verbal and physical abuse throughout their relationship, including screaming, swearing, punching, slapping, kicking, headbutting and choking her, as well as "extremely controlling and intimidating behaviour".
Ms Heard also told the court that during a 2015 trip to Australia Mr Depp pushed her down against a home bar and pressed so hard on her neck that she could not breathe as she was cut by the broken glass around her.
"He was putting so much pressure on my neck that I couldn't get any words out," she told the High Court.
"I was naked and my feet were bare... I remember I just kept trying to get purchase on the slick floor and the slick countertops."
Ms Heard said she told Mr Depp during the incident: "Johnny, Johnny, it's me, it's me. You're really hurting me, stop please."
"It was like he couldn't hear me," she added.
During his testimony Mr Depp denied allegations of abuse towards his former wife, saying he was "not violent towards Ms Heard – it was she who was violent to him".
The Aquaman actor, who met Mr Depp on the set of the 2011 film The Rum Diary, has since insisted she was never violent towards her ex-husband and would only "try to defend" herself when he "got serious".
She said: "When I felt my life was threatened, I tried to defend myself and that started to happen years into the relationship, years into the violence.
"Before that, I didn't even try to defend myself, I just checked out."
Mr Depp is suing The Sun newspaper's owners News Group Newspapers and The Sun's executive editor Dan Wootton over the publication of an article on 27 April 2018, with the headline: "Gone Potty: How can JK Rowling be 'genuinely happy' casting wife beater Johnny Depp in the new Fantastic Beasts film?"
His lawyers say the article bore the meaning there was "overwhelming evidence" Mr Depp assaulted Heard on a number of occasions and left her "in fear for her life".
NGN is defending the article as true, and says Mr Depp was "controlling and verbally and physically abusive towards Ms Heard, particularly when he was under the influence of alcohol and/or drugs".
Additional reporting by agencies.
Register for free to continue reading
Registration is a free and easy way to support our truly independent journalism
By registering, you will also enjoy limited access to Premium articles, exclusive newsletters, commenting, and virtual events with our leading journalists
Already have an account? sign in
Register for free to continue reading
Registration is a free and easy way to support our truly independent journalism
By registering, you will also enjoy limited access to Premium articles, exclusive newsletters, commenting, and virtual events with our leading journalists
Already have an account? sign in