Man in London places £50k bounty on own head for any Isis terrorist that kills him - adding 'I've got a sword, good luck'
'I'm not worried about Isis... Come on lads, have a crack'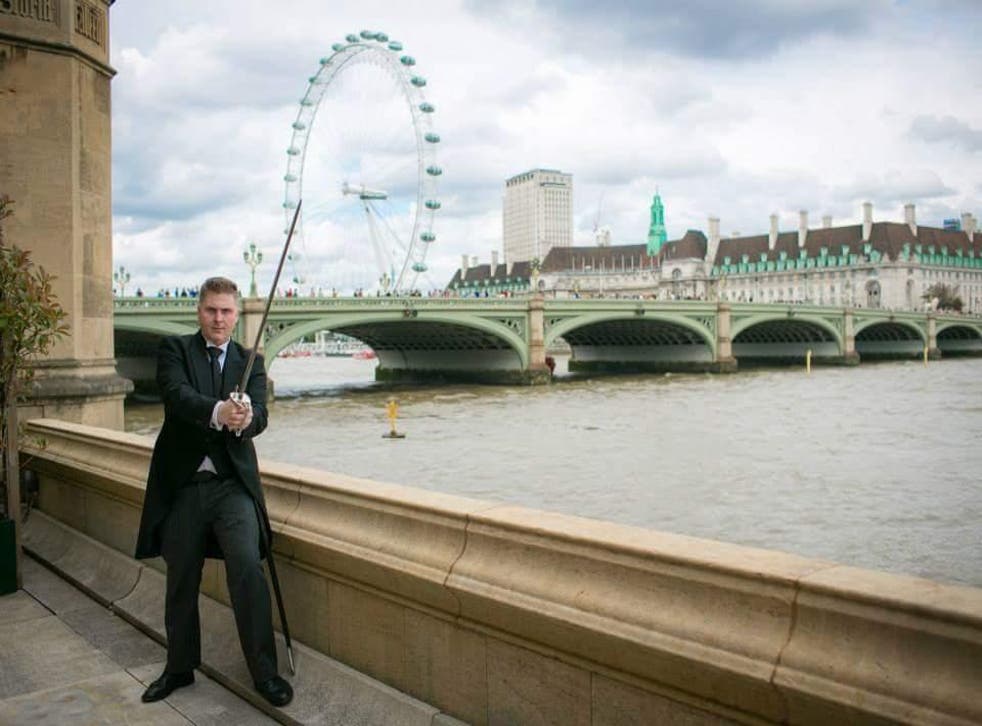 A journalist has invited any Isis terrorist to a sword duel for a £50,000 reward on his own head after seven people were killed in the attack on London Bridge.
Andre Walker, a New York Observer columnist, posted a photo of himself on the Westminster terrace by the Thames, holding what appeared to be a sword with both hands.
"A bounty on my head. Any #ISIS terrorist that kills me gets £50k. I'll give my address. No police. But I've got a sword. Good luck," he tweeted.
London terror attack: What we know so far
He added: "I'm not worried about looking silly, nor am I worried about #ISIS... Come on lads, have a crack."
The reaction to the tweets was mixed, with some people on social media engaging in humour while others criticised the post for its timing.
"Not sure what point you're making with this," one person commented.
"So let's get this straight. You're offering to fund terrorism?" another person asked.
A third said: "Probably illegal to carry a sword around in the street like that. This is the dumbest thing I've seen on twitter so far this morning."
Mr Walker said the reason for his offer was "very simple".
"[…] fight someone who is a fair opponent. No honour in running over children," he responded online.
The social media post comes hours after seven people were killed and 48 injured in the third terrorist attack in the UK since March.
"As a Mancunian I was devastated about the terror attack at Manchester Arena," Mr Walker told The Independent. "These cowards want to blow up little girls, and run over tourists.
"As a freeman of the City of London I have a sword. And my offer to any terrorist is this: why don't you pick on someone your own size."
London Bridge Terror Attack

Show all 16
Three male suspects were shot and killed within eight minutes of the first call to emergency services just after 10pm on Saturday evening.
The men had rented a white van and ploughed into bystanders on London Bridge, before exiting the vehicle and randomly stabbing people in pubs and bars near Borough Market.
Many people were rushed to hospital and remain in critical condition.
On social media, members of the public and politicians vowed not to be divided by terrorism.
Main political parties said they would suspend their campaigns.
The Manchester Arena concert, in honour of the 22 victims who were killed in an explosion last month, will go ahead on Sunday.
People responded negatively to a CNN report that the streets around London Bridge remained "eerily quiet", and a New York Times headline which claimed the city was still "reeling" after the attack in Manchester.
"Woman on CNN talking about London's streets being eerily quiet. Mate, it's Sunday. They're not cowering in fear, they're having a lie in," responded one social media user.
Join our new commenting forum
Join thought-provoking conversations, follow other Independent readers and see their replies