Judge kicks out £4.3m case against Rooney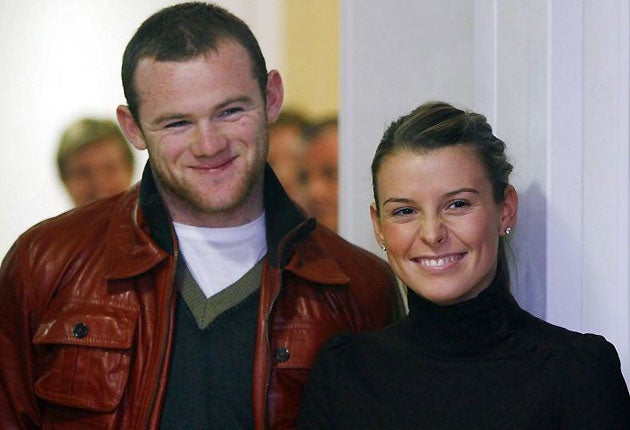 Wayne Rooney today defeated attempts to sue him for £4.3 million. The Manchester United and England striker was accused of withholding commission on multi-million pound deals brokered by sports management firm Proactive, who used to represent him.
Rooney made no payments after football agent Paul Stretford, a director and founder of Proactive, left the firm in acrimony in October 2008, taking with him their star client.
Rooney, 24, who is currently on holiday in Barbados, was signed by Stretford for Proactive in 2002 as the teenage prodigy became the hottest property in football.
Rooney, then 17, went from £80-a-week Everton trainee living in his parent's council house in Croxteth, Liverpool, to household name soccer star with multi-million sponsorship deals with the likes of Nike and Coca-Cola.
Proactive had argued that, as such contracts for Rooney and his wife Coleen were brokered by Stretford while he was still at the firm, they were still due the 20% commission - amounting to £4.3 million.
Today Judge Brendan Hegarty QC, who postponed his ruling at Manchester Mercantile Court until after the World Cup, handed down his judgment.
The judge said the original contract Rooney signed with Proactive amounted to a "restraint of trade" as it was up to eight years long when the Football Association recommended a maximum of two years.
Judge Hegarty ruled that Proactive was only entitled to a "restitutional remedy" from the Rooney's amounting to around £90,000.
He rejected an application to appeal from the firm's lawyers.
Ian Mill QC, representing Proactive, told the court they would consider taking the matter to the Court of Appeal.
In a statement released after the ruling, Manchester United and England star Rooney said: "I am delighted to have won this case."
He added: "Coleen and I have always been happy to pay all commissions due to the people who were owed them.
"But these sums were a joke and we felt they were just an attempt to exploit us.
"Fortunately the judge has knocked back their massively over-inflated claims and we are happy to pay the very small sum awarded.
"Going to court was the last thing I wanted to do.
"I was shocked that a company which represents some of Britain's biggest entertainers was going down this road which meant that private financial and commercial matters were made public.
"But you always have to fight for what's right in life and that's why we contested it."
Rooney's statement thanked his legal team and witnesses who appeared on his behalf, including Manchester United chief executive David Gill and Gordon Taylor from the Professional Footballers' Association.
He added: "Finally, and most importantly, I would like to thank my Mum and Dad for their help, support and values they have given me."
Stretford, now managing director of Triple S Sports and Entertainment Group, also welcomed the ruling.
"Wayne's legal team has said that the victory is so overwhelming that costs will now be claimed from Proactive.
"We were always surprised that a company which represents some of Britain's major entertainment stars, should want to see private matters like this aired in court.
"I would like to thank Wayne and Coleen for showing such strength of conviction and resilience under a great deal of pressure, and for believing in what they felt was right."
Stretford was in court but there were no members of the Rooney family present.
The agent, flanked by his legal team, nodded and smiled to his lawyers as the judgment was delivered.
Proactive said in a statement it was left with no choice but to bring the lawsuit against the Rooneys.
The statement said: "Following years of successful and harmonious representation of Mr and Mrs Rooney, it was highly regrettable that the decision by Mr and Mrs Rooney and their companies to refuse to pay outstanding invoices and to claim back sums which they had previously paid, left Proactive Sports Management Limited, a wholly owned subsidiary of Formation Group plc, with no practical choice but to bring these proceedings.
"Proactive is delighted that the court has rejected the claim by Mr and Mrs Rooney's companies to recover monies back from it and has accepted that further sums are to be paid by those companies for the services provided to them by Proactive."
The statement said Proactive was pleased the court had accepted its "factual evidence" and "substantially rejected" the account of events put forward by Paul Stretford.
It went on: "Proactive is disappointed that the court has not felt able, without a further hearing, to assess the sums that are to be paid to it by Mr Rooney's company and that the court did not accept all the legal arguments advanced by Proactive as to the amount of money that it should be paid.
"It will continue to take all appropriate steps to ensure that it receives proper and reasonable recompense for its successful endeavours in representing Mr and Mrs Rooney and their companies over many years."
Judge Hegarty read out in open court only the concluding two pages of his 195-page judgment.
He said Proactive's contract with Rooney from 2003, called an image rights representation agreement, was "unenforceable".
The contract, entered into when Rooney was just 17, gave him no right to terminate before the eight year expiry date, the judge said.
He said Proactive's contract had been drawn up by lawyers, while Rooney and his parents were "unsophisticated" in such matters and had not taken independent legal advice before putting pen to paper so there was an "imbalance" in bargaining power between the sides.
Judge Hegarty told the court the contract imposed "very substantial restraints upon Mr Rooney's freedom to exploit his earning ability over a very long period of time on terms which were not commonplace in the market and which were not the outcome of commercial negotiation between equals".
He added: "Proactive cannot, therefore, recover as a matter of contract, any sums which remain unpaid but which would otherwise have fallen due to it under the terms of the agreement had it not been unenforceable."
He ruled that only "restitutionary" amounts were payable to Proactive from the Rooneys under other contracts.
They amounted to around £90,000 in commission and for management services payable from Coleen Rooney and £5,000 from Wayne Rooney.
However, Proactive was also held liable to pay the bulk of the legal fees of the court case, according to Rooney's lawyers.
The exact cost of what was described in court as "expensive litigation" has not been worked out but is estimated to come to around £500,000.
That amount will be decided at a later hearing after Proactive have gone to the Court of Appeal to ask for leave to appeal against today's decision.
Outside court Mr Stretford said: "I have spoken to Wayne and he is as joyous as you can imagine."
He said the footballer "feels as though he did the right thing and stood up for himself.
"And I think that's what you all feel, that Wayne Rooney always stands up for himself."
Join our commenting forum
Join thought-provoking conversations, follow other Independent readers and see their replies