Julian Assange refuses to surrender to US extradition 'for doing journalism', he tells court
WikiLeaks founder spoke via video link from Belmarsh prison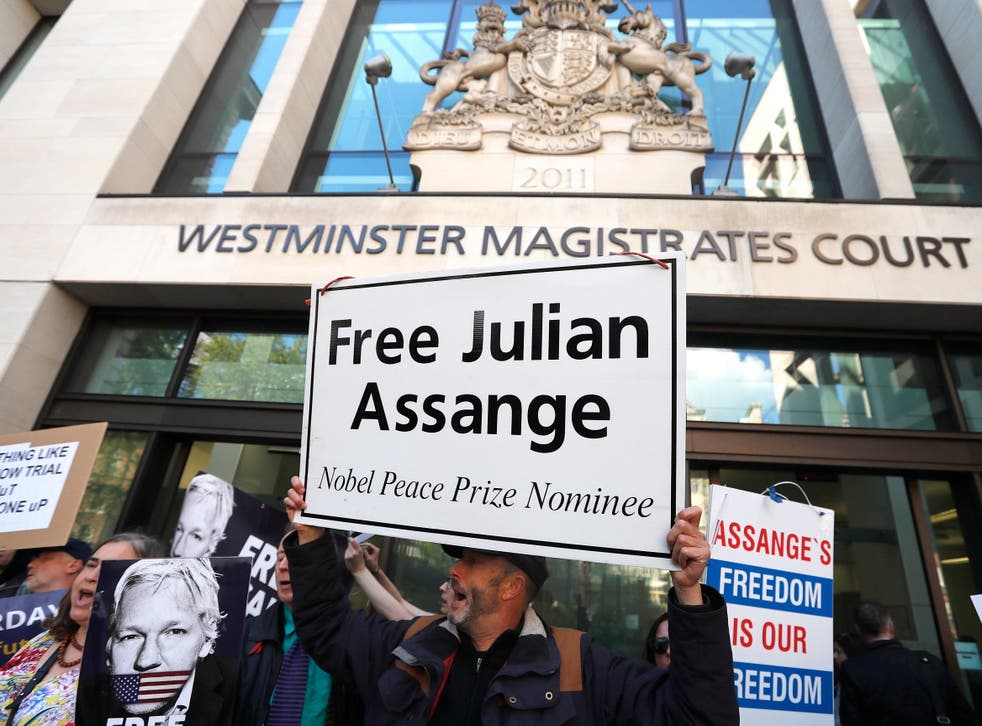 WikiLeaks founder Julian Assange has told a court that he does not consent to being extradited to the US "for doing journalism".
The WikiLeaks founder has been charged by American authorities with conspiracy to commit computer intrusion. They claim he conspired to break into a classified Pentagon computer.
Speaking via video link from Belmarsh prison, Assange told Westminster Magistrates' Court: "I do not wish to surrender myself for extradition for doing journalism that has won many awards and protected many people."
After the 10-minute hearing, the case was adjourned until 30 May for a procedural hearing; a more substantial hearing is planned for 12 June. The full extradition hearing was months away, the court was told.
Assange, who after almost seven years was dragged out of the Ecuadorian embassy in London last month, was sentenced to 50 weeks in prison by a British court earlier this week.
Key moments for Julian Assange

Show all 9
He sought refuge there in June 2012 to avoid an extradition order to Sweden over a rape allegation, which he denies.
In April, US prosecutors announced that he had been charged with conspiring, alongside intelligence analyst Chelsea Manning, to infiltrate a Pentagon computer.
They said the charge carries a maximum of five years' imprisonment and relates to Assange's "alleged role in one of the largest compromises of classified information" in US history.
Prosecutors claim he assisted Manning in cracking a password to help her leak classified records.
Ben Brandon, a lawyer for the US government, said investigators had uncovered 2010 chatroom conversations between Assange and Manning. He claimed the pair had "engaged in real-time discussions regarding her dissemination of confidential records to Assange".
DO NOT USE Wikileaks founder Julian Assange arrested by UK police and removed from Ecuador embassy
A large group of his supporters gathered both inside and outside Westminster Magistrates' Court to offer solidarity at his latest hearing. Some of those who got inside Court Three for the hearing had to stand or sit on the floor.
Lauri Love, who saw his own extradition decision over allegations he hacked US government computer networks overturned by the High Court last year, was among them.
Judges ruled the extradition of Mr Love, who has Asperger's, "would be oppressive by reason of his physical and mental condition".
The 34-year-old from Suffolk, said he came to court to "keep an eye on the process and make sure that it's done as fairly as possible".
He added: "I've been through this whole mill so I am supporting Julian in opposing extradition to the US where I think he would, like myself, not have a very strong chance of having a fair trial. I know how traumatic this ordeal can be, years of having to be afraid of being taken to another country and treated badly."
Chinese artist Ai Weiwei and other demonstrators also donned masks of Assange at a rally for the WikiLeaks founder at Brandenburg Gate in Berlin.
One of their banners read: "We are all Julian Assange!"
Additional reporting by agencies
Join our new commenting forum
Join thought-provoking conversations, follow other Independent readers and see their replies