Junior doctors' contract causes outrage as official report highlights 'indirect adverse effect on women'
'This dispute has now been turned even more sour, with a layer of out-and-out sexism'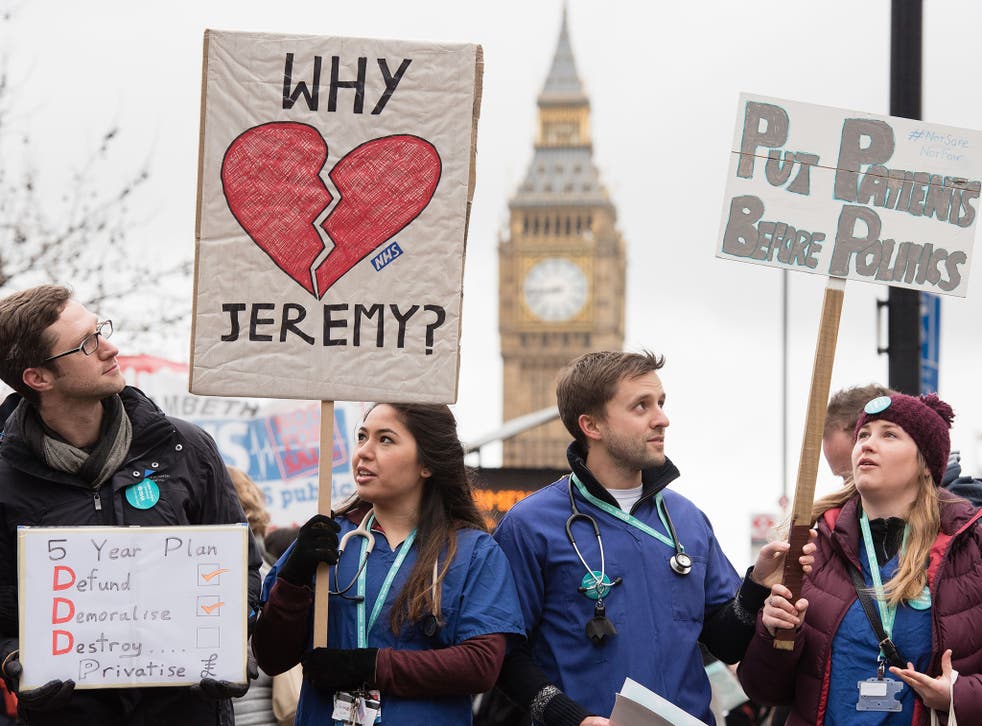 Junior doctors are outraged over an equality analysis which appears to condone the new contract having an "indirect adverse impact on women".
The analysis, published by the Department of Health, reads: "We consider that the payments proposed are fair and that any indirect adverse effect on women is a proportionate means of achieving a legitimate aim."
It also says: "Whilst this may disadvantage lone parents (who are disproportionately female) due to the increased cost of paid childcare in the evenings and weekend, in some cases this may actually benefit other women, for example where individuals have partners, it may be easier to make informal, unpaid childcare arrangements in the evening and weekends than it is during the week due to the increased availability of partners and wider family networks at weekends and in the evenings."
Junior doctors have condemned the findings of the analysis. One told The Independent: "The suggestion that wilfully discriminating against women is acceptable in any employment sector in 2016 is abhorrent."
Others used Twitter as a platform to voice their anger.
Another junior doctor was also enraged over the new contract which "openly discriminates against women".
Dr Emma-Jane Smith, a specialty registrar in intensive care medicine, told The Independent: "Women comprise over 60 per cent of the junior doctor workforce. The unilateral enforcement of this contract would set a dangerous precedent. Who is to say that the almost 90 per cent of nursing staff who are female will not be next in line for such disgraceful treatment?"
The analysis, she said, "beggars belief and adds insult to injury".
Dr Smith added: "This dispute has now been turned even more sour, with a layer of out-and-out sexism. Elizabeth Garrett Anderson would be turning in her grave. Women are not second class citizens - we are the very fabric of the NHS."
"Doctors will not stand for this and we will, unfortunately, be forced to take further industrial action as so far the government has refused to listen to our concerns," she said.
A spokesperson for the Department of Health said: "Our equality impact assessment shows doctors on the new contract will benefit from a fairer pay model that better rewards those who work the most intense and unsocial hours and will improve patient care across seven days.
"Part-time trainees will now benefit from the same benefits as those working full time, including the same pay protection on a pro-rata basis."
In pictures: Junior doctors protests in UK

Show all 10
The government announced plans to unilaterally impose the new contract on all junior doctors in England in February, after talks with the doctors' union, the British Medical Association, broke down.
The main sticking point of the new contract is changes to pay for working Saturdays and unsociable hours.
Junior doctors have responded in a series of strikes over the new terms. The next strike is planned for the end of April.
Register for free to continue reading
Registration is a free and easy way to support our truly independent journalism
By registering, you will also enjoy limited access to Premium articles, exclusive newsletters, commenting, and virtual events with our leading journalists
Already have an account? sign in
Register for free to continue reading
Registration is a free and easy way to support our truly independent journalism
By registering, you will also enjoy limited access to Premium articles, exclusive newsletters, commenting, and virtual events with our leading journalists
Already have an account? sign in
Join our new commenting forum
Join thought-provoking conversations, follow other Independent readers and see their replies