Junior doctors' contracts: Wales extends 'warm welcome' to defecting doctors after Jeremy Hunt imposes contract
The British Medical Association had warned that the conditions could prompt an exodus of doctors from England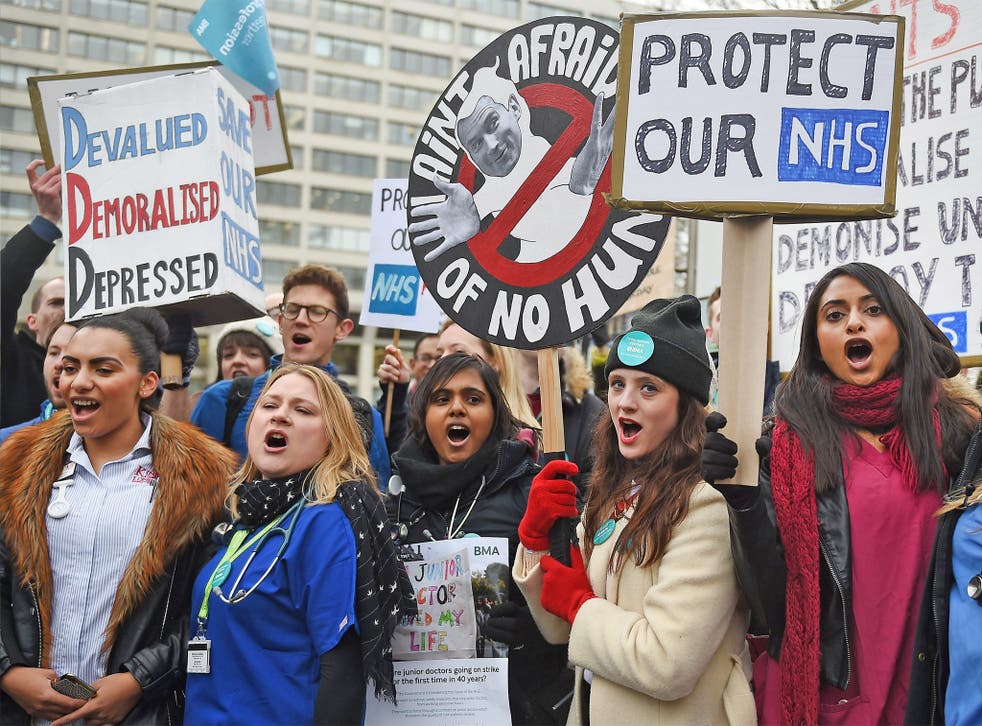 The Welsh government has extended a "very warm welcome" to junior doctors seeking to escape the new contract being imposed in England.
Its official Twitter account sent out the message shortly after Jeremy Hunt announced the terms, which have sparked two strikes, will be forced through despite huge opposition.
"Junior doctors from any part of the UK interested in working in Wales will find a very warm welcome here," the tweet read.
Glyn Davies, the Conservative MP for Montgomeryshire, replied to the tweet calling it "deeply disappointing".
"UK Govt would never behave like this. Respect is a two way street," he added.
Only junior doctors working in England will be subjected to the new contract, which extends "social" hours and classifies Saturday as a normal working day.
Wales and Scotland previously said they will maintain the existing contractual arrangements and no decision had been reached in Northern Ireland last week.
The British Medical Association (BMA) has argued that the changes will make doctors work "dangerously long hours" and effectively cut their pay, and warned that enforcing them could prompt an exodus of young doctors from England's NHS.
Kitty Mohan, co-chair of its junior doctors committee, said: "There has been an outpouring of anger over plans to impose a new contact and there is a real risk that junior doctors will speak with their feet.
"To lose a large swath of doctors in the early stages of their careers would be a disaster for the NHS."
But the Health Secretary insisted today that the contract would have a positive outcome.
In a statement to the House of Commons, he said standards in NHS hospitals are "too low" at weekends and more patients die than during the week.
It was unclear whether the BMA will now stage further strikes in protest at the new contract.
NHS England's chief executive, Simon Stevens, acknowledged junior doctors' "critical role" in the NHS and "legitimate non-pay concerns".
"These now have to be comprehensively addressed by hospitals, the medical royal colleges, and the national training bodies," he added.
"But drawn out industrial action over contracts and pay would mean further disruption to patients who are relying on NHS care, with thousands more operations cancelled and check-ups delayed.
"That's why Sir David Dalton - one of the health service's most experienced and fair-minded hospital leaders - was called in to negotiate a fair and workable settlement, and it's why it's incredibly disappointing that he has today reported that there is 'no realistic prospect of a negotiated agreement'.
"Under these highly regrettable and entirely avoidable circumstances, hospitals are rightly calling for an end to the uncertainty, and the implementation of the compromise package the Dalton team are recommending."
In pictures: Junior doctors protests in UK

Show all 10
The Government made a "best and final" offer to the BMA on Wednesday afternoon as thousands of doctors were on strike, which was rejected.
In a letter to Mr Hunt on Wednesday, the BMA's junior doctors' committee chairman, Dr Johann Malawana, had urged him to accept the union's proposal to reduce the 11 per cent rise in basic pay offered by the Government in return for better premium rates on Saturdays.
"This would give you the cost neutrality you seek and junior doctors the appropriate recognition for evenings, nights and weekends," he said.
"If you are able to accept this model and withdraw the threat of imposition, we believe that our dispute with the Government would be concluded, leading the way to detailed discussion about implementation."
Additional reporting by PA
Register for free to continue reading
Registration is a free and easy way to support our truly independent journalism
By registering, you will also enjoy limited access to Premium articles, exclusive newsletters, commenting, and virtual events with our leading journalists
Already have an account? sign in
Register for free to continue reading
Registration is a free and easy way to support our truly independent journalism
By registering, you will also enjoy limited access to Premium articles, exclusive newsletters, commenting, and virtual events with our leading journalists
Already have an account? sign in
Join our new commenting forum
Join thought-provoking conversations, follow other Independent readers and see their replies