Junior doctors row: Jeremy Hunt's claims of NHS weekend effect 'based on flawed data', Oxford University study finds
'It really is an excellent example of how poor quality data, badly interpreted, can lead to the wrong answer'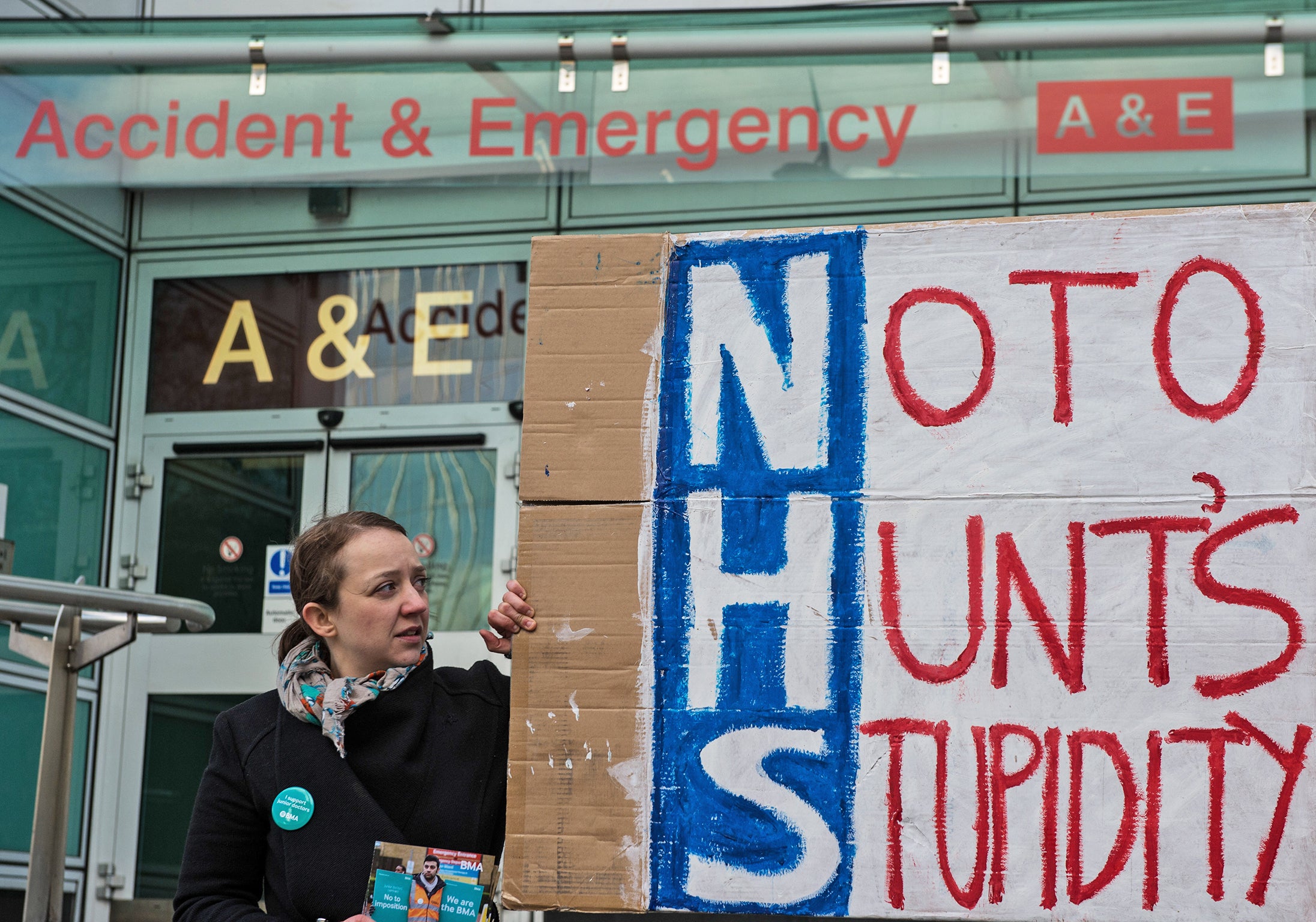 Jeremy Hunt's claim that more patients die in NHS hospitals at the weekend has ben challenged by new research suggesting his central assumption is based on flawed data.
The Health Secretary has cited a previous study by England's Chief Medical Officer Sir Bruce Keogh to make the case for seven-day NHS in England – and a new contract for junior doctors.
But now researchers from Oxford University have questioned whether the information used in the original study was attributed correctly.
The academics found more than a third of patients recorded as being admitted for a stroke were actually in for other things – often low-risk, routine procedures carried out on Monday to Friday.
They said these coding errors distorted the mortality figures, making them appear better for patients admitted on weekdays.
Without the mistakes, they argued, there was no "weekend effect".
They added that these errors were likely to commonplace across other emergency admissions and not just for data on strokes.
"There's a wealth of poor-quality evidence based on hospital administrative data," said Peter Rothwell, the lead author of the report and professor of neurology at Oxford University.
"If you look at those studies that have actually done the due diligence and looked at real data – gold-standard data – there's very little evidence indeed of a weekend effect.
"It really is an excellent example of how poor quality data, badly interpreted, can lead to the wrong answer."
He said government ministers had acted in good faith but had been "badly misled" by their advisers.
"Looking at where we are now, you could only describe it as a shambles," he said.
"We need to step back and work out to begin with is there a problem here that needs solving. The high-quality data suggests there's no problem to be solved."
In pictures: Junior doctors first all-out strike
Show all 10
The publication of the study comes as doctors' leaders and the Government return to the negotiating table today in an effort to break the deadlock over the controversial contract for junior medics.
The British Medical Association will hold fresh talks after Mr Hunt agreed to a five-day pause in the imposition of the new junior doctors' contract.
The talks will be held at the conciliation service Acas.
Dr Johann Malawana, chairman of the BMA's junior doctors committee, said he hoped "real progress can now be made to ending this dispute".
But he said that any contract - whether agreed or not - should be put to a referendum of junior doctors.
The Department of Health also expressed optimism that the talks could be successful.
"We look forward to the talks starting tomorrow, which will be held under the auspices of Acas – and the Secretary of State will suspend the introduction of the new contract for a five-day period to facilitate this," the department said in a statement.
"We are very pleased that Sir David Dalton, a highly respected independent NHS leader, will be returning to lead the Government's negotiating team on the small number of outstanding issues that separated both parties in February."
Dr Malawana wrote on Twitter that he would "welcome" working with Sir David again and would "try and find a solution for junior doctors".
He added: "Will be tough week but juniors want talks."
An Acas spokesman said: "After consultations with both parties in recent days, both the BMA and government representatives accepted an invitation from the chair of Acas, Sir Brendan Barber, to take part in five days of intensive talks to seek to resolve outstanding differences in the current junior doctors' dispute."
The agreement to resume talks follows a wave of industrial action launched by junior doctors in recent months, which saw thousands of operations cancelled after negotiations reached an impasse, with Mr Hunt threatening to impose the controversial contract.
The resumption of negotiations has been brokered by the Academy of Medical Royal Colleges in an effort to end the dispute.
Mr Hunt has insisted that discussions should not concern 90% of the issues already agreed but should focus instead on outstanding contractual issues.
Junior doctors stopped providing emergency care for the first time in NHS history during their most recent walkout, which went on for two days last week.
Jeremy Hunt says junior doctors' contract is likely to be his 'last big job in politics'
More than 125,000 appointments and operations were cancelled and will need to be rearranged, on top of almost 25,000 procedures cancelled during previous action.
The dispute began when the Government took steps to introduce its manifesto commitment of a seven-day NHS.
Mr Hunt wants to change what constitutes "unsocial" hours for which junior doctors can claim extra pay, turning 7am to 5pm on Saturday into a normal working day.
Currently, 7pm to 7am Monday to Friday and the whole of Saturday and Sunday attract a premium rate of pay for junior doctors.
Despite the Government offsetting this change with a hike in basic pay of 13.5 per cent, it has proved to be a sticking point with the BMA.
The imposed contract, due to come into force in August, will still allow premium rates for Saturday evenings and all of Sunday.
Join our commenting forum
Join thought-provoking conversations, follow other Independent readers and see their replies