Jurassic-era fossil of 'Lazarus' fish expected to fetch £50,000 at auction
200-million-year-old specimen lived before break up of super-continent Pangaea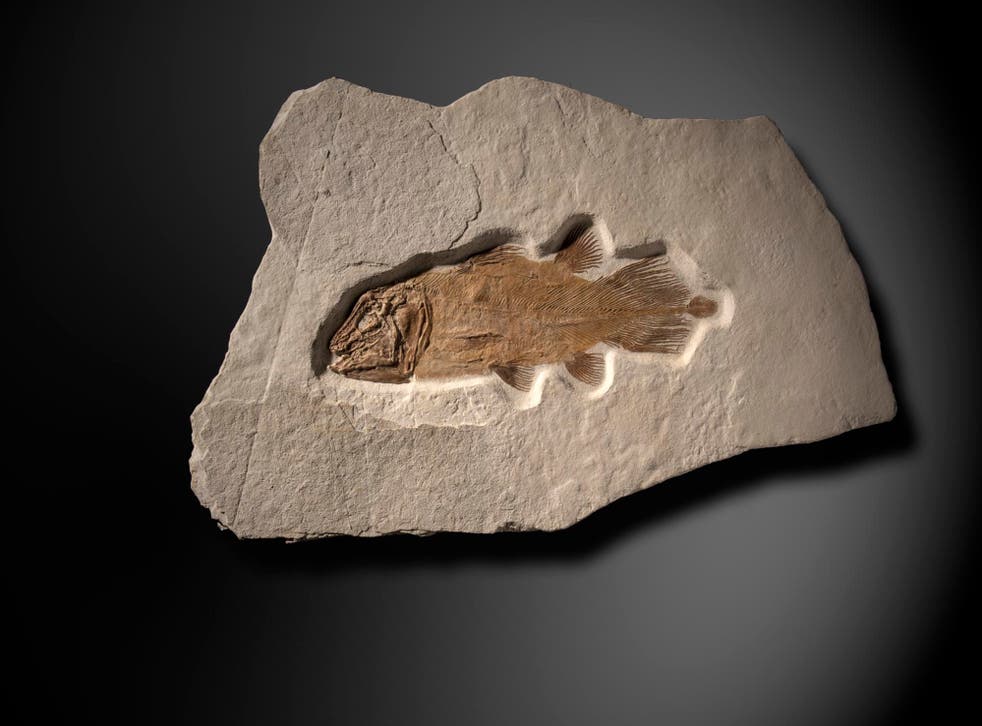 A rare Jurassic-era fossil of a fish dubbed "Lazarus" is expected to fetch up to £50,000 at auction in Sussex next month.
Coelecanths were thought to have gone extinct alongside the dinosaurs nearly 70 million years ago, until one was discovered on a South African fishing trawler in 1938, setting the scientific community abuzz with theories over its role in the evolution of fish into terrestrial animals.
Live specimens of the deep sea-dwelling creatures – which can grow to longer than six feet – were eventually discovered, and now can be found off the East African coast and near Sulawesi in Indonesia.
The dramatic discovery led the species to be classified as Lazarus taxon.
Now a rare coelacanth fossil discovered in Germany and dating back 200 million years – before the break-up of the super-continent Pangaea – is to go under the hammer in Billinghurst, West Sussex on 24 November.
UK news in pictures

Show all 50
"We are really proud to be able to offer a Coelacanth Painten in our Evolution sale this year for the first time," said Rupert van der Werff, director of Summers Place Auctions.
"They so rarely are uncovered and it is even more rare that they come up for sale.
"This is a particularly fine example as it is clearly showing all the features of coelacanths – the rather limb-like structure of the fins makes you understand how the evolution from fishes to amphibians could have started."
Many scientists believe that the unique characteristics of the coelacanth – which can dwell up to 700 metres below sea level – could well show how the evolution of fish to amphibians began, according to National Geographic.
The coelacanth fossil, which is 46cm long, will go on sale alongside items including dinosaur eggs and fossils preserved in amber.
Also on offer at the auction will be a woolly rhinoceros skull dating back at least 10,000 years old.
The 78cm skull is expected to sell for between £4,000 and £6,000, while a mammoth tusk weighing a hefty 54kg is expected to fetch up to £18,000.
Additional reporting by PA
Register for free to continue reading
Registration is a free and easy way to support our truly independent journalism
By registering, you will also enjoy limited access to Premium articles, exclusive newsletters, commenting, and virtual events with our leading journalists
Already have an account? sign in
Register for free to continue reading
Registration is a free and easy way to support our truly independent journalism
By registering, you will also enjoy limited access to Premium articles, exclusive newsletters, commenting, and virtual events with our leading journalists
Already have an account? sign in
Join our new commenting forum
Join thought-provoking conversations, follow other Independent readers and see their replies