Kabul bombing: British Government urged to stop deporting asylum seekers to Afghanistan after attack
Afghan capital declared officially 'safe' for returns despite worsening conflict
Lizzie Dearden
Wednesday 31 May 2017 19:12 Comments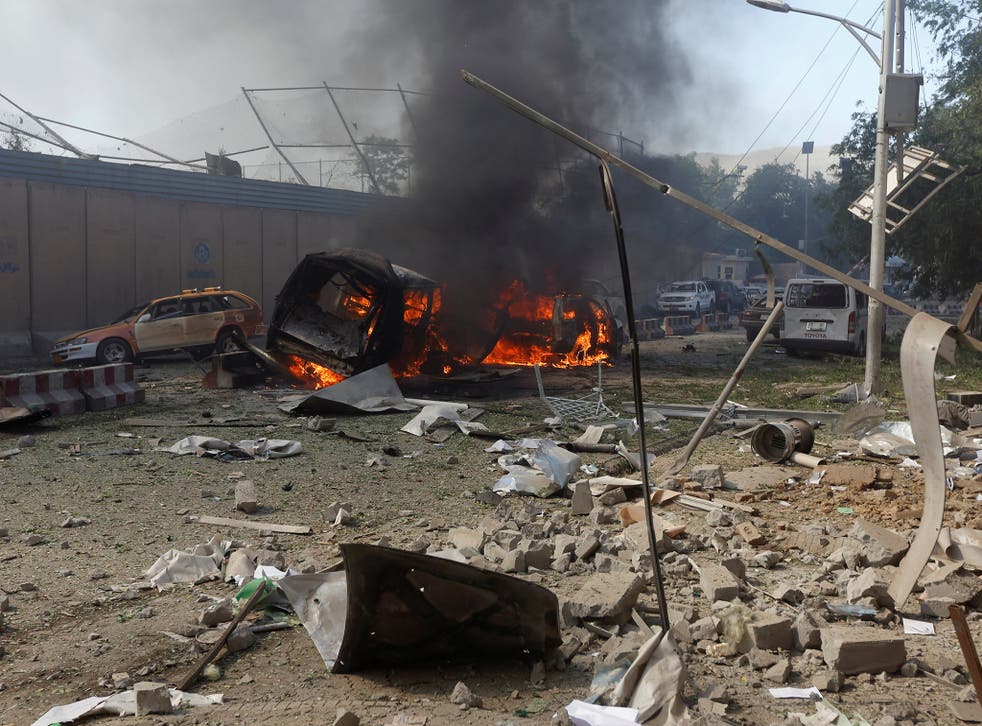 Humanitarian groups are calling on the UK to immediately pause deportations to Afghanistan after at least 90 people were killed and 400 injured in a suicide bombing.
The British Government condemned the terror attack in the centre of Kabul – which damaged its own embassy - but would not tell The Independent whether it would stop flying failed asylum seekers to the city.
Boris Johnson was accused of hypocrisy after claiming the Government "stands with Afghanistan against terrorism", saying that he was "appalled" by the latest atrocity to hit the country.
Maurice Wren, chief executive of the Refugee Council, said the UK's decisions on asylum claims were "literally a matter of life and death".
"No-one should be sent back to Kabul if there is any doubt about the dangers they may face there," he told The Independent.
Ciaran Price, from Asylum Aid, said the bombing was "an unfortunate reminder that the situation in Afghanistan remains volatile".
Suicide bomb kills at least 80 and wounds more than 350 in Afghanistan
"We continue to see women and people who are gay are being returned contrary to a huge amount of evidence showing that they are likely to face persecution because of their gender and sexuality," he added.
"UK authorities need to ensure they make the right decision first time, calling on accurate and up-to-date country information and guidance."
A spokesperson for the Home Office would not tell The Independent whether deportations to Kabul will continue, saying they could not comment on "the operational side of deportations".
Germany has paused its own deportation flights and other European countries are considering the same move amid controversy over mass deportations, despite worsening attacks by Isis and the Taliban.
British flights resumed last year after the Court of Appeal ruled in favour of Theresa May, then the Home Secretary, and declared Kabul safe for returns.
It threw out a claim by a group of Afghans, including a man who entered the UK aged just 14 in 2007, who were among hundreds set to be forced back to the country.
Despite the British Government declaring Kabul "safe" for asylum seekers, it does not apply the same designation for its own staff.
Employees are kept inside the heavily guarded "green zone" whenever possible, being ferried around under armed guard if they are required to leave.
The short three-mile journey from British offices to Kabul airport is frequently made by helicopter because of dangers along the road.
Kabul bomb blast kills at least 90 people

Show all 13
Wednesday's attack has shown that even the supposedly secure green zone is not safe, with a sewage tanker packed with explosives detonated at a busy intersection, damaging surrounding buildings including the Germany, French, Turkish and Chinese embassies.
A huge crater was ripped into the ground at the site of the explosion, which tore off the front of the German embassy and shattered windows hundreds of metres away, leaving burning debris, rubble, destroyed cars and bodies strewn in the streets.
The British embassy suffered minor damage in the blast but continued operations, while no British victims were immediately reported to be among the dead.
A spokesperson for the Foreign Office strongly condemned the attack and said its thoughts were with the victims.
"All our staff are accounted for and the embassy remains operational," she added.
"We are working closely with the Afghan authorities and the area has been secured by security forces."
The victims of the explosion appeared mainly to have been Afghan civilians on their way to work or school, as well as office workers whose nearby buildings that were not protected by blast walls.
Among the dead were BBC employees, Afghan guards from the nearby US embassy and 11 American contractors.
There was no immediate claim of responsibility for the attack but suspicion turned to Isis after the Taliban denied involvement.
The group has been attempting to expand its presence in Afghanistan, claiming a separate bombing on Wednesday in Jalalabad that killed a Taliban member, and has called for increased global terror attacks during Ramadan.
The two factions are fighting each other as well as the Afghan government, with the violence and ensuing battles and air strikes causing record civilian casualties in 2016, when 3,500 civilians were killed and 7,900 injured.
Gerry Simpson, senior refugee researcher and advocate at Human Rights Watch, said the UK should defer deportations until the situation improves.
"This horrific attack, the worst in Kabul in decades, is a shocking reminder of the high price civilians are paying for the deteriorating security in Afghanistan," he told The Independent.
"Now is not the time for EU countries to be ramping up deportations."
The charity said European countries have been changing legal tests to make it easier to reject Afghan asylum seekers, who have been among the largest groups arriving during the ongoing refugee crisis.
The UN Refugee Agency (UNHCR) says it is advocating for a "thorough assessment" of individual cases, taking into account the developing security situation.
Gunmen attack military hospital close to US embassy in Kabul
It expanded its eligibility guidelines to recommend wider international protections of Afghans at risk last year and is "particularly concerned" about falling rates of accepted refugee applications in the EU.
A UNHCR spokesperson said deportations of failed asylum seekers are only acceptable if they "have undergone a fair and efficient asylum procedure and have no other factors that should mitigate their return".
The agency said any returns must be "orderly, gradual and humane" but the UK and Germany are among the countries carrying out mass deportations on chartered flights.
One such journey from Denmark ended with Afghan men being beaten by local police in front of Danish officers on their arrival in Kabul in March.
According to leaked documents obtained by the Bureau of Investigative Journalism last year, even the Afghan government had pleaded with the UK not to resume deportations.
British Government representatives were reportedly asked to "cease forced deportation of refugees" in a meeting with Afghan officials at a meeting in 2015, while the Afghan Ministry of Refugees and Repatriation wrote to the British embassy later that year.
The security situation has continued to worsen – more than 15 years after the US invaded Afghanistan in the "war on terror" – forcing Donald Trump to consider sending thousands of American troops to bolster Nato forces.
The Taliban has been intensifying its insurgency since the partial withdrawal of international troops in 2014, gaining ground to contest or hold around 40 per cent of Afghanistan.
Isis is fighting its rival while attempting to expand its "Wilayat Khorasan" branch and launching a series of deadly terror attacks, including the massacre of more than 50 people at a Kabul hospital in March.
Register for free to continue reading
Registration is a free and easy way to support our truly independent journalism
By registering, you will also enjoy limited access to Premium articles, exclusive newsletters, commenting, and virtual events with our leading journalists
Already have an account? sign in
Join our new commenting forum
Join thought-provoking conversations, follow other Independent readers and see their replies