Kevin McCloud sails fully sea-faring cardboard houseboat down Thames
 The unconventional vessel, made entirely from fully-recycled material, is believed to be a world first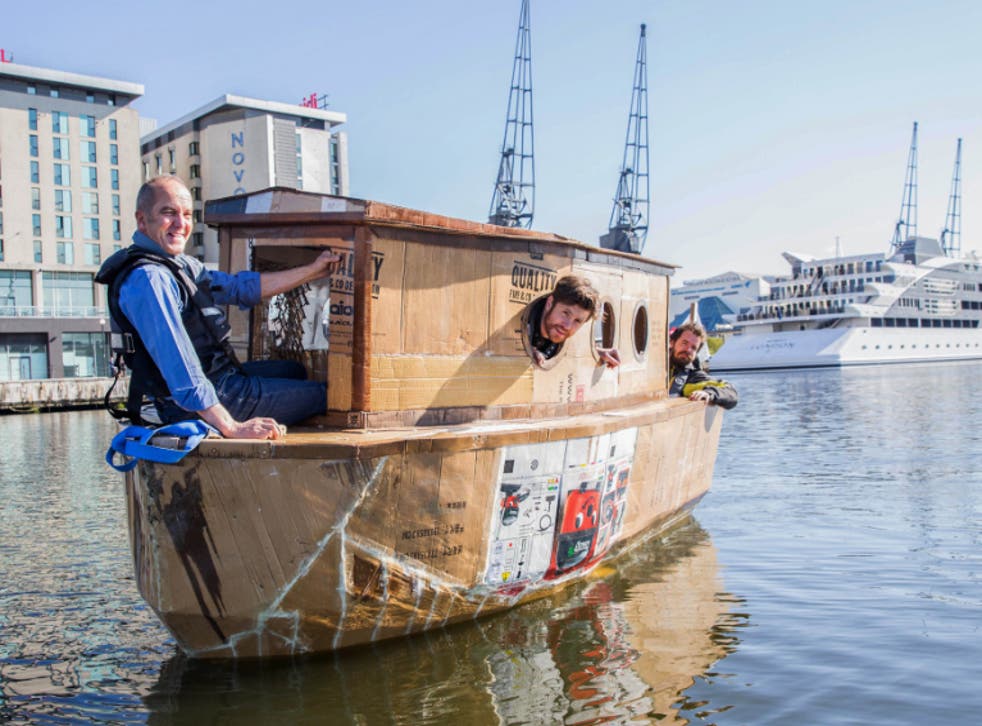 Kevin McCloud used an unconventional mode of transport to arrive at this year's Grand Designs Live show – sailing to the event in a houseboat made entirely of cardboard.
The British architect captained the fully sea-faring cardboard houseboat, believed to be a world first, for its maiden voyage down a stretch of the River Thames on Saturday morning.
Built over the course of a week, the unconventional vessel, made entirely from fully-recycled material, contains two bunks, a kitchen, portholes and an anchor.
The brainchild of designers Harry Dwyer and Charlie Waller, the recycled boat is set to voyage across the English Channel in the new year.
Mr Dwyer and Mr Waller run Aircraft Workshop, borne from the success of McCloud's Channel 4 series, Kevin's Supersized Salvage, which challenged three designers to turn a passenger plane into hundreds of recycled products, urging people to think of innovative ways to use Britain's waste.
Speaking to Channel 4 about his salvaging series McCloud said: "[There is a] new culture in design and manufacturing, which is looking at waste and saying: 'Why are we chucking this stuff away when it's such a fantastic resource and we can reuse it?'"
Aircraft Workshop has carried on the project, continuing to make products from decommissioned aircrafts, with the houseboat being created from old cardboard that had built up in the workshop's bins.
Speaking in a video documenting the houseboat project, Mr Waller said: "It's been an on-going thing of, 'What're we going to do with that cardboard?'"
Mr Dwyer added: "Aircraft Workshop's... on the Thames so it sort of seems fitting that we're making a boat.
"Cardboard's a really good material, it's very quick and easy to work with and great for making prototypes."
The full-scale boat was first designed on a computer. It was then waterproofed and fitted with a motor to make it seaworthy.
McCloud, known for his interest in sustainable architecture and energy saving property refurbishment, was made MBE in 2014 for service to sustainable design.
The boat will be showcased atGrand Designs Live 2016. This year, the event is based around innovation with 3D printers and unconventional builders and architects featuring at the event, which is held the ExCel Centre until 8 May.
Join our new commenting forum
Join thought-provoking conversations, follow other Independent readers and see their replies