Kevin Myers sparks outrage for apology over 'anti-Semitic' remarks
'I met Jews and they were a little bit more watchful, a little bit more intelligent than the others boys around,' says controversial columnist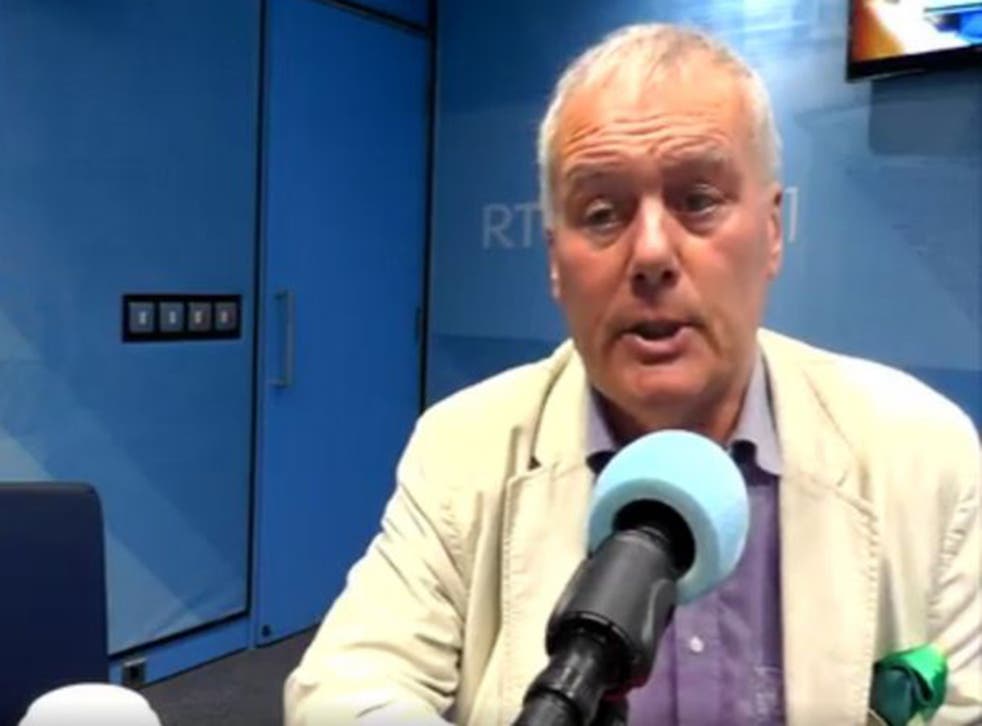 Kevin Myers has been accused of digging himself into a hole in the attempt to prove he is not anti-Semitic.
The Sunday Times columnist, who was sacked by the paper over allegations his column was anti-Semitic and misogynistic, has sparked outrage for his apology.
The publication was subject to a storm of criticism over the weekend after running a column in its Irish edition in which Mr Myers suggested BBC stars Claudia Winkelman and Vanessa Feltz earned more money at the corporation because they were Jewish.
Discussing the salaries of Feltz and Winkelman in the column which was headlined "Sorry ladies, equal pay has to be earned", the Irish journalist said: "Good for them. Jews are not generally noted for their insistence on selling their talent for the lowest possible price, which is the most useful measure there is of inveterate, lost-with-all-hands stupidity."
Mr Myers has now been accused of aggravating the situation with his sycophantic praise of the Jewish community which also played on age-old Jewish tropes and stereotypes.
Critics have taken aim at the controversial columnist, who previously denied the holocaust, for appearing to use the so-called "friend argument" as evidence he is not an anti-Semite. The "friend argument" is that which is utilised by those who attempt to claim sympathy with a particular group or absolve themselves of accusation of prejudice by saying their "friends" belong to the group.
In an interview with the Jewish Chronicle published on Tuesday, Mr Myers rebuffed any suggestion he was anti-Semitic by claiming he had "great admiration" for Jews, saying they were the "most admirable, talented people the world has produced".
He told the publication at university in Dublin he became friendly with an Israeli-Iranian Jewish man who was "about 5 ft 4 and was by a wide margin the most successful man with women I ever saw."
He also said the first two serious relationships he had with women were with Jewish girls, adding: "both of them American I should tell you."
Mr Myers said after moving with his family from Ireland to Leicester he met Jewish children for the first time at the local grammar school he went to.
"I didn't know Jews were living human beings. I thought they belonged to the Bible. My parents didn't discuss Jews, there wasn't any reason," he said.
UK news in pictures

Show all 50
"I met Jews and they were a little bit more watchful, a little bit more intelligent than the others boys around," he added. "One of the reasons people do dislike Jews is because they are so talented. You know this? You don't speak it, you don't say it - but you know it is true."
Mr Myers also claimed that as a boy he had even pretended to be Jewish.
"People used to ask when I was young about the name Myers, which they said was unusual," he said. "I would say, 'That's because I'm half-Jewish.' I'm not though. I just like the notion of being Jewish."
But Mr Myers was insistent his respect for Jews was neither the result of "sentimentality" nor an attempt to "impress" the Jewish press, adding: "If you deduct Jews from the history of the human race you have a vastly impoverished species - without the mathematics, without the science, without the industry, without the literature."
Mr Myers also apologised for the column, admitting he had made a mistake which could be viewed as pushing "the old tropes of the money-grasping Jew".
The journalist, who has issued a number of apologies and said he "retracts everything he said" in the column, has been heavily criticised for his interview on Twitter.
Elena Cresci, Channel 4 producer, argued the interview was "jaw-dropping" and Broadly editor, Zing Tsjeng quipped: "If Kevin Myers digs this hole any deeper, it's gonna go to the centre of the Earth."
"I just read the Kevin Myers apology as saying 'I have a friend who is Jewish'," said another critic.
Another added: "Providing a list of every Jewish person you've ever met has to be the epitome of I'm not anti-Semitic I have a Jewish friend".
The Campaign Against anti-Semitism strenuously criticised the paper's decision to publish the article and launched their complaints with News UK who own the Sunday Times.
At the time, a spokesperson said: "We can confirm that Kevin Myers will not write again for The Sunday Times Ireland.
"A printed apology will appear in next week's paper."
The Jewish Council of Ireland partly sought to defend Myers on Monday by saying his previous record proved he had great support for Jews and Israel.
Mr Myers did not immediately respond to request for comment.
Join our new commenting forum
Join thought-provoking conversations, follow other Independent readers and see their replies