Kew Gardens 50p coin: 'Incredibly rare', worth up to £120 – and one in 300 of us has one
Experts say 'check your change' after true value of unusual 50p pieces is revealed
Adam Withnall
Thursday 20 February 2014 16:01 Comments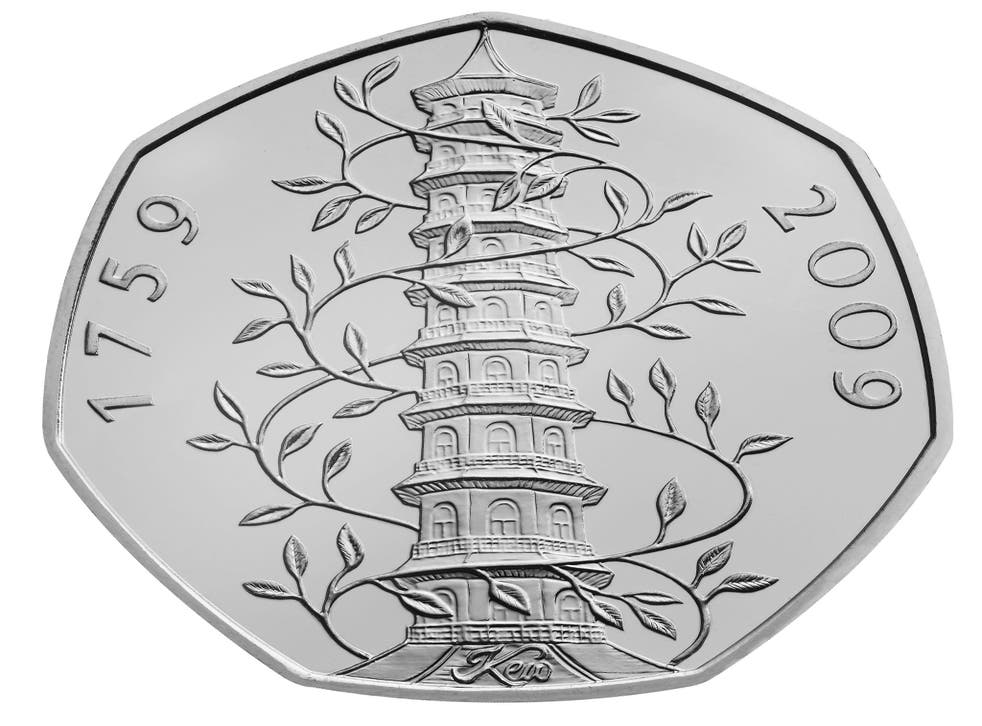 People are being advised to check their change after an "incredibly rare" 50p coin was identified by the Royal Mint as the most uncommon design ever to be placed in circulation in the UK.
It has been estimated that around one in 300 of us could have one of the coins in our possession – and the finest examples are listed online as for sale at almost £120 each.
The unusual commemorative 50p piece went into circulation in 2009 to mark the 250th anniversary of the Royal Botanic Gardens at Kew.
Designed by Christopher Le Brun, shows the pagoda of the Gardens encircled by a twisting vine plant and bears the dates 1759 and 2009 and the word "Kew" at the bottom.
The Mint described the coins as "incredibly rare", with just 210,000 of them ever released.
This compares to the 22.7 million 50p coins produced in 2008 with the shield of the Royal Arms, or the 7.5 million designed in 2010 to celebrate Girlguiding. There are estimated to be around 28.9 billion UK coins in circulation overall.
The Kew Gardens coin is already in demand among collectors, and the Mint said it could "disappear from circulation" altogether when the public realises its value.
A spokeswoman at the Royal Mint said that while the face value of the coin remains 50p, "what it is worth to collectors is another matter".
Several examples have sold recently for more than £20 on the auction website eBay, and one example that comes with its own protective case and registration number – and in mint condition, of course – is on sale with the London Coin Company for £119.95.
Shane Bissett, director of commemorative coin at the Royal Mint, said: "Whilst we're urging everyone to check their change to see whether they could have one of these exceptional coins in their pockets, we also want to encourage the nation to look more closely at all of the coins we use every day.
"They really are miniature works of art worth looking out for, admiring and collecting - and keeping hold of them is a great way for us to build our own private art galleries. Now that people know just how rare this particular coin is we expect them to disappear from circulation fast."
Register for free to continue reading
Registration is a free and easy way to support our truly independent journalism
By registering, you will also enjoy limited access to Premium articles, exclusive newsletters, commenting, and virtual events with our leading journalists
Already have an account? sign in
Join our new commenting forum
Join thought-provoking conversations, follow other Independent readers and see their replies