Khalid Masood: Photo of London attacker at school emerges
'Everybody liked him,' says classmate of teenager then known as Adrian Ajao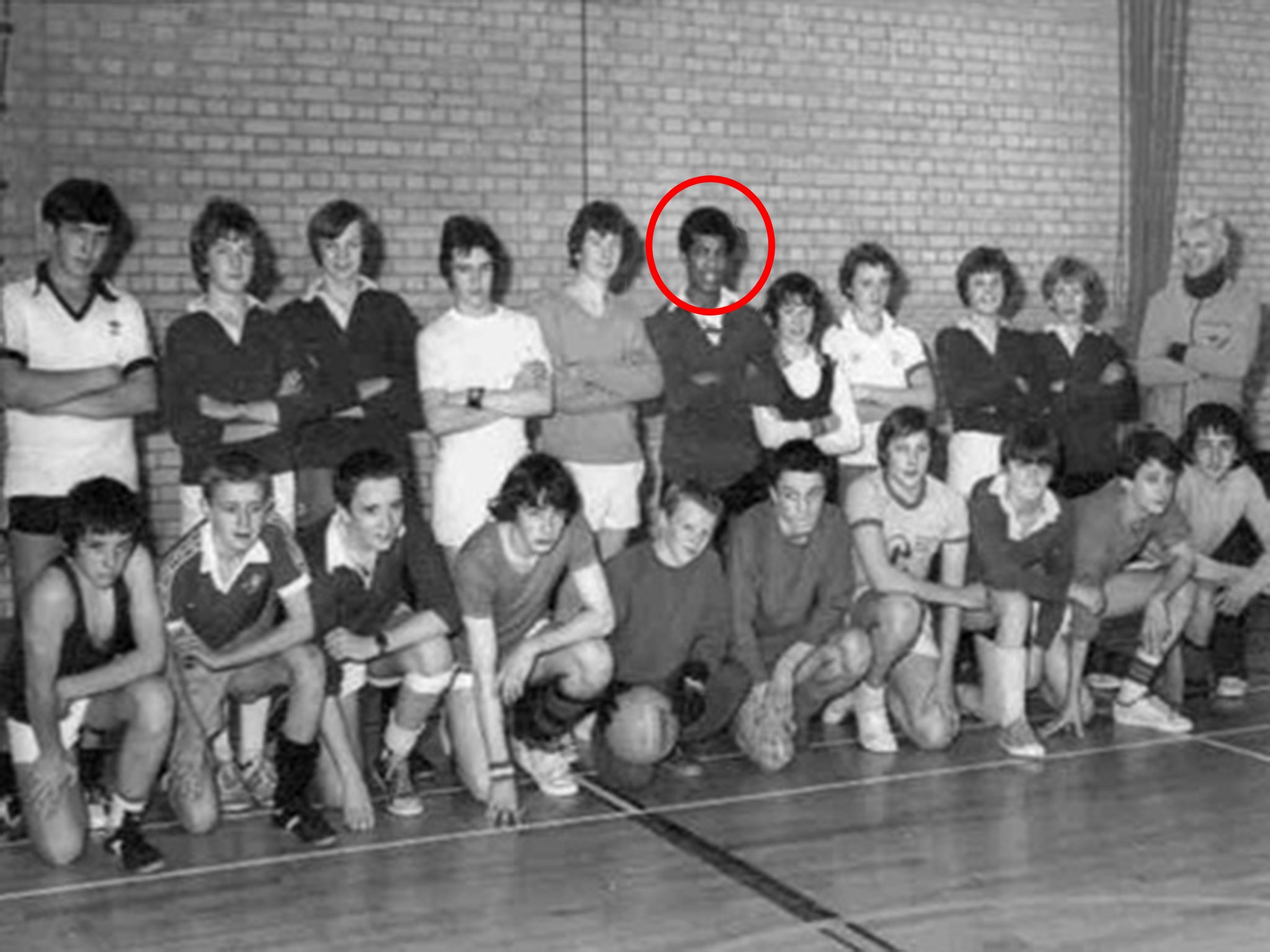 The first image has emerged of Khalid Masood since he killed four people during his terror attack in London.
The image shows a smiling Masood, who was shot dead by police outside the Houses of Parliament, as a teenager with his school football team.
His name is captioned "Adrian Ajao", the name he was known by before his later conversion to Islam.
The image, with Masood on the back row standing sixth from the left, was taken at the Huntley School for Boys in Tunbridge Wells in Kent.
Kenton Till, one of his teammates in the photo, said Masood was bright, sporty and popular at school.
He told the Telegraph the photo was taken during a charity five-a-side football tournament.
"He was one of those kids who was very popular - he had a big personality and everyone liked him," Mr Till added.
"This has come as a huge shock to me, it is hard to take in that this is the same bloke."
Westminster terror attacker named as Khalid Masood
His birth name is believed to be Adrian Elms, with his mother named as Janet Elms. The Daily Mail reported that she married a man named Phillip Ajao in West Sussex when Masood was a small child.
Police said Masood had a lengthy criminal history dating back to his teenage years in the 1980s, with prison sentences served for grievous bodily harm, possession of offensive weapons, assault and public order offences.
He was jailed at Lewes Prison in East Sussex, Wayland Prison in Norfolk and Ford open prison in West Sussex but still managed to work as an English teacher.
His CV, seen by The Sun, lists Masood as a university-educated English teacher with experience working in places such as Saudi Arabia and Luton, although it is believed he never taught at any state schools in the UK.
The 52-year-old killer most recently appeared to be based in the West Midlands, but also spent time in London, Sussex and Luton.
A three-storey townhouse in the Winson Green area of Birmingham was among those searched in police raids, with neighbours saying Masood lived there for around seven months until December last year.
Iwona Romek told the Press Association: "I'm scared that someone like that was living close to me."
In pictures: Westminster attack
Show all 9
Ms Romek said she had seen him with a child aged between five and six and a partner, but that they had moved away around two to three months ago.
Armed police also raided a flat in another part of the city, storming the second-storey property in Hagley Road overnight.
Residents described seeing more than a dozen black-clad officers equipped with machine guns smashing their way into the Birmingham flat, believed to be a rental, at about 11pm on Wednesday.
A resident who recalled two men living there said he heard one man in the flat speaking on the phone in what he described as an "Arabic or Pakistani accent", saying he had heard it "for the last two or three nights".
Masood is also thought to have lived in London, with a man of his name registered to an address in a terraced street in West Ham.
"I don't know him personally but I believe he belongs to a mosque on Leyton High Road," said a neighbour.
Police said two more "significant" arrests had been made overnight, with nine people currently in custody as part of the terror investigation.
Masood is thought to have had a wife and three children, one of whom may have recently become a mother herself.
Theresa May told MPs packed into the House of Commons that he was the subject of a historical MI5 investigation over suspected violent extremism but was not charged with terror offences.
Isis hailed Masood as a "soldier of the Islamic State" in a claim of responsibility issued the day after his attack, although the extent of any involvement by the terrorist group remains unclear.
His attack left four victims dead and 50 others injured of 12 different nationalities, with 31 requiring hospital treatment.
Police named a fourth victim who died on Thursday night as Leslie Rhodes, from Streatham in South London.
The 75-year-old was undergoing treatment in hospital before life support was turned off.
Mr Rhodes was the third victim to die from injuries sustained as Masood ploughed his car into pedestrians on Westminster Bridge, killing mother-of-two Aysha Frade and American tourist Kurt Cochran, who was in London with his wife to celebrate their 25th anniversary.
Masood then crashed the vehicle into a fence outside the Houses of Parliament before running to an entrance and fatally stabbing PC Keith Palmer, before he was shot dead.
Additional reporting by PA
Join our commenting forum
Join thought-provoking conversations, follow other Independent readers and see their replies