Khalid Masood: London attacker was known to MI5 but had no terror convictions
The 52-year-old was born in Kent and had a range of different convictions for assaults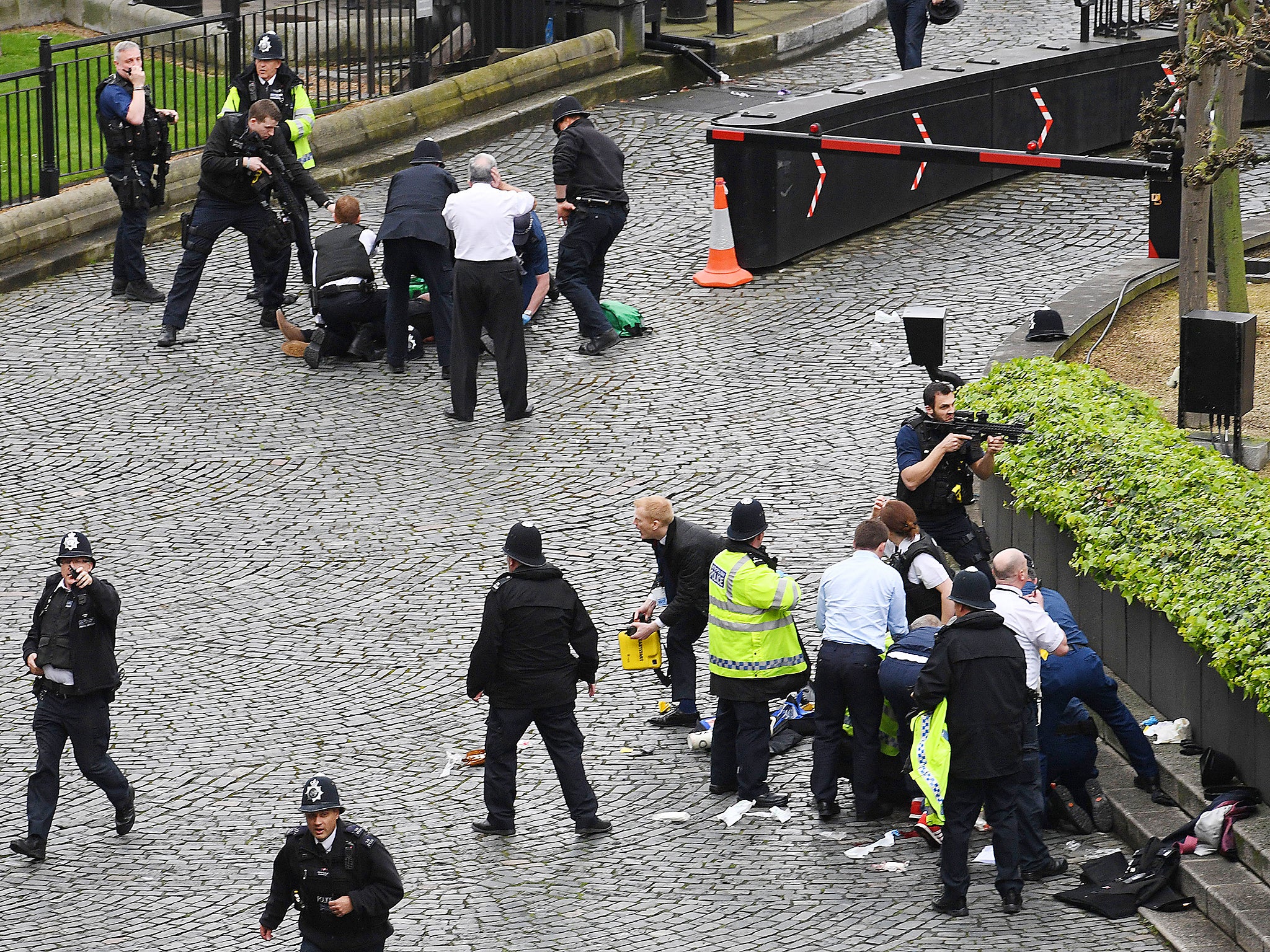 Khalid Masood, the man responsible for killing four and injuring many more in Westminster, was well known to police.
But British-born Masood wasn't known for looking to commit a terror attack. He wasn't the subject of any current investigations and police had no intelligence about his plan to commit such an attack, police said.
His crimes were various but not related to terrorism: he has a range of different convictions for assaults, including for GBH, possession of offensive weapons and public order offences. His first conviction was in November 1983 for criminal damage and his last conviction was in December 2003 for possession of a knife, the police said.
In pictures: Westminster attack
Show all 9
He had never been convicted of terror offences.
Three people were killed when the knife-wielding attacker ploughed a car through pedestrians on Westminster Bridge, before storming the Parliamentary estate wielding a knife. He was shot dead.
Before the attack, Masood worked as an English teacher, Sky reported. He was a Muslim convert and lived with his wife and at least one child, according to neighbours.
Beyond those details, little has emerged about Masood as a person, beyond an interest in bodybuilding.
Theresa May said that police were working on the assumption that he was inspired by a warped Islamist ideology.
As well as Khalid Masood, he was known by a number of different aliases, police said.
Masood was 52-years-old, and was born in Kent. But police said that he had most recently lived in the West Midlands – likely in Birmingham, where police made a number of arrests in raids the night after the attack.
The report that Masood lived in the West Midlands also matches up with the fact that the car used in the attack appears to have been rented from Enterprise's Spring Hill branch in Birmingham. The company said the car was identified by an employee after seeing the licence plate online.
He had been living at a property in Birmingham's Winson Green neighbourhood until December, according to the Birmingham Mail. The paper reported that he had been living there with a woman and a young child.
One neighbour said she was "very surprised" that Masood could commit such an act of violence.
At a house being searched in the city, his former neighbour Iwona Romek, said she could not believe her eyes when she realised the man who had lived near her was the same person responsible for the attack.
She said: "I am very surprised, I cannot believe it.
"Because when I saw him, I couldn't even see that he could do something like this. Now I'm scared that someone like that was living close to me."
She added: "I see pictures of him lying injured and from that picture I can see it's him. And my partner as well he has seen the picture, he is at work, and when I showed it him he said 'oh my God' it's him."
Ms Romek said she had seen him with a child, aged between five and six years old, and a partner but that they had moved away around two to three months ago.
Earlier, Ms May had said that the attacker had previously been investigated for suspected extremism by MI5. But those investigations do not appear to have led to any conviction, and she said that he was "not part of the current intelligence picture".
Other residents, elsewhere in Birmingham, told how more than a dozen black-clad officers equipped with machine guns smashed their way in to the Birmingham flat, believed to be a rental property, at about 11pm on Wednesday.
The Met have confirmed the raid was part of a wider operation in which several addresses were searched and eight arrests made.
One witness who works in a shop near the second-floor Birmingham flat told the Press Association: "The man from London lived here."
He added "They came and arrested three men."
Stuart Bailey, who lives four doors down, was going for a drink with his friend when an armed officer shouted at him.
The 25-year-old added: "There were a load of armed police in the street and on the pavement and I could see three or four in front of me.
"They were all dressed in black and armed with what looked like MP5s (submachine guns) and one of them had six ammunition magazines strapped to his leg. I wasn't allowed back in my property for an hour."
Masood's history is likely to lead to questions for the intelligence services, given they had been in contact with him before the attack.
Defence secretary Michael Fallon told the BBC that Masood appeared to be a "lone wolf". He used "things from daily life, a vehicle, a knife" in the attack, making it "much more difficult to forestall", he said.
Isis claimed that Masood was a "soldier of the Islamic State" when it claimed responsibility for the attack, but did not make reference to his name or any details.
Authorities had initially kept the attacker's name secret while investigations were underway.
Police asked that anyone with information about Masood contact the Anti-Terrorist Hotline on 0800 789 321.
Join our commenting forum
Join thought-provoking conversations, follow other Independent readers and see their replies