Kids Company founder Camila Batmanghelidjh to quit charity and blames government's 'ugly games'
The children's campaigner is to resign from the charity she founded after the Cabinet Office reportedly declined to hand it £3m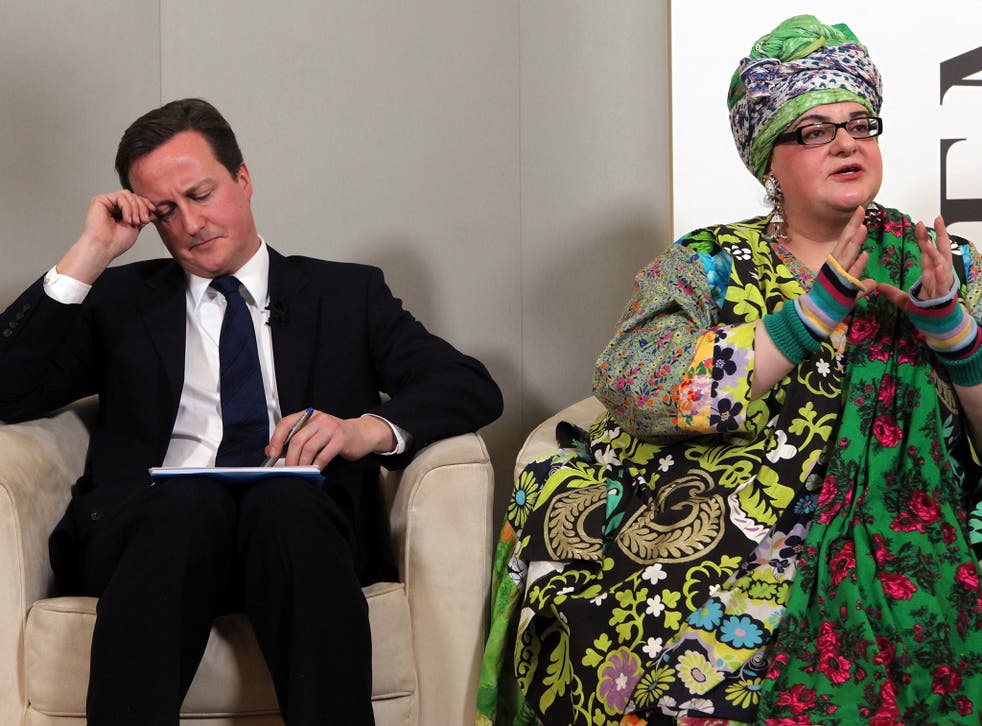 A political row that forced the resignation of a high-profile children's charity head was the result of her organisation offering no clear evidence about how effectively millions of pounds in government grants were being spent, two former Whitehall officials have alleged.
The prominent campaigner Camila Batmanghelidjh stepped down as chief executive of Kids Company after the Cabinet Office confirmed it was withholding £3m from the charity, which works with vulnerable children and young adults, until she left the role.
When news of the ultimatum broke, Ms Batmanghelidjh accused politicians of playing "ugly Westminster games" and suggested that ministers were failing in their duties to protect vulnerable children.
"These arguments are being made to distract from the fact that there are large numbers of children who are unprotected in this country and who are not receiving appropriate help," she told The Independent. "I won't give in to bullying. I am at peace with myself. I don't need to be perturbed by ugly Westminster games."
Yet two figures, who dealt with the charity in government, claimed there have long been concerns over how the charity spent its money – and that ministers were afraid of taking on its charismatic chief executive.
Over the last five years, Kids Company has received around £20m of direct central government money, representing a significant percentage of all funding available to children's charities. Most of the grants were not subject to competitive tender.
"It wasn't that we thought Kids Company was not doing good work but it was impossible to get from them the evidence of where all of the money was going," said one source. They were certainly handing out cash to kids – which may not have been a bad thing in itself – but it was impossible to quantify. Whenever you challenged Camilla she would say you can't reduce children to numbers."
Another government insider said that when the Coalition came into office it was under huge pressure to continue to fund Kids Company despite concerns about the charity's financial model.
"Camila was able to exert huge lobbying influence. But there was no accountability for how the money was spent. There was no trail showing what outcomes we were getting for taxpayers' money. There are lots of charities doing sterling work but getting a fraction of the money Kids Company was getting from government because of its high profile. No one else was able to dominate the news agenda."
Dominic Cummings, a former special adviser to Michael Gove, added that when he worked in the Department of Education officials had wanted to stop funding Kids Company altogether but had been overruled by Downing Street, which was concerned at the bad publicity such a move would cause.
"Officials told Michael Gove not to give money to Kids Company," he revealed on Twitter. "We looked [at what they said]. We accepted advice. Kids Company [were] told, 'No more money'. Kids Company went to No 10 and PM says, 'Give them what they want'."
He added that the charity had threatened to go to the media if its funding was stopped.
But a senior source involved with the charity's trustees denied this and suggested that Whitehall was unable to cope with the charity's innovative – if unorthodox – approach.
"What they wanted was a tick-box approach and that's simply not what Kids Company is about. It's an incubator for new ideas and everybody who has looked at our work from the Metropolitan Police to the London School of Economics has praised what we've done," they said.
"The problem is civil servants don't understand that. They just want paper trails. We're doing something different." The source added that while the Government had provided Kids Company with around £4m in the space of a year, over £20m came from private donations.
In a statement, the charity said Ms Batmanghelidjh would take up a new advocacy and clinical role once her replacement has been appointed. Ms Batmanghelidjh said that this had always been intended to happen this year which is the 20th anniversary of the charity's foundation. She also challenged government officials to bring forward a list of problems.
Join our new commenting forum
Join thought-provoking conversations, follow other Independent readers and see their replies