Clown sightings in the UK: Clown 'carrying machete' seen peering into driver's car
Police have promised to 'take action' against those causing fear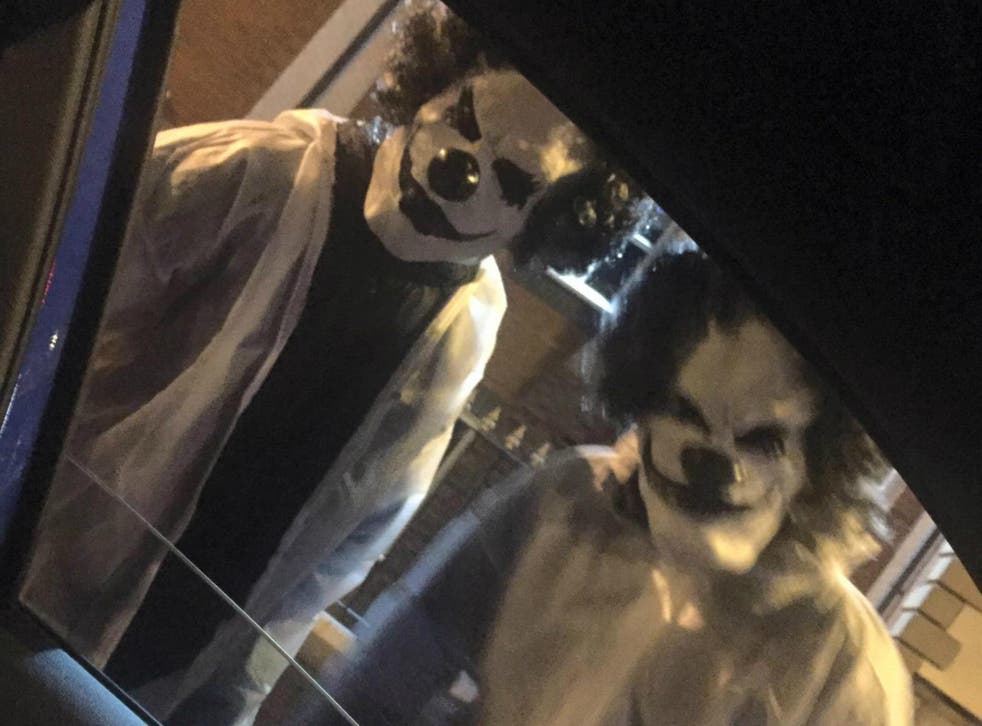 The "killer clown" craze continues to spread across the UK from America, as incidents involving people dressed in clown masks causing fear and upset on the streets are on the rise.
One man in Manchester claimed to have seen a set of clowns on the street, with at least one carrying a machete. He drove up to the two people stood wearing clown masks and took a picture while they stared back in silence.
Kurtis Mulvaney, 29, posted the photo of the clowns on Facebook with the message: "These guys just come to my car one had a machete never spoke a word. Near Manchester Fort. Share and be aware."
More sightings as killer clown craze grips UK
It is not known whether the reported machete is real or fake, though it is not visible in the picture.
Speaking to Manchester Evening News, Mr Mulvaney said: "They were definitely kids just messing about.
"I saw them, drove over, and took a picture. They're only kids. It's getting out of hand. People are going mad about it."
A woman in Walsall told Press Association a red-haired clown attempted to get into her car on Sunday. In footage posted on Twitter, the clown is seen running across the road towards the driver door of her car.
"He followed me to the pub. He pointed at me and gestured that he would slit my throat, stared at me for five minutes and then left," Shaneice Price said.
Police are being called to a growing number of incidents due to the craze, with Thames Valley police at one point left dealing with 14 reports in the space of 24 hours.
Gwent Police has now dealt with 18 reports, including clowns "running through gardens and peering through windows, lurking around shopping centres, parks and schools and jumping from trees".
Chief Inspector Paul Staniforth at Gwent police condemned the incidents, warning that anyone seeking to cause distress or potential harm will be arrested, adding that these cases are causing an impact on police resources. "Every call that comes in, is taking our officers away from people that need us most," he said.
Greater Manchester Police have responded to the wave of incidents by promising to take action against the people causing the unrest.
GMP's Asst Chief Con Catherine Hankinson said: "We are aware of this menacing craze, which originated in the USA, and will take action against those who are causing this fear.
"There has been a lot of speculation on social media and I'm urging people to refrain from fuelling this craze and creating more distress.
She said police want people to feel safe while "going about their daily lives," and that those involved in these incidents "may not realise just how frightening it is to be on the receiving end, especially for children". She added that the behaviour will not be tolerated.
"It's important to stress that no-one has been physically harmed and I want to reassure people that we take reports of this nature extremely seriously. If you witness an incident, or want to make a report, please contact police as soon as possible," she said.
Register for free to continue reading
Registration is a free and easy way to support our truly independent journalism
By registering, you will also enjoy limited access to Premium articles, exclusive newsletters, commenting, and virtual events with our leading journalists
Already have an account? sign in
Register for free to continue reading
Registration is a free and easy way to support our truly independent journalism
By registering, you will also enjoy limited access to Premium articles, exclusive newsletters, commenting, and virtual events with our leading journalists
Already have an account? sign in